If you're looking for serious gym equipment and industry knowledge, look no further. Our awesome team are incredibly experienced in assessing the needs for commercial gyms, crossfit boxes, hotel gyms etc. and finding the best solution for your space and budget requirements.
WHY CHOOSE GYM AND FITNESS?


For more than 10 years, Gym and Fitness has been one of Australia's largest online retailers of gym and fitness equipment. We have an incredible team with years of knowledge and experience.

Every morsel of feedback you give is important to us. Positive feedback helps us know what we're doing right and negative feedback helps us see where we can serve you better!

OUR CUSTOMER SERVICE STANDARDS
At Gym and Fitness, we hire for culture first and foremost! This means, we employ people who put our customers first. As a result of this, we have a world class customer service team who always uphold our core value of #customerservice, giving you the best experience possible when setting up your space. We also offer additional services ensuring you don't lift a finger to get your equipment installed and functional.

OUR FLEXIBLE FINANCING OPTIONS
We have negotiated some awesome deals for you regarding finance. As a result, we can offer you a range of different finance options to choose from, meaning you can get your product into your business sooner!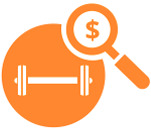 Time and time again, Gym and Fitness brings the best prices to the industry. However, if you find another reputable dealer selling the same product for less, simply send us a written quote and we will do our best to top it!

We are one of Australia's largest online retailers of gym and fitness equipment, with over 1,000 products to choose from. With years of experience and specialist knowledge, you can trust us to get your business sorted.
For more than a decade, Gym and Fitness has been your source of the highest quality gym equipment ranging from strength equipment, treadmills, cross training gear, gym flooring and more. To continue giving the best service there is in the fitness equipment industry, we're giving qualified retailers our special wholesale rates.