---
| | |
| --- | --- |
| | The Typhonic Rev Generation 4 drive mechanism connects to a 22kg Fly Wheel with protective cover. French Hutchinson 8pj high strength, extremely smooth and quiet belt. Performance and quality so you can train more effectively. |
| | Sprints, marathon and interval training can all be performed and tracked with ease. Monitor your calories, RPM, speed, time and *pulse (*requires optional chest belt compatible with Polar Heart Monitor). Spin bike sessions in the privacy of your own home. |
| | The trainers choice. Designed in the USA to meet international athletic training standards. Rated for use by high performance athletes. |
| | Professional racing bike components such as Non Slip / Multi-Grip comfort coated handlebars precisely angled for optimal, exercise specific ergonomic positioning and racing pedals with straps. |
| | The front transport wheels make it easy to move your V700 Spin Bike around your gym. |
| | Quick and easy adjustments for handlebar and seat positions to suit any user height. Both seat and handlebars may be adjusted up / down / forward / backward. |
| | Comfortable racing seat. Ergonomic DuraCore commercial density padding covered in VorTex heavy duty vinyl with rip-stop mesh backing. |
| | Extremely heavy duty and durable frame providing the most intense, stable and safe workout sessions for users up to 125kg. |
| | American innovation and design to meet international athletic requirements. Superior quality; strength and stability. Designed for the achievers. Challenge yourself. |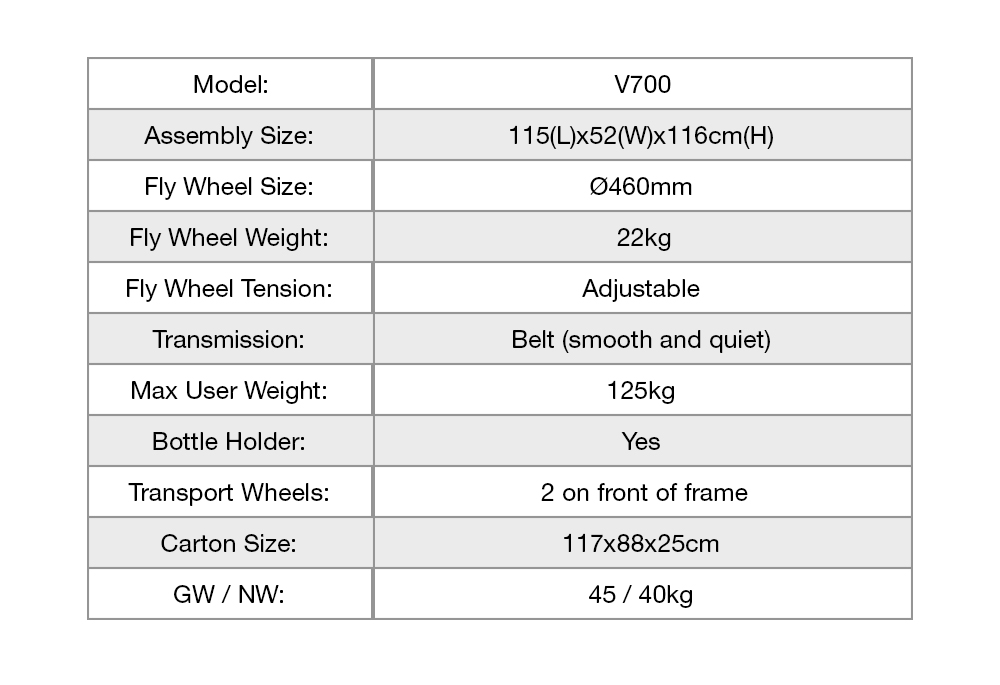 What are the benefits of Spin Class / Spin Bike training?
| | |
| --- | --- |
| | Increased cardio endurance and respiratory improvements. Adjustable intensity to suit user's fitness level. |
| | Improved longevity and overall fitness. Endorphin production for stress relief. |
| | Weight / fat loss and muscle toning. Burn calories quickly with high intensity interval training. |
| | Low impact on ankles, knees and hips. |
Bike
The Bike its good for supporting your arms
But i found the seat not really comfortable
When i spin the bike i found a bit of noise
Ither its a standard size bike
I want to mentioned as well that when I ensemble the bike chrome was peeling from the handle but i got $100 refund for it
Pretty darn good
Not quite as good as say a bodybike in terms of smoothness and adjustment (It took a few trial and error rides to get the best position) but does the job slogging it out in and out of the saddle for a decent spin class in iso!
Vortex V700
Good product and is getting plenty of use in COVID. Takes a few sessions to get all the heights and settings sorted
Vortex V 700
Great spin bike. Computer very basic. Would have been perfect if it paired with my polar fitness tracker and I could monitor the cadence accurately during the workout
Voltox 7
Very happy delivered in good time