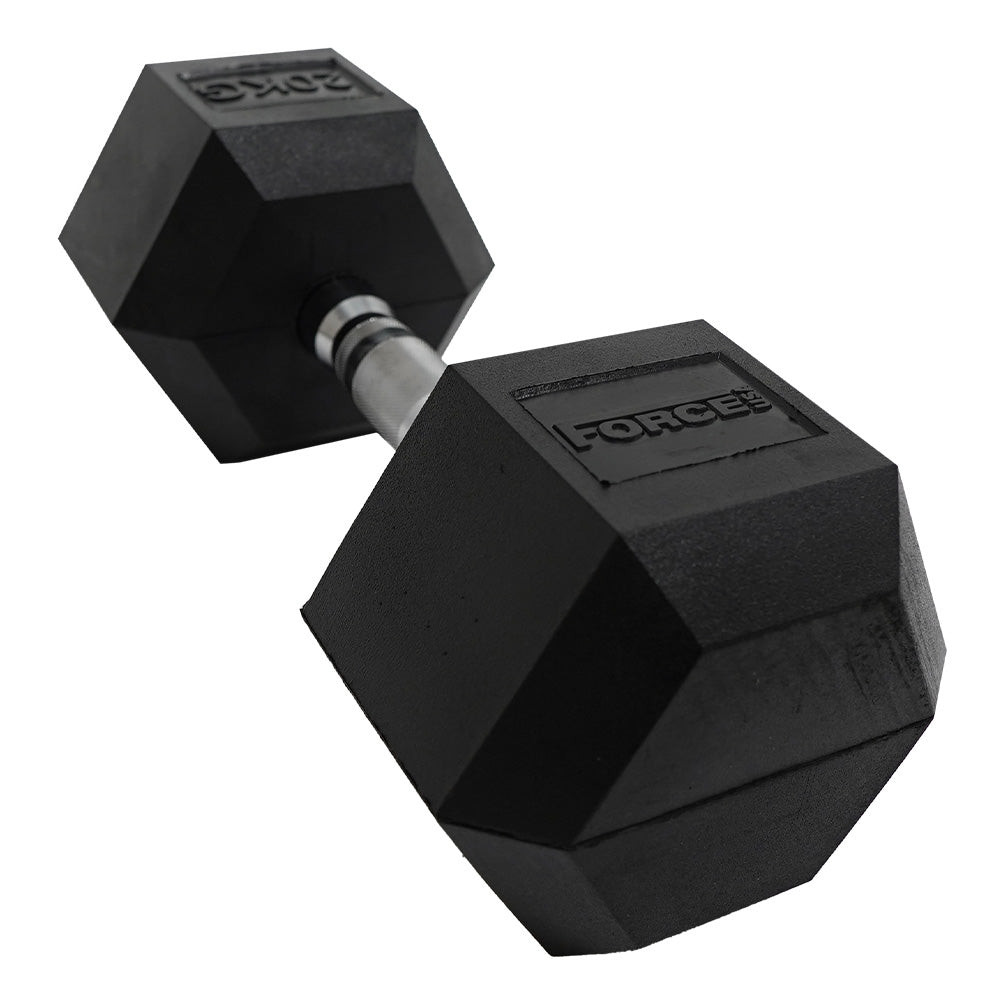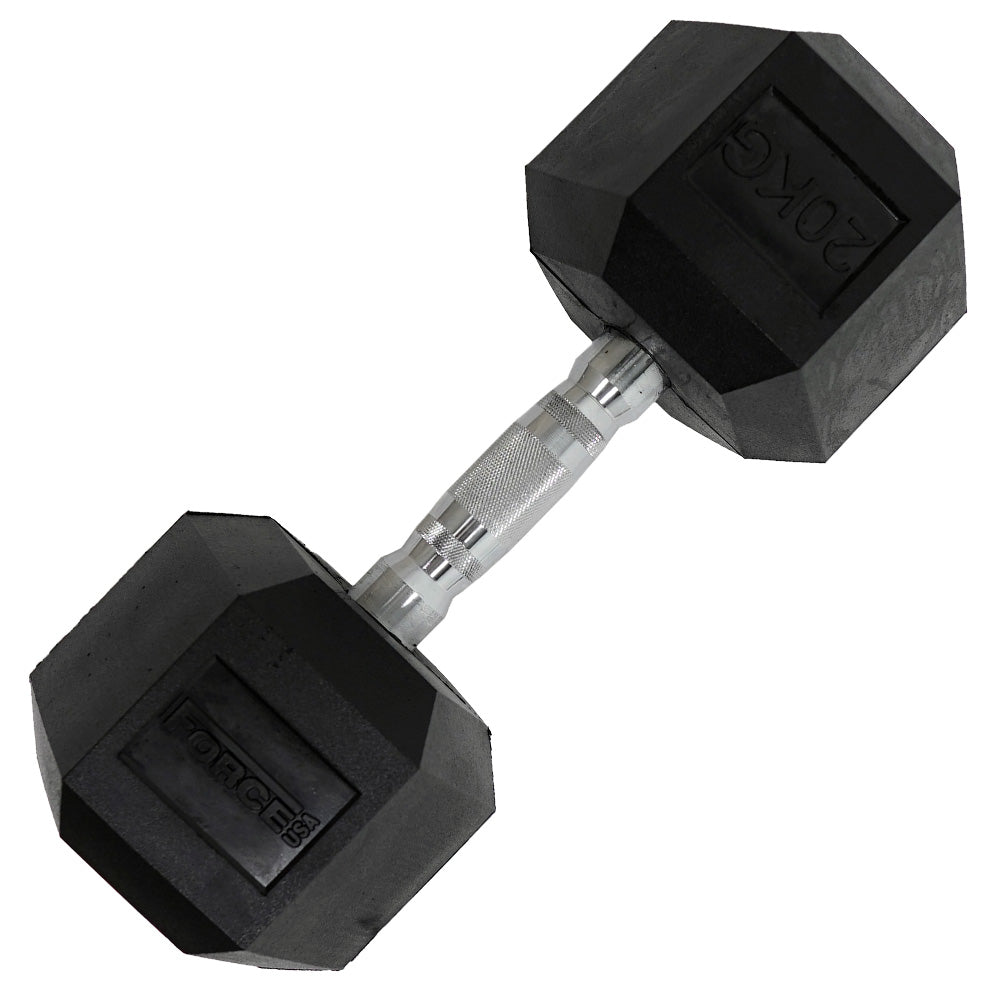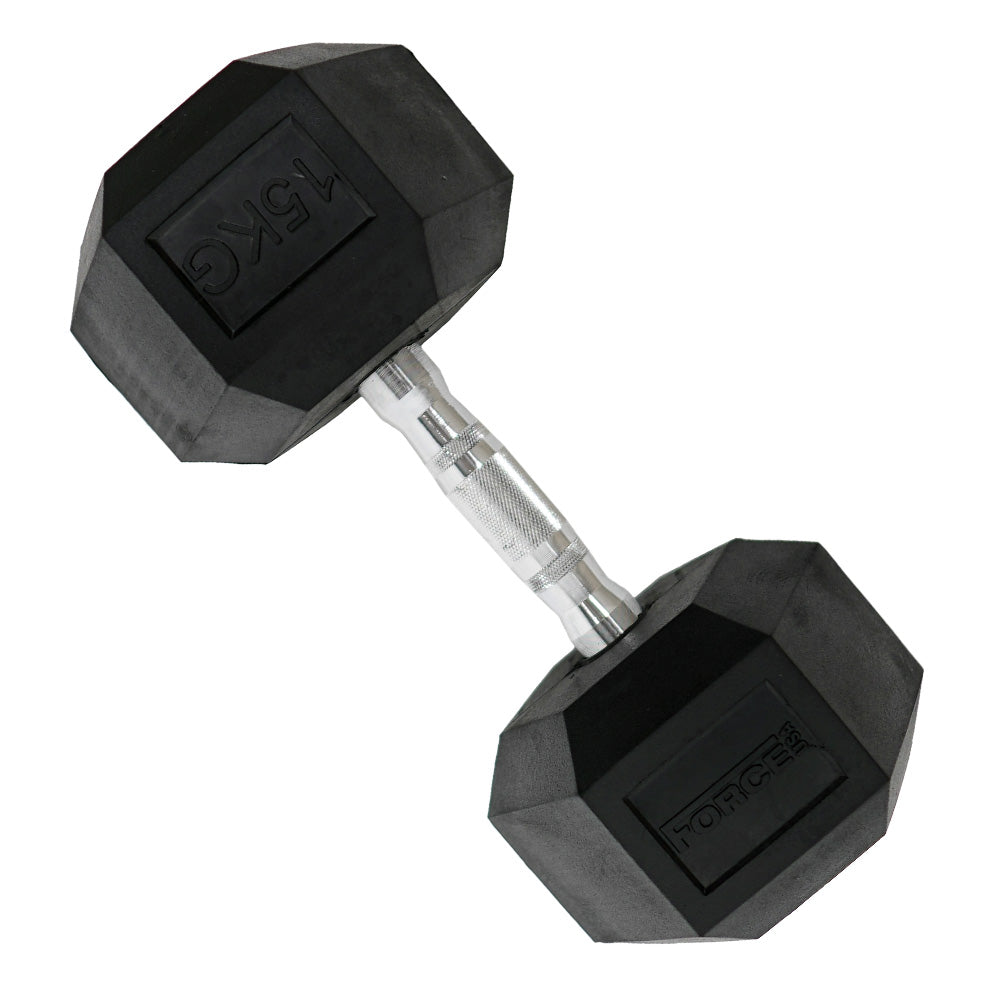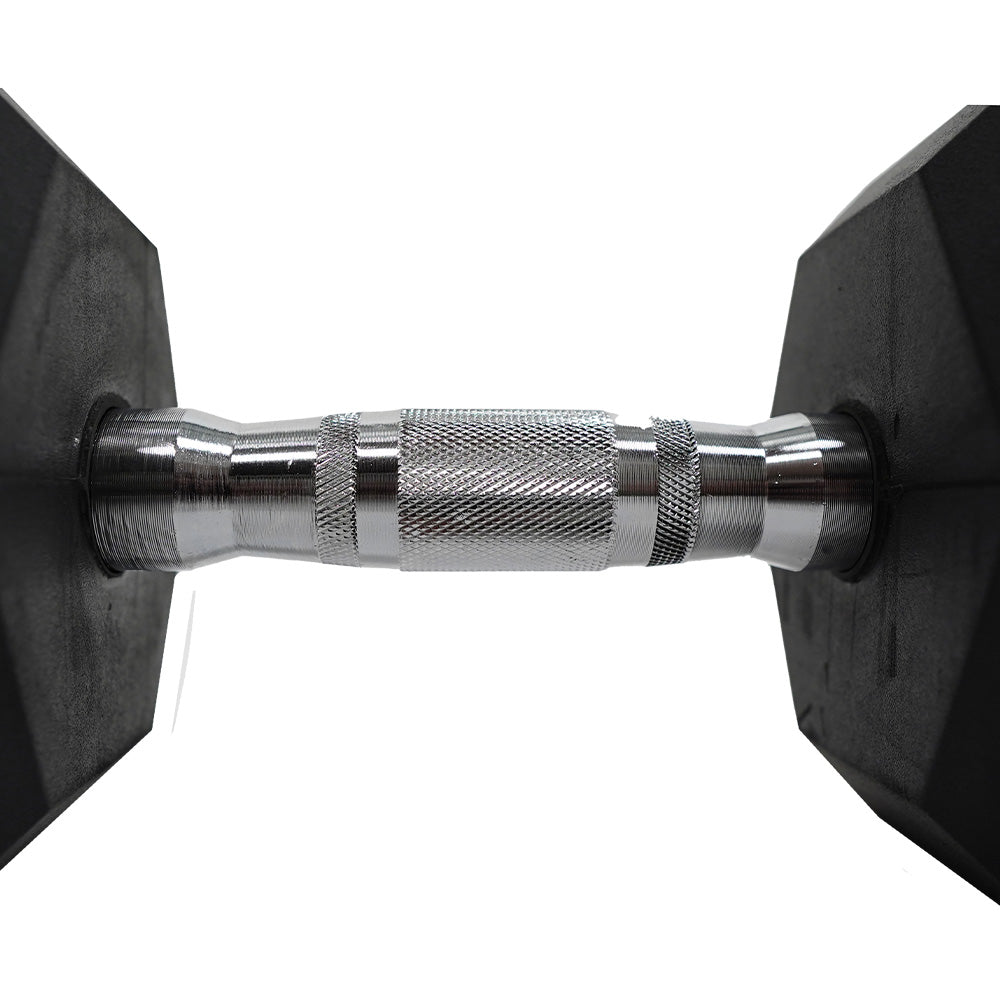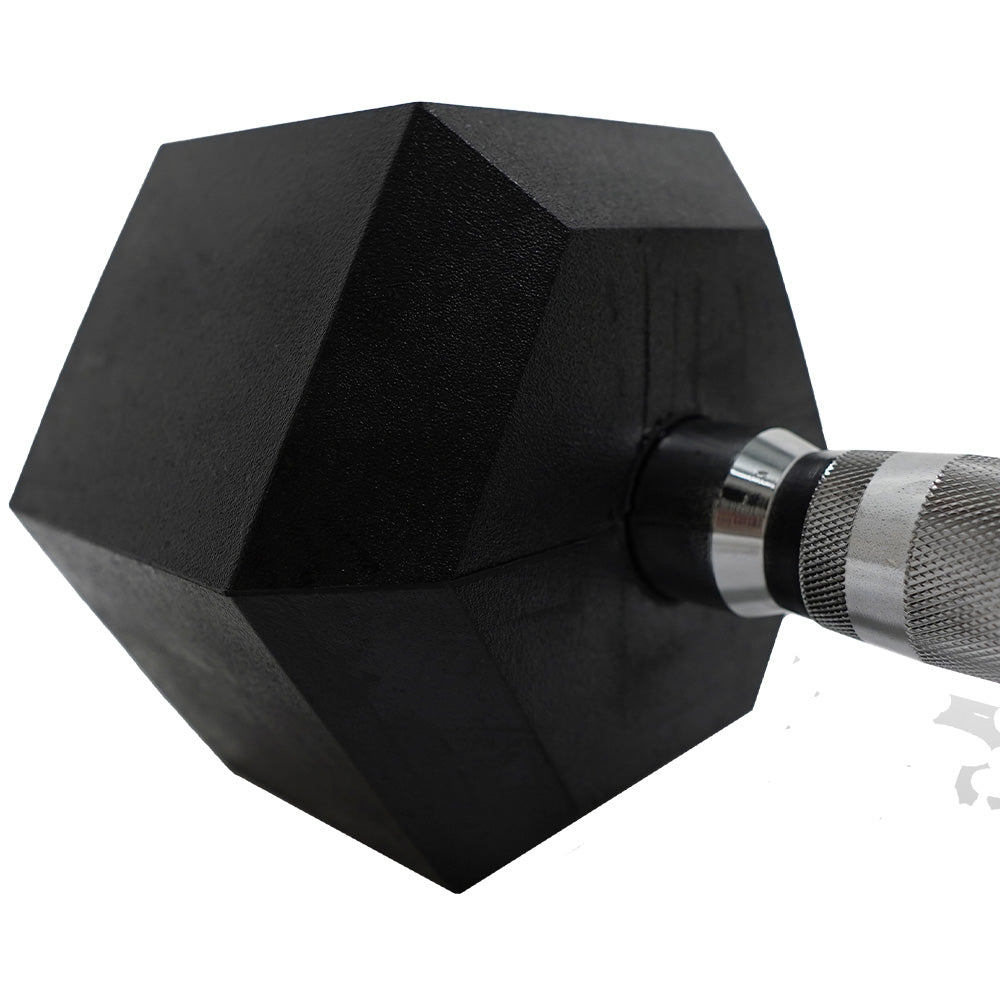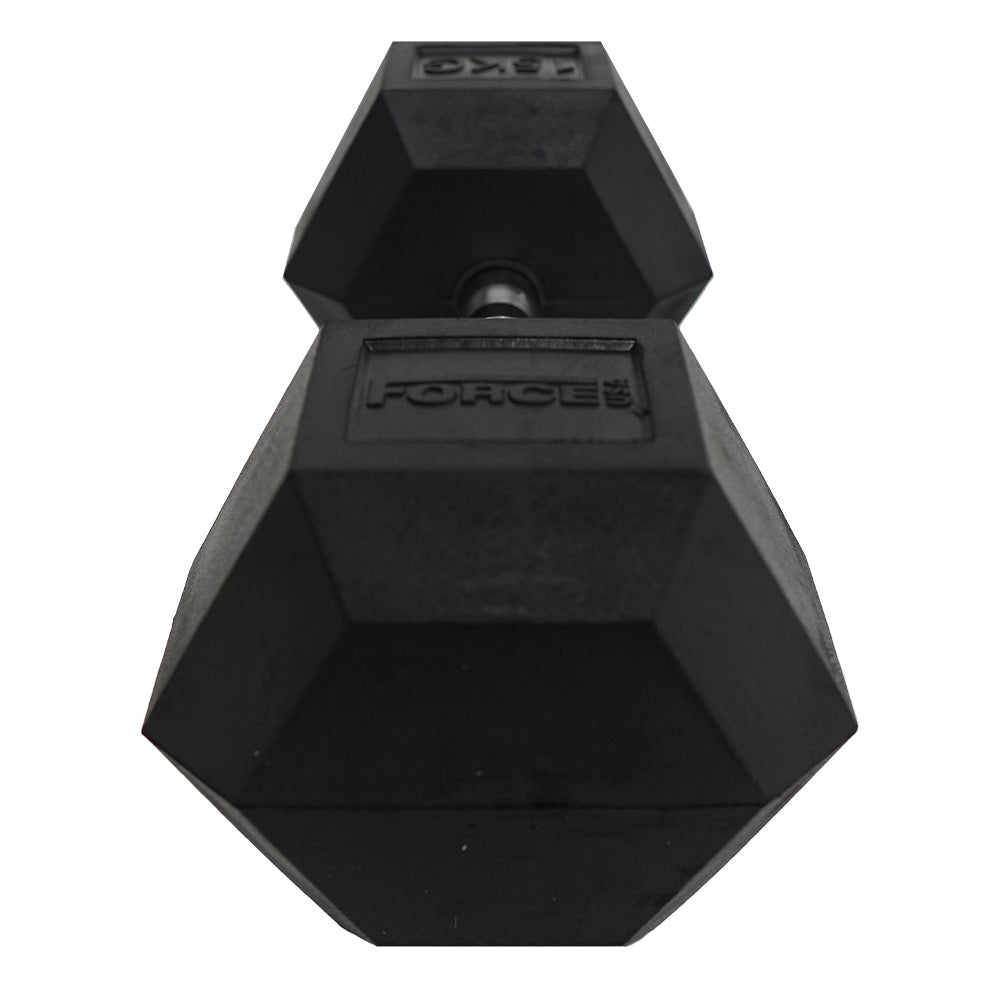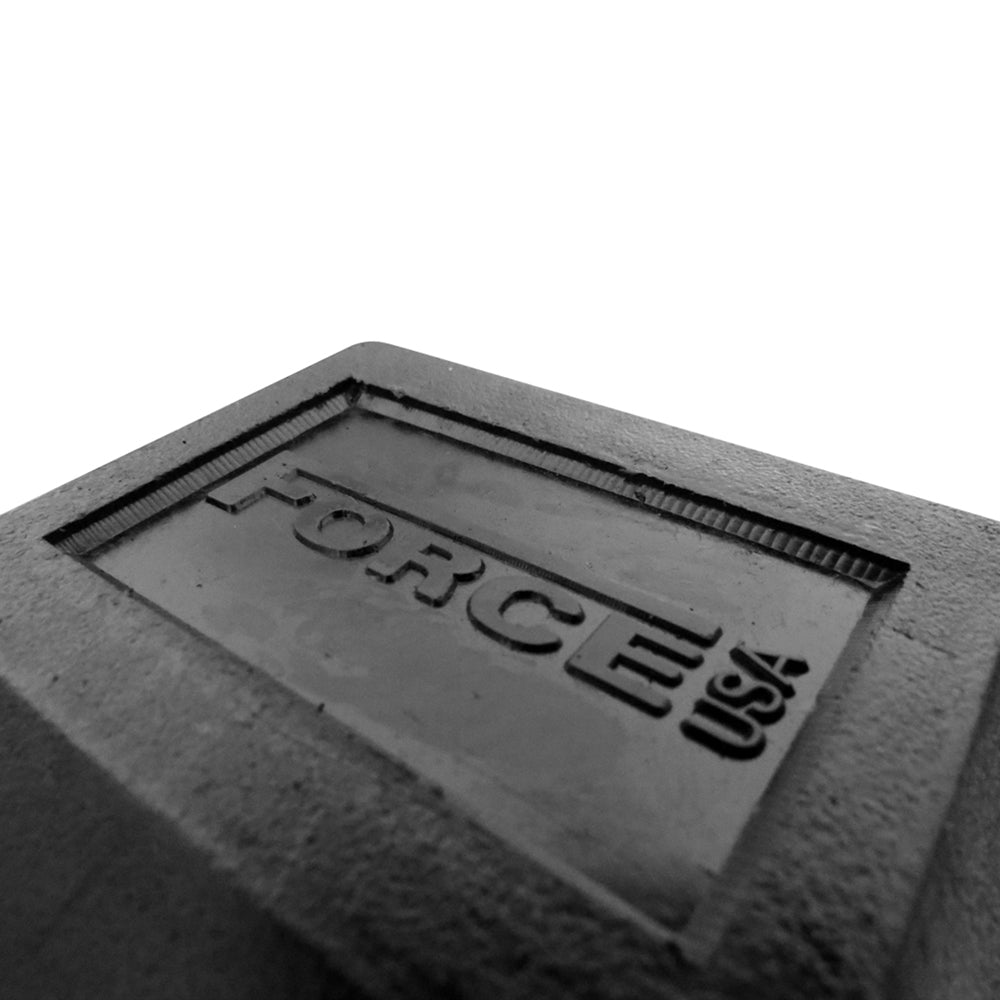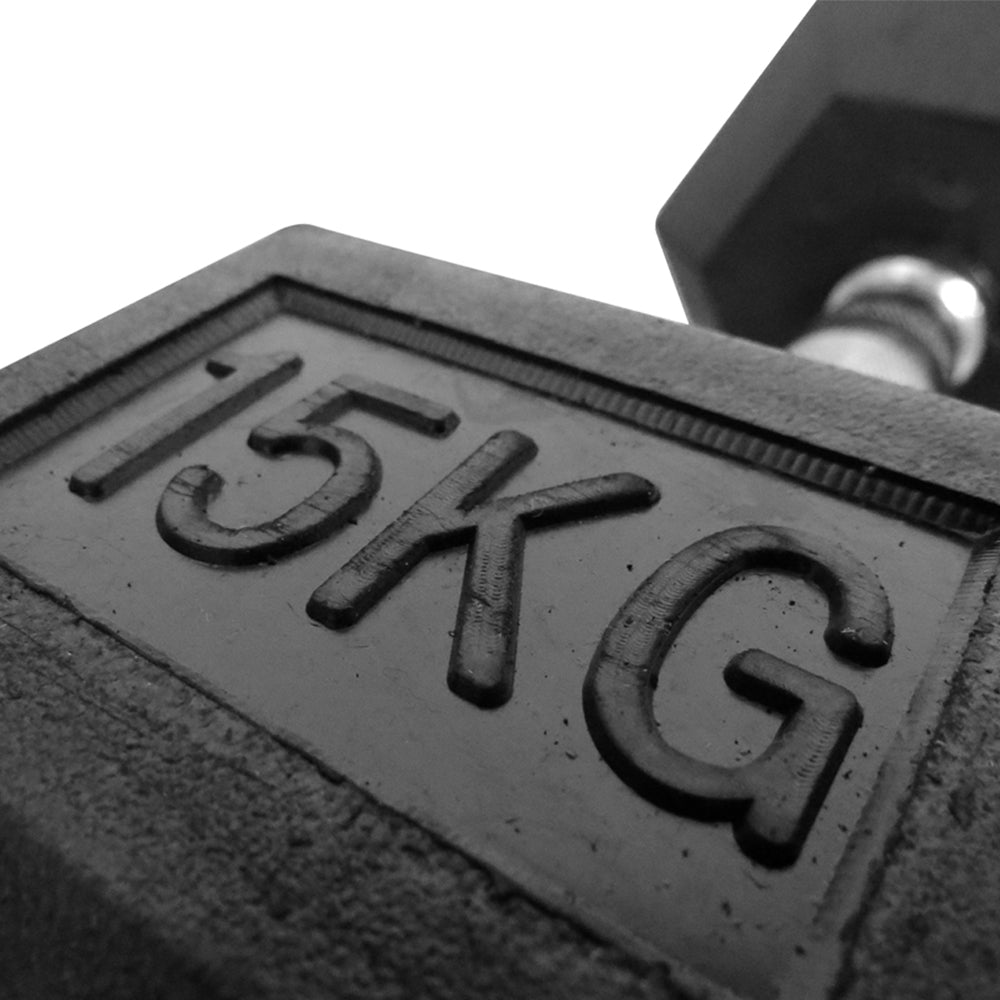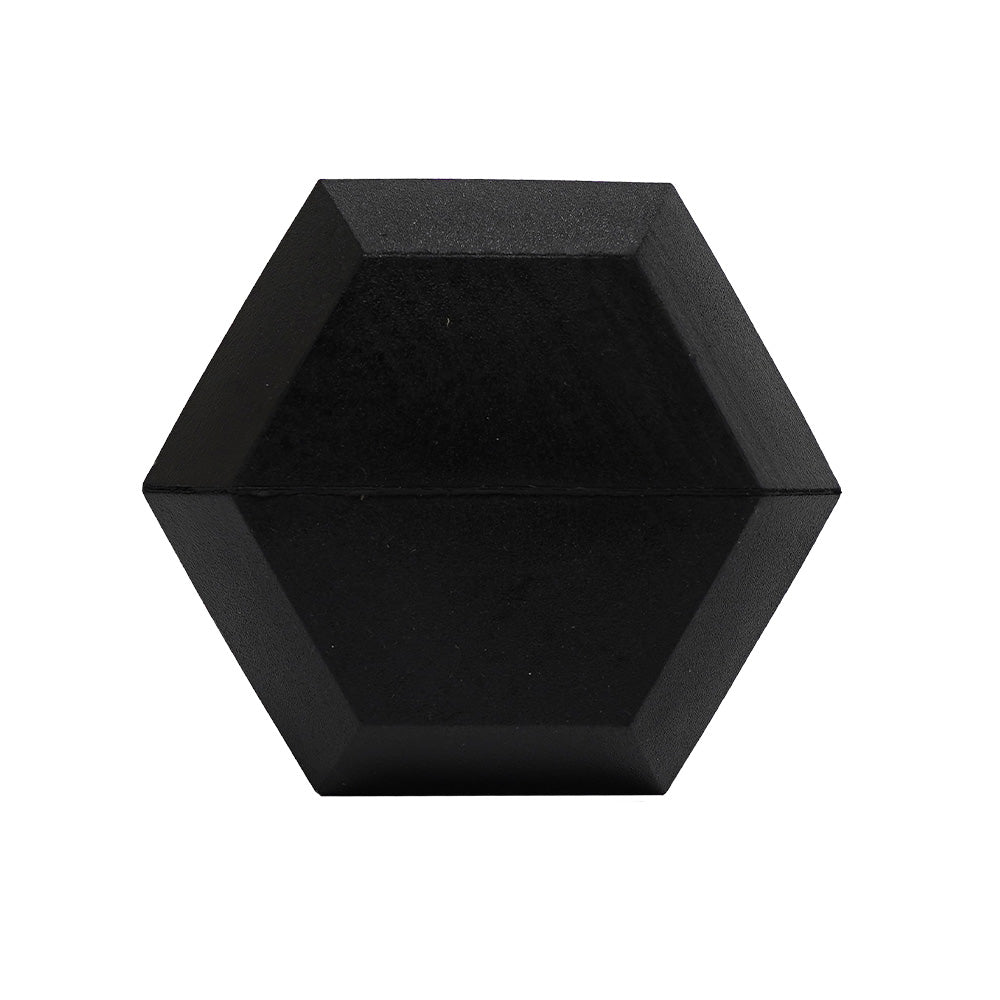 Rubber Hex Dumbbells - ALL SIZES (Sold individually)
The Force USA Rubber Hex Dumbbells are the ultimate staple for any garage or home gym. Versatile, convenient to use and easy to store, the Rubber Hex Dumbbell is a simple solution for a durable weight that can provide various workouts to reach your training goals. Built with a solid rubber coating, Force USA Rubber Hex Dumbbells have a one-piece forged construction with durable rubber protection for your flooring, and a hexagonal shape to prevent unwanted rolling on racks or floors.
---


THE ULTIMATE GYM STAPLE

The Force USA Rubber Hex Dumbbells are suitable for a wide range of exercises, from bicep curls to full-body workouts, making them a truly versatile addition to any home or gym set-up. They feature an ergonomically designed chrome grip handle for extra safety when working up a sweat. The hexagonal 6-sided anti-roll design stops the dumbbell from rolling away from you on uneven surfaces so you'll always have your gear close at hand.

 
CHECK OUT SOME OF OUR HAPPY CUSTOMERS
Specifications
Weight discrepancy is +-3%
One-piece forged construction
Suitable for home or gym use
Commercial grade
Contoured chrome handles
Rubber coated ends for durability and protection.
Embossed weight identification in KG.
Range of complete dumbbell sets and racks available
Available in 1, 2, 3, 4, 5, 6, 7, 8, 9, 10, 12.5, 15, 17.5, 20, 22.5, 25, 27.5, 30, 32.5, 35, 37.5, 40, 42.5, 45, 47.5, 50, 55 and 60kg.
SIMILAR AVAILABLE PRODUCTS
Awesome!!!
So many different weights to pick and choose from, you honestly can't go wrong with these. Get 'em! They're perfect for building up your own home gym. I'm currently replacing a lot of old equipment with new stuff and some hex shaped dumbbells are the way to go!
Hi Carly,
Thank you so much for your awesome feedback! We're thrilled to hear you are happy with our rubber hex dumbbells and if you ever need assistance, please feel free to get in touch, we'll happily assist you :)
Happy training!
GAF Team
Excellent Dumbbell
Perfect for throwing around in circuit/cardio type training
Hi Tama,
Thank you for your positive feedback! We're so glad to hear you are satisfied with your purchase. We appreciate your business and look forward to see you again.
Happy training!
GAF Team
Dumbbells
Excellent addition to our growing collection
Hi Karen,
Thank you for your feedback! We're thrilled we have been able to provide you quality dumbbells to add to your collection. Thanks again for choosing GAF and we hope to see you again.
Happy training!
GAF Team
Force USA Rubber Hex Dumbbells- ALL SIZES (Sold individually)
Hi Firas,
Thanks for rating our FORCE USA rubber hex dumbbells, we really appreciate the 5-star! We hope the dumbbells will help you achieve your fitness goal quicker and that you enjoy it for many more years to come!
Happy lifting!
GAF Team
Force USA Hex Dumbells
The Force USA Hex Dumbbells are easy to hold and are nice to lift. Well constructed although I was a little annoyed when I first used them that the rubber ends left greasy marks on my rubber gym floor tiles. Extremely fast shipping from Gym and Fitness, although a little pricey. Will purchase more gear, thanks.