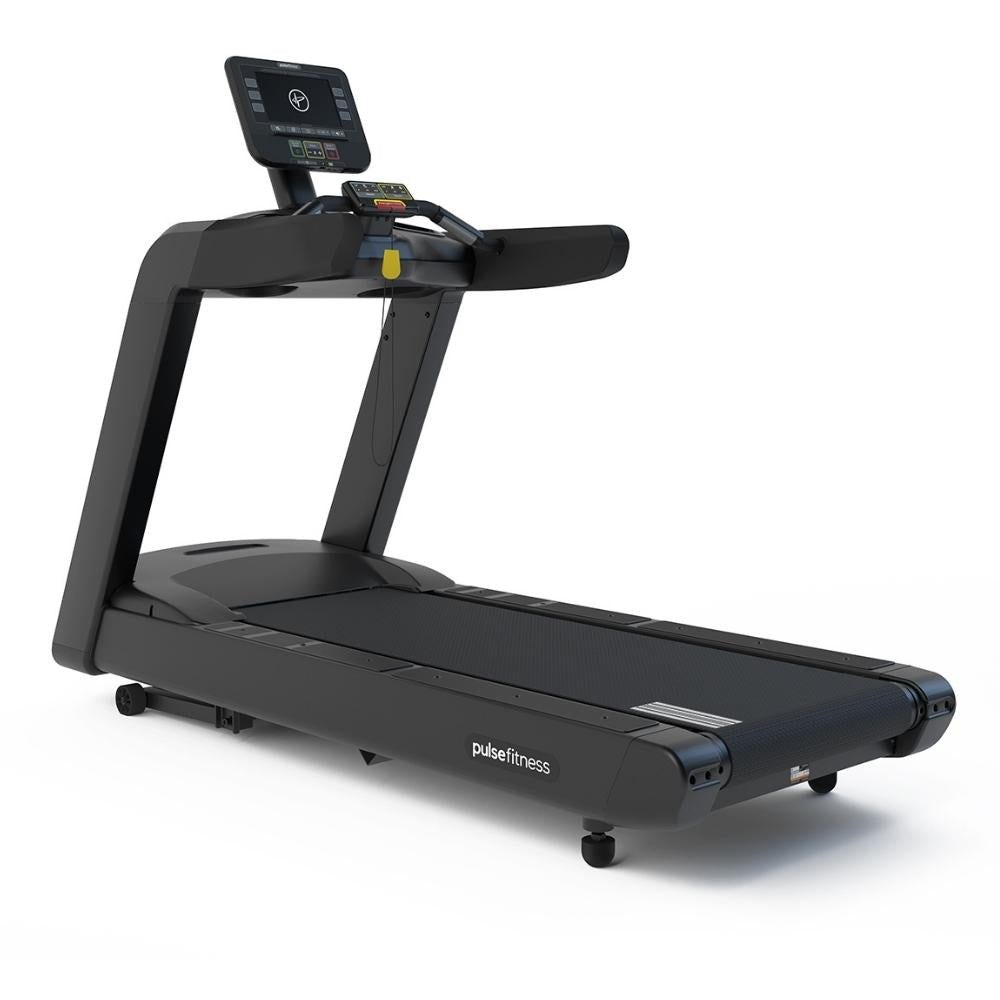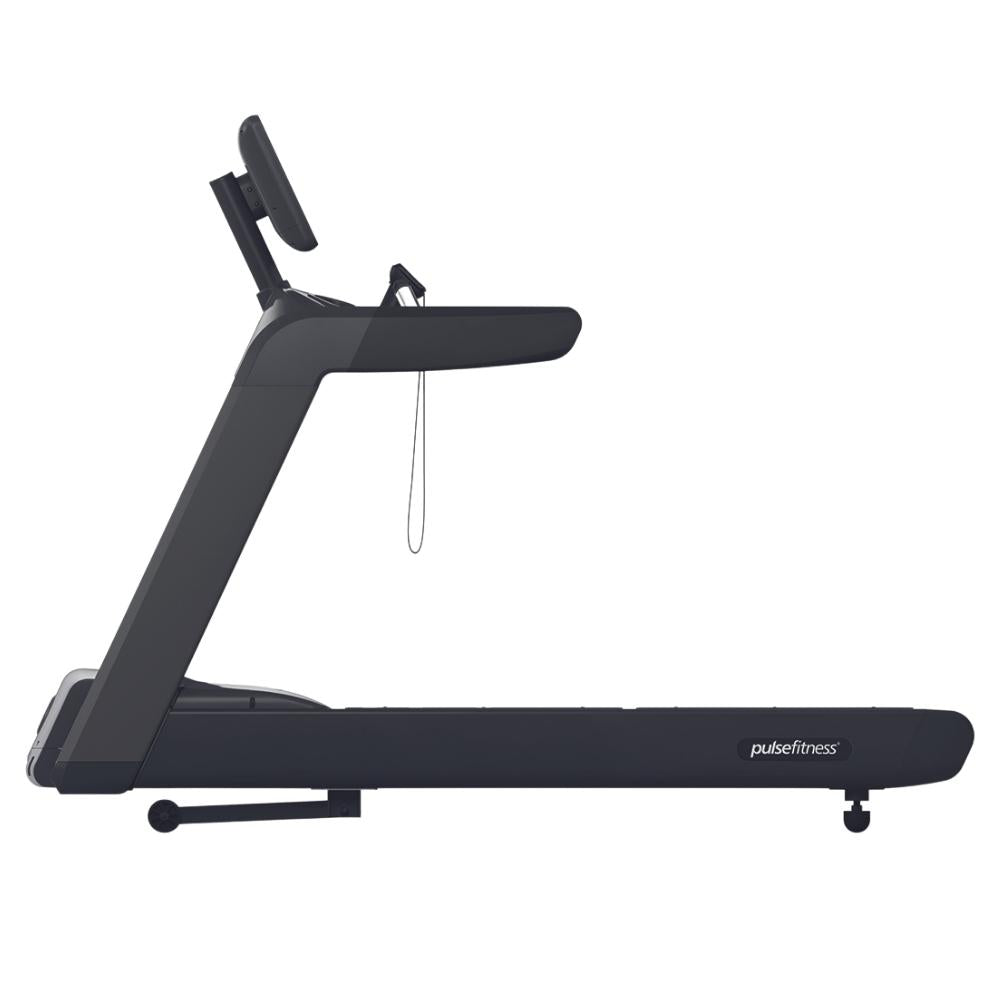 PULSE Fitness Club Line Treadmill
Benefiting from a smooth and powerful 5HP (peak) motor, a running speed to 24kph and 31 incline levels, the Pulse Fitness Club Line Treadmill delivers a cushioned ride and the latest in fitness technology for your members. Manufactured from premium quality, durable materials, this user-friendly cardio machine is an ergonomically robust, reliable and low maintenance solution for all gym environments and fitness levels.

---
KEY FEATURES
CLASS LEADING COMMERCIAL TREADMILL

The Club Line Treadmill features everything your users could ever want from a high-quality commercial treadmill.

Multiple in-built Workout Programmes
10.1″ Integrated High Contrast Colour Display
Conveniently positioned quick controls for Speed and Incline
Wide, self-lubricating Running Belt
Ergonomically shaped, neoprene Front Handrail Grips
Long, flared, cantilevered, over-moulded Side Grips
Moulded Rubber Foot Pads protect polished floors whilst enhancing safety

LOW IMPACT RUNNING SURFACE

Engineered with a low impact, sprung, reversible running surface, this commercial treadmill minimises the risk of injury by reducing stress on your member's back, knees, legs and ankles during walking and running. The low deck height (27.5cm) also compliments accessibility for all levels.

10.1" INTEGRATED COLOUR CONSOLE

With a 10.1" (25.7cm) integrated, high contrast colour display console, engaging icons and simple tactile navigation, this treadmill is designed to motivate and engage your users every step they take. Access the in-built workout programs and keep track of performance or watch TV during each workout.

OUTSTANDING COMMERCIAL CONSTRUCTION

Constructed with a highly durable 3mm 11 gauge steel, this treadmill is designed to give exceptional structural integrity and stability during the most vigorous workouts. The zinc treated, epoxy powder coated frame delivers maximum corrosion resistance with minimum cleaning.

THE BEST OF BRITISH DESIGN

For over 40 years, Pulse Fitness has been a leading global provider of commercial fitness equipment through its technologically advanced products that help to create a healthier future worldwide.
WE CAN HELP WITH YOUR GYM FIT OUT!
Gym and Fitness are experts in all things fitness equipment. Our knowledgeable consultants can help you find the right gear for your training facility, including cutting-edge 3D technology to see exactly what your equipment will look like plus flexible payment plans.
Get in touch
to find out more!
SPECIFICATIONS
Usage: Full Commercial
Materials:

Durable 3mm 11-gauge steel frame
Furnace baked, heat-cured and electrostatically epoxy powdered frame
Slip-resistant, extruded rubber Hand Grip compound
Injection-mouldings are durable, high impact thermoplastic housings

Important Specs:

Top speed of 24kph
31 incline levels
Motor - 5.0HP
Wide, self-lubricating Running Belt
Ergonomically shaped, neoprene Front Handrail Grips
Long, flared, cantilevered, over-moulded Side Grips
Moulded Rubber Foot Pads

Console:

10.1″ (25.7cm) Integrated High Contrast Colour Display
16:9 Aspect Ratio
1366×768 Resolution
Tactile controls with raise iconography
Languages available: Chinese, English (UK), French, German, Italian, Japanese, Russian, Spanish & Welsh

Speed Range: 0.5-24.1kph / 0.3-15mph
Speed Increments: 0.1kph / 0.1mph
Elevation Range: 0%-15%
Elevation Increments: 0.5%
Step-Up Height: 27.5cm / 10-13/16″
Deck Type: 2.4cm / 15/16" Reversible medium density fibreboard
Shock Absorption System

Low impact sprung
Waxing System
Self-lubricating Running Belt

Running Belt: 152cm / 59 -3/16″ Length x 54cm / 21-1/4″ Width (Between Belt Centres)
Side Handrails: 65cm / 25-9/16″ x 15.5cm / 6-1/16″ Long, flared, cantilevered, over-moulded grips
Storage:

Twin Removable Storage Buckets/Cup Holders
Integrated Device Storage Tray

Rollers: 10.2cm / 4″ diameter, precision-crowned, front and back
Operating Temperature: From 5 degrees Celsius to +30 degrees Celsius (from +41 degrees Fahrenheit to +86 degrees Fahrenheit)
Workout Programmes: E-Scape virtual workouts (road, lake, valley, beach), Goals (Time; Distance; Calories), Marathon mode, Pacer (Time and speed; Time and distance; Speed and distance), Profile: X-country (easy, moderate, advanced), Aerobic (easy, moderate, advanced), Hill climb (easy, moderate, advanced), Intervals (easy, moderate, advanced), Random (easy, moderate, advanced), Rockport fitness test with V02 result, Variable cool down with manual override.
Workout Displays: Profile display with level indicator, Track display with level indicator (pacer mode only), Time elapsed/remaining (depending on program), Distance elapsed/remaining (depending on program), Speed, Elevation, Calories used, Watts, Heart rate, METs, User weight entry (automatic when used with pulsemove.com), User selectable/management programmable units (imperial/metric), User selectable/management programmable language.
Product Weight: 220kg
Max User Weight: 160 kgs
Assembled Dimensions: 88 (W) x 214 (L) x 160 (H) cm
Warranty:

Frames and welds: 5 Years
Mechanical components: 2 Years
Consoles: 2 Years
Rubberised materials: 12 Months
Upholstery: 6 Months