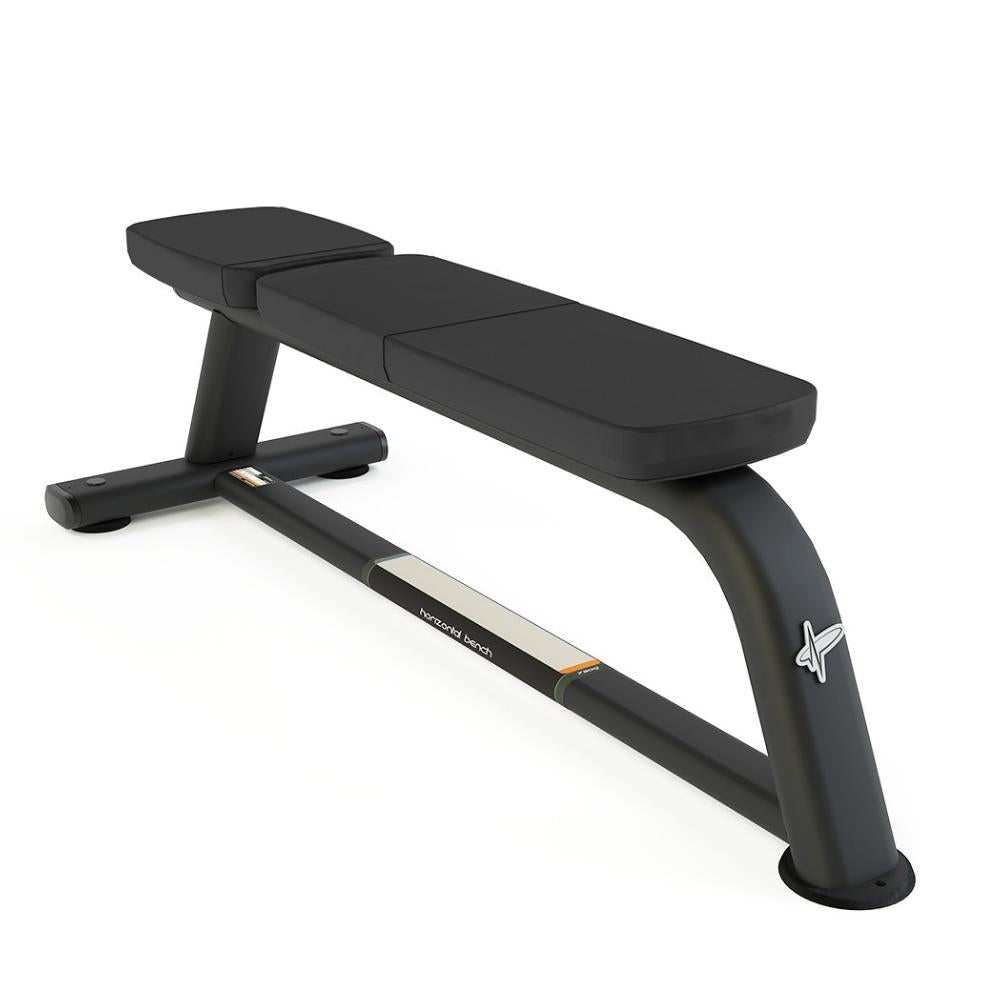 Club Line Horizontal Bench
Product Description: Lightweight, robust and suitable for all user types and workout goals, the Club Line Horizontal Bench will make a great addition to your gym's training floor. Featuring the best in British design, this versatile commercial workout bench includes a heavy-duty 11-gauge steel frame, ergonomic design and hard wearing padding. See why Pulse Fitness has been a leading global provider of commercial equipment for over 40 years!

---
KEY FEATURES
LEADING ERGONOMIC DESIGN
The Club Line Horizontal Bench has been ergonomically designed to place users in a safe, comfortable and optimised position to ensure maximum workout results. Easily accommodates all body sizes and bench exercises with a stable base design.
COMFORTABLE, HARD WEARING UPHOLSTERY
Durable, puncture and wear resistant polyurethane padding ensures robustness in your commercial gym. The materials provide high resistance against abrasion, ageing, bacteria, mildew, oil and stains, while offering comfort and support for members.
PRECISION ENGINEERING AND OUTSTANDING TOUGHNESS
Leading edge engineering combined with the finest materials ensures this piece stands out from the crowd. Designed to last a lifetime and easy to maintain, the frame boasts an intricate three-step finish for maximum surface resistance.
AN OUTSTANDING COMMERCIAL INVESTMENT
Pulse Fitness puts your commercial gym needs at the heart of its strength equipment to deliver unbeatable reliability and longevity.

Constructed with a highly durable 3mm 11 gauge steel, you get exceptional structural integrity and stability during the most vigorous workouts.
The zinc treated, epoxy powder coated frame delivers maximum corrosion resistance with minimum cleaning.
Moulded tread plates atop the legs protect against damage from weights, with plastic foot pads designed to protect polished floors whilst enhancing your member safety.
WE CAN HELP WITH YOUR GYM FIT OUT!
Gym and Fitness are experts in all things fitness equipment. Our knowledgeable consultants can help you find the right gear for your training facility, including cutting-edge 3D technology to see exactly what your equipment will look like plus flexible payment plans. Get in touch to find out more!
SPECIFICATIONS
Usage: Full Commercial
Materials:

Durable 3mm 11-gauge heavy duty steel frame
Furnace baked, heat-cured and electrostatically epoxy powdered frame
Durable injection-mouldings with high impact thermoplastic housings

Colour:

Frame: Sand Black
Mouldings: Black
Upholstery: Slate Black / Midnight (Single Black Stitching)

Important Specs:

Ergonomic design supports all users
Wear resistant, easy-to-clean vinyl upholstery

Product Weight: 28kg / 62lbs
Max User Weight: 180 / 397lbs
Dimensions: 53 (W) x 141 (L) x 43 (H) cm
Warranty:

Frames and welds: 5 Years
Mechanical components: 2 Years
Consoles: 2 Years
Rubberised materials: 12 Months
Upholstery: 6 Months
SIMILAR AVAILABLE PRODUCTS