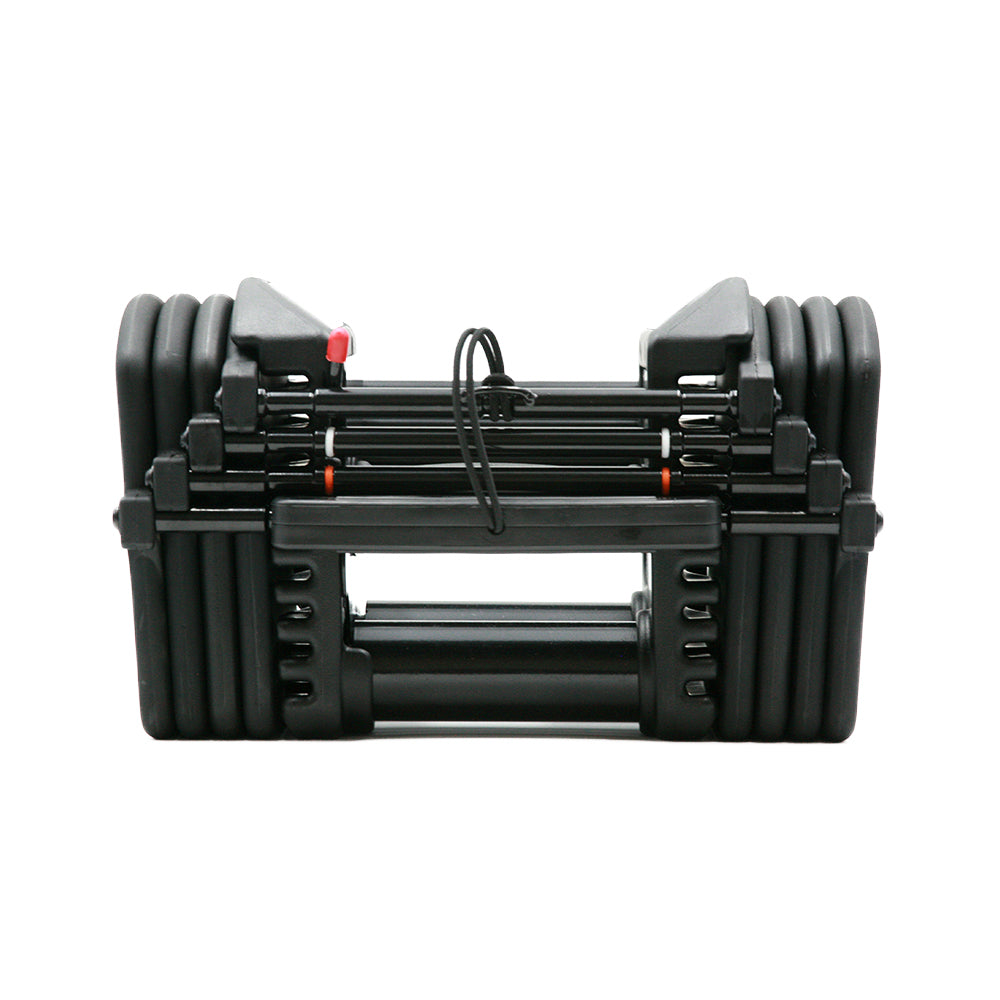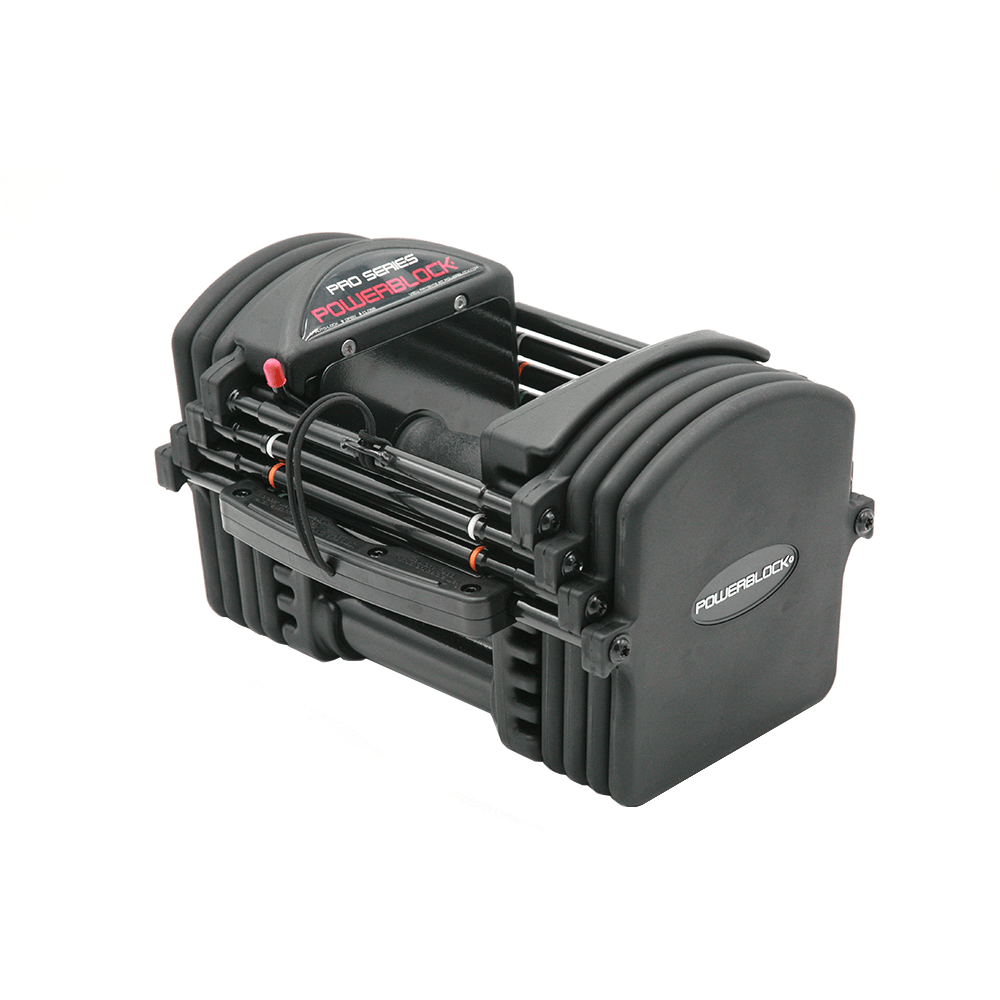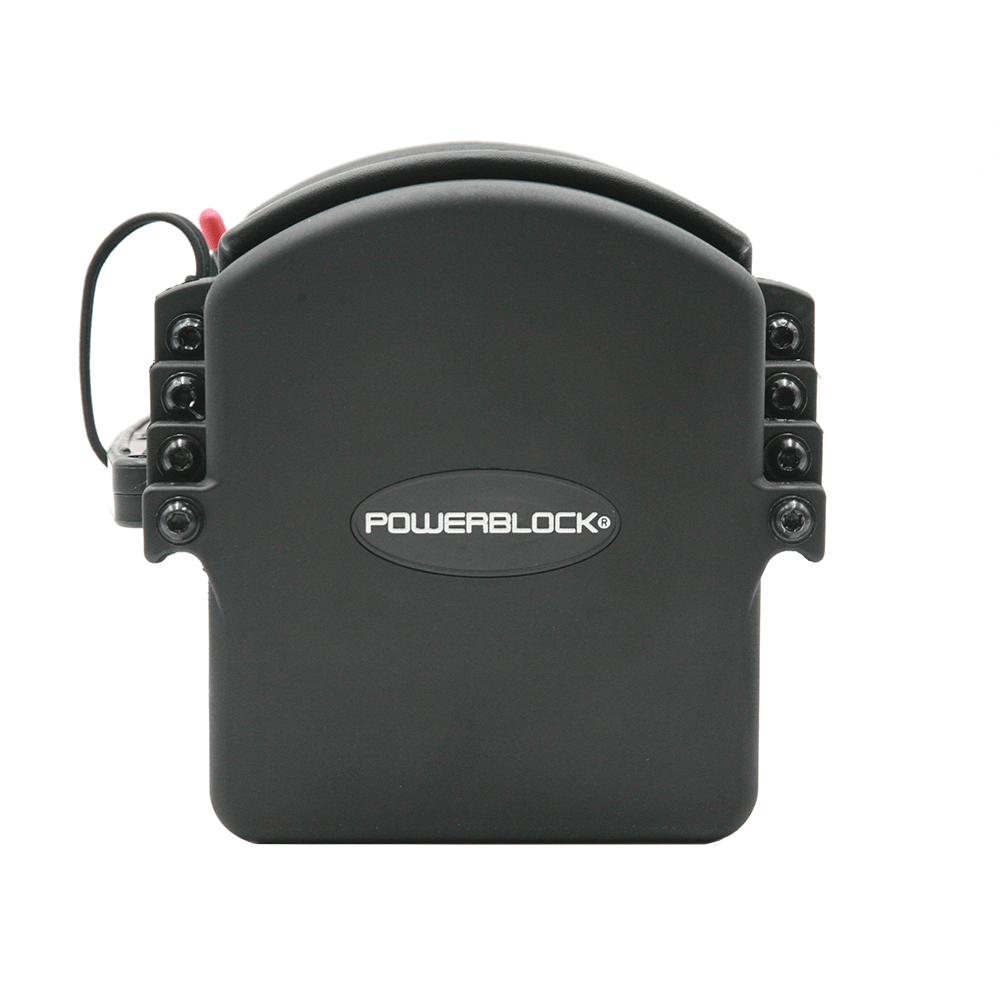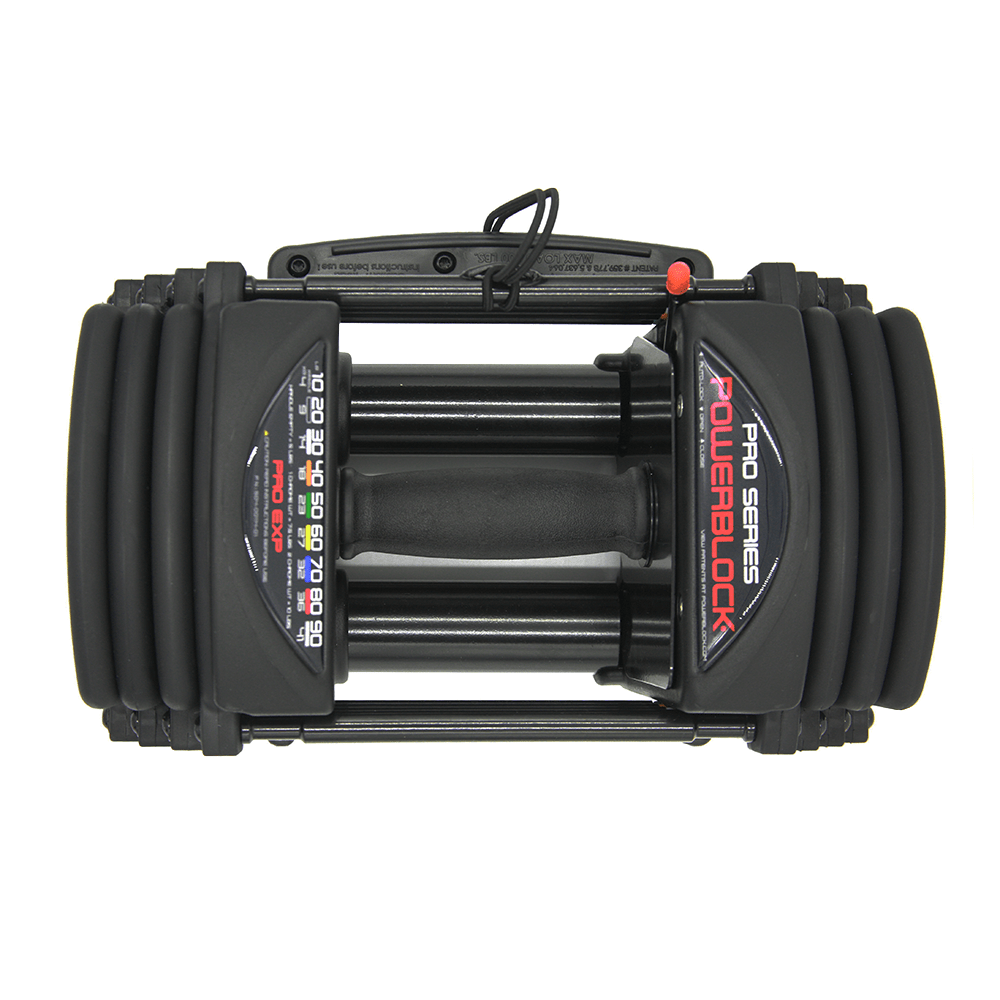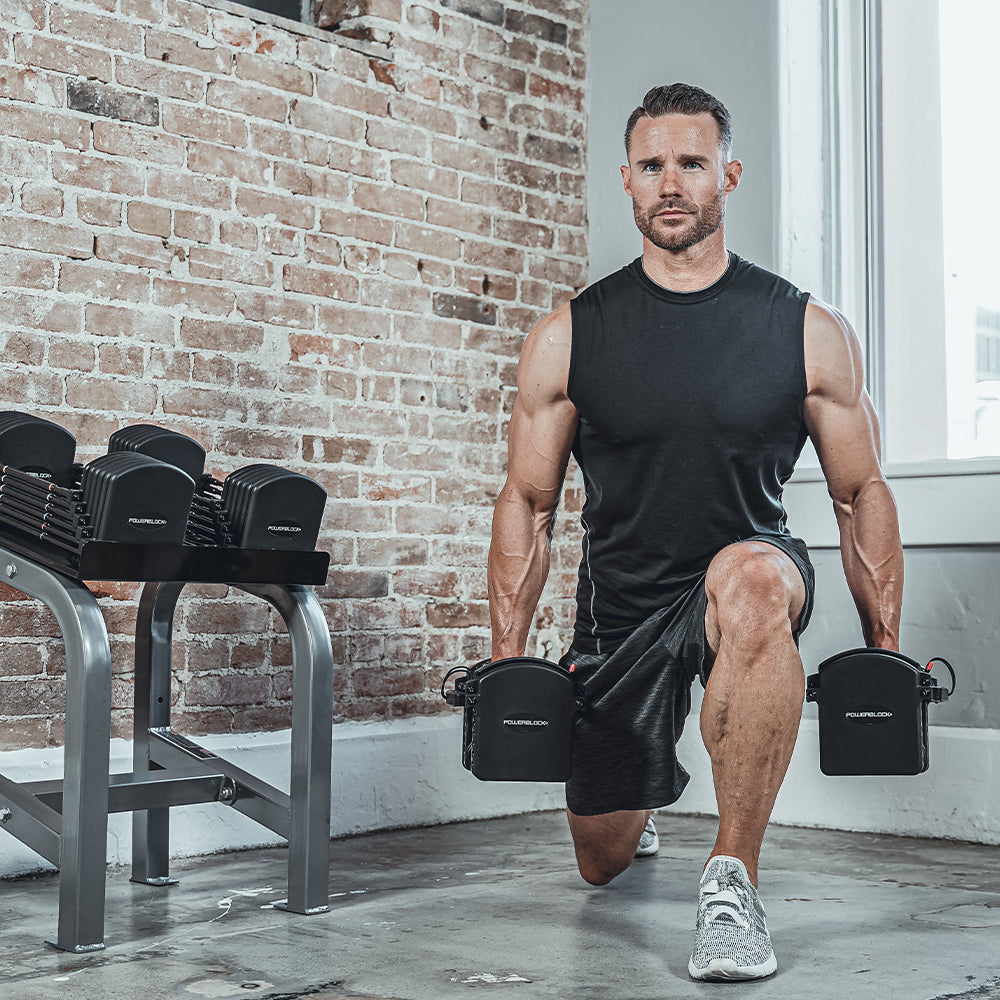 Pro Exp Stage 1 Set
Take your strength and fitness to a new level with the world's most compact, user-friendly dumbbell set for home gyms. The unique expandable design of the PowerBlock Pro Exp Stage 1 Set lets you quickly move between 2kg-23kg (4lbs-50lbs) of weight on each hand. Extremely comfortable, perfectly balanced and very durable, you'll save space, money and time with this popular PowerBlock.
---
Key Features
COMFORT MEETS PERFORMANCE

The PowerBlock open-designed handle makes it a great fit for any hand size, with easy accessibility and a comfortable knurled rubber grip. With an ergonomic design, every selected weight is well balanced, which makes it the ideal choice for both stationary arm exercises and HIIT workouts.

 

QUICKLY CHANGE WEIGHTS ON THE FLY

Experience why PowerBlock's Pro Exp Stage 1 Set is taking over from traditional dumbbells, with a fast and easy-to-use selector pin to change your desired weight. You can also go up or down in weight in small increments with the two chrome cylinders (1kg each) that fit smoothly into the handle. The super-strong polypropylene pin is rated for a massive 227kg (500lbs). Magnets inside the pin hold it securely once inserted completely.

 

CLEVER SPACE-SAVING DESIGN

With the Powerblock Pro Exp Stage 1 Set as part of your set-up, you can save valuable space by packing all of your weights into a single compact area. The Stage 1 expandable block is equivalent to 16 pairs of traditional dumbbells with a weight of 370kg (815lbs).

 

SETS THAT GROW WITH YOU

Powerblock has all your workout goals covered with expandable sets that grow as you build strength and power. The EXP Stage 2 and EXP Stage 3 sets are a great addition to your EXP Stage 1 set, allowing you to go from 23kg per dumbbell to a huge 41kg (90lbs) effectively replacing 28 pairs of dumbbells.

 

SAFETY FEATURE

The 'Auto-Lock' lever on the handle is a simple way to make micro-adjustments in 2.5 lbs. increments by removing two chrome ballast weights within the lower tubes. To remove the inner weights tilt the handle back so the weights don't spill out, then pull the lever down. Carefully remove the inner weights and put them in the storage slots on the stand. Then drop the handle back in the weight stack to close the lever, or do it manually. To add the weights back into the handle reverse the process.

 
Specifications
Usage: Domestic
Weight increments: per dumbbell with the Stage 1 Set: 2.5lbs (adder weight), 5, 7.5, 10, 15, 17.5, 20, 25, 27.5, 30, 35, 37.5, 40, 45, 47.5 and 50 lbs.
Weight per Dumbbell: 22.7 kgs (50lbs) (sold as a pair)
Weight Stacks: Urethane coated steel plates provide smooth and quiet performance.
Dumbbell Colour: Black
Dimensions: 31.8 (L) x 17.8 (W) x 18.4 (H) cm
Compare Powerblock Dumbbells

- Please note the comparison page shows US pricing.
SIMILAR AVAILABLE PRODUCTS
adjustable-dumbbells
Worth the money
I've wanted a set of Powerblock dumbbells ever since I saw them about 25 years ago in Muscle Media magazine. Finally bought them as a present for myself. Only had them for a few weeks but these are my impressions so far:
• Build quality seems top notch, as expected for the price. I looked at other, dial based, adjustable dumbbells but they seemed to have plastic internal gears/parts? Maybe only the brands I saw. Anyway these are built solid.
• Saw some reviews about the rubber coated version (Pro Exp which I have) cracking in the corners near the rails. After playing with them on regular rubber gym flooring I can't see that being an issue, unless you load up the 45kg, clean and press, and drop from overhead maybe.
• I bought the Pro Exp version to get the rubber coating on the plates, as I read that the all metal plate version had significant plate rattle. These sill move a little, but they're quiet.
• The 1kg micro weights in the handles are an awesome idea. This lets you make smaller weight adjustments. Valuable if youve ever tried jumping from say 18kg to 23kg curls... The way they're added and removed is too hard to explain but it takes about 10-15 seconds
* One final small point - if you do heavy dumbbell bench/overhead press etc you'll appreciate the flat ends on the dumbbells, ie no bruises on the thighs from the end of the dumbell handle digging into your thigh.
Bottom line - 5/5 - I plan on getting the stage 2 upgrade, hopefully within the next 25 years
Hi Jonathan,
Thank you so much for your detailed review, we really appreciate it! We are thrilled to hear you are happy with your purchase. Your satisfaction is the utmost importance to us and we're happy to hear we met your expectation.
If you ever have any questions or concerns, please don't hesitate to reach out :)
Happy training!
GAF Team
Hi Max,
Thank you for the recommendation! If you have any further feedback or concerns, please don't hesitate to let us know we'll be happy to hear it and assist :)
Happy training!
GAF Team
Not as good as older Powerblock u90's
Bought these new Powerblock Pros to replace older U90's.
I have both expansion packs. The newer Pros have about 10mm of travel between the handles and weight stacks which translates into a lot of rattle and movement when moving them around during exercise.
The older ones are much tighter and dont rattle at all. Ive complained and was sent 1 sticker/packer to add to handle. Made slight improvement.
Buy some U90's off of Marketplace and buy the expansion kits for the pro's new if needed. They fit and work perfectly.
The 10mm gap is ridiculous
I believe older were made in the states and new ones china.
Hi Mark,
Thank you for your honest feedback. We're sorry to hear you were not satisfied with the new Powerblocks but just in case this bothers you too much, please don't hesitate to reach out to our customer service at info@gymandfitness.com.au and we'll be happy to assist you.
Kind regards,
GAF Team
PowerBlock Pro Exp Stage 1 Set
Hi Xiaowen,
Thank you for the 5-star rating, we appreciate it! If you have any further feedback or concerns, please don't hesitate to let us know, our team is happy to help!
Happy training!
GAF Team
Time & space saver
Went from taking 1-2 mins to swap traditional dumbbell weights to like 10 seconds with a smaller floor foot print too.
Shame they went on sale 22 days after buying them
Hi Brandon,
Thank you for taking the time to share your positive experience with the Powerblocks. We're glad to hear that they have been a time and space saver for you. We apologize for any inconvenience caused by the sale that occurred after your purchase. Our team strives to provide the best value to our customers at all times. We hope you can catch our sale next time!
Happy training!
GAF Team