Olympic EZ Curl Barbell
Significantly reduce stress on your wrists with the Force USA® EZ Curl Bar. This ergonomically designed, Olympic sized bar will develop your biceps, forearms, and upper arm muscles by increasing strength, mass, and definition. With a one-piece forged steel construction and EZ angled design, this bar is both durable and comfortable to use while training.
CUSTOMERS ALSO BOUGHT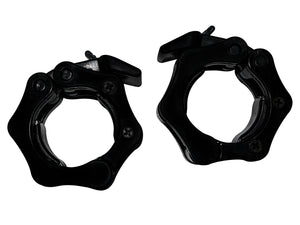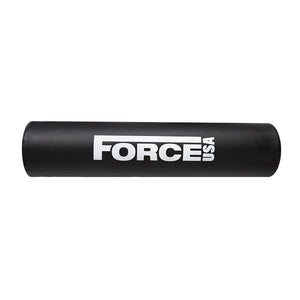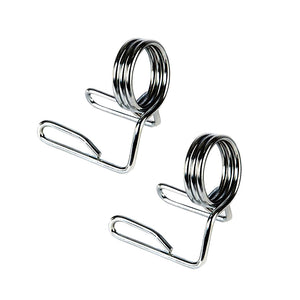 Olympic Quick Lock Collars allow swift and easy attachment and removal from the bar. Flick the latch and release with one hand while removing or adding plates with the other.
---
Key Features
REDUCE WRIST PAIN

The Force USA® EZ curl bar has been designed to reduce impact and pain on the wrist when performing curling and tricep exercises. The ergonomic design allows the user to target bicep and tricep muscles while avoiding the external rotation that is required on traditional barbells.

IMPROVE TECHNIQUE

Lift greater weight and improve your technique with the Force USA® Olympic EZ Curl Bar. With the Olympic design of this bar, you'll be able to lift more weight thanks to the reduced torque, and the EZ grip will allow for a more targeted and efficient exercise. The bar can be used for both close grip and wide grip exercises to help to target different regions of the arms.

COMFORTABLE AND VERSATILE

The high-quality durable finish, combined with the deep fine knurling, provides a comfortable grip for various exercises and holds. The Force USA® EZ curl bar is commercial grade and is suitable for commercial gyms, PT studios, and home workouts.
SPECIFICATIONS

Bar Length: 120cm
Bar Weight: 8.7kg
Grip Diameter: 50mm
Usage: Olympic
Shaft Coat: Chrome
Shaft Length: 82cm
Loadable Sleeve Length: 19cm
Max Weight: 225kg
Shaft Diameter: 27.7mm
Shaft Material: Q235 Steel
Sleeve Material: Cast Iron
Additional Information
estimated assembly time:
2 min
loadable sleeve length:
19cm
shaft material:
Q235 Steel
sleeve material:
Cast Iron
SIMILAR AVAILABLE PRODUCTS
olympic-barbells
orce USA Olympic EZ Curl Barbell
Exactly what my Home Gym Needed to Give the Gym session that zing when needed !💪
Hi Robert,
Thanks a ton for the awesome review! We're thrilled to be the zing your home gym needed for those killer sessions. If you have any questions, we've got your back!
Happy training!
GAF Team
Excellent EZY bar.
Excellent EZY bar. Very robust.
Hi Matt,
Thank you for your feedback here! Your satisfaction is the utmost importance to us and we're glad to have met your expectation. If you ever need assistance, please don't hesitate to get in touch, our team is happy to help.
Happy lifting!
GAF Team
Hi Anthony,
Thank you for your awesome review! We're glad you like the the Olympic EZ curl barbell and please don't hesitate to reach out to us if you ever need assistance.
Happy lifting!
GAF Team
Great curl bar with a deep nurling for the grip. Worth the money
Hi Brendan,
Thank you for the positive feedback! We're pleased to hear you are satisfied with your purchase, we hope you continue to enjoy your workouts with the Olympic EZ Curl Barbell for many more years to come. Thanks again for your business and we hope to see you again.
Happy lifting!
GAF Team
Fast and reliable as usual would recommend 5 star service m.
Hi Paul,
Thank you for taking the time to leave such a positive review! We are thrilled to hear that you found our service fast and reliable. It means a lot to us that you would recommend us to others and we appreciate your five-star rating. Please don't hesitate to reach out if you need any further assistance in the future.
Happy lifting!
GAF Team