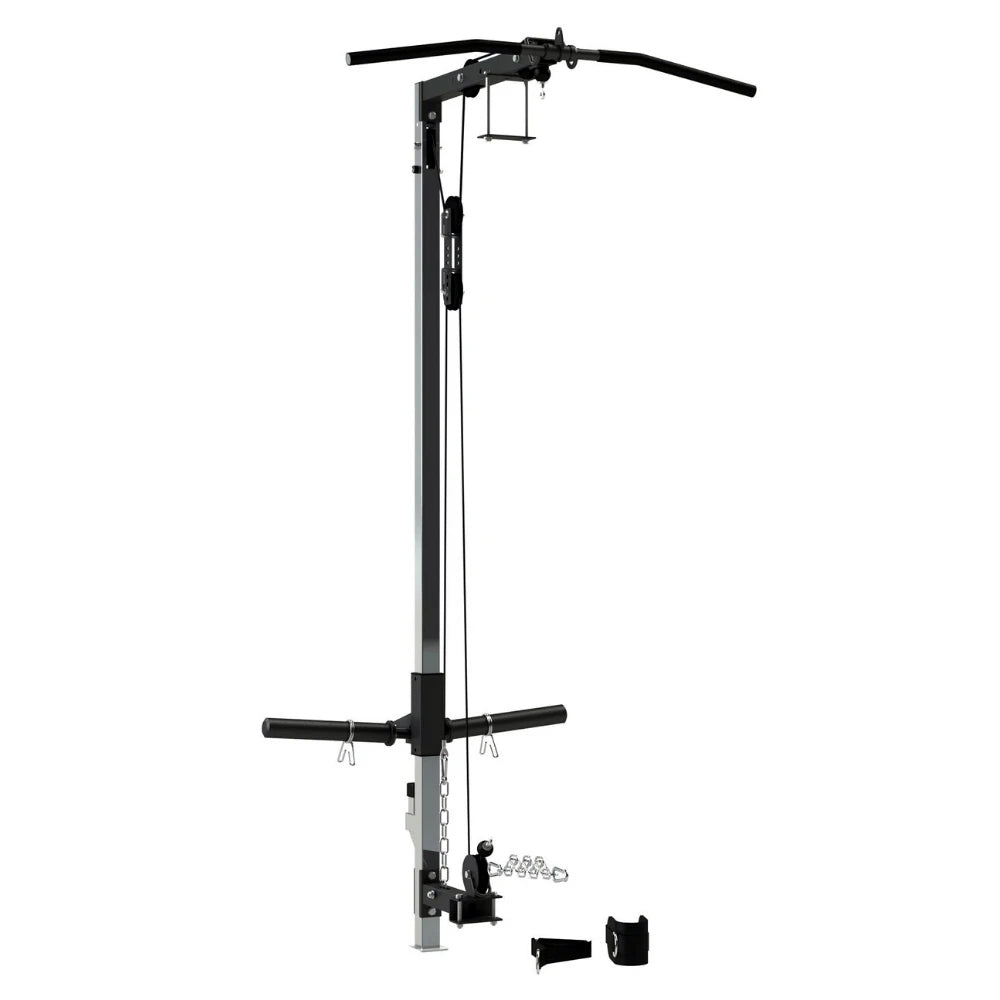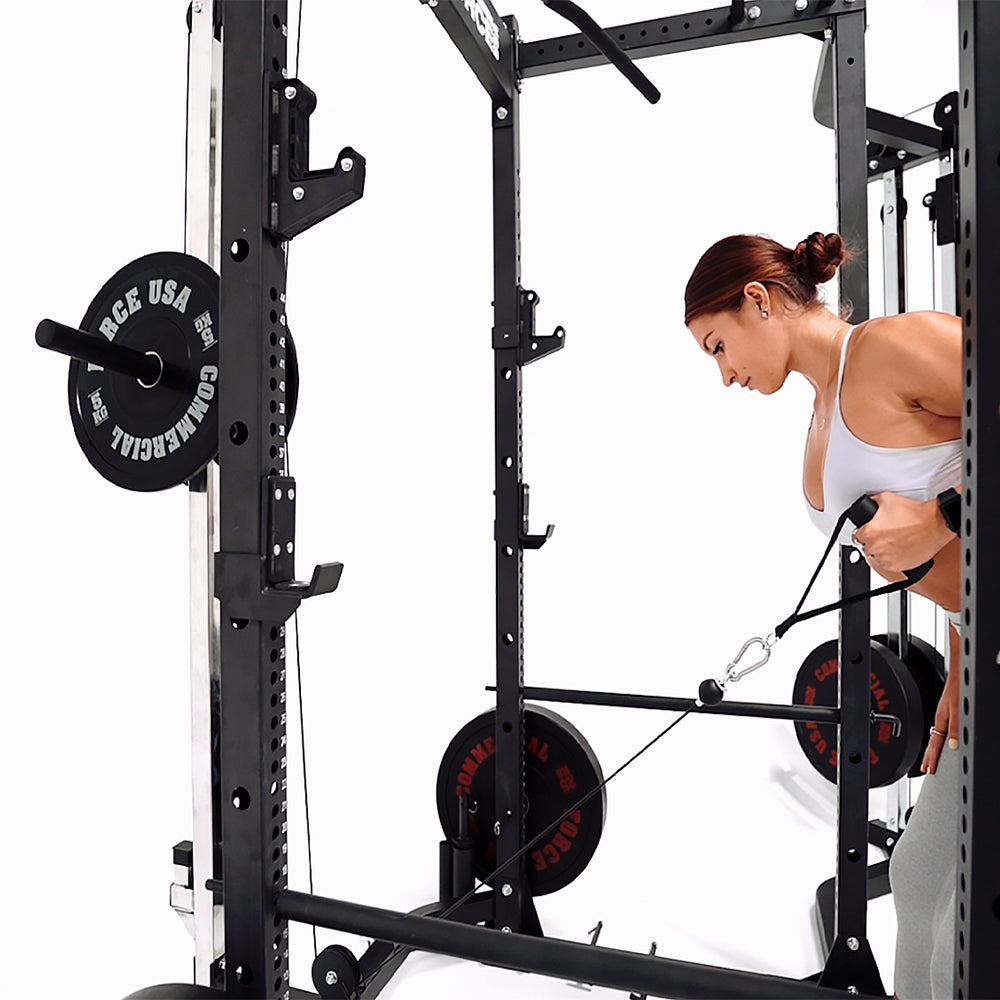 MyRack Lat Pull Down Attachment
The Force USA® MyRack Lat Pull Down Attachment is a fantastic addition to your MyRack, taking up little space at the rear of the unit and delivering a ton of exercises! Compact and high-performing, the Lat Pull Down and Low Row Attachment will give powerful and intense workouts such as lat pulldowns, tricep pushdowns, low rows and overhead cable curls.
---
Key Features
BANG FOR YOUR BUCK

With included adapters, you can work out with Standard Weight Plates (32mm) or Olympic Weight Plates (50mm). The two plate holders feature a unique welded support bracket and safety stopper to provide an added degree of safety and structural integrity during your training. With four pulley handle/bar attachments included, this affordable attachment gives you a great bang for your buck!

LAT PULLDOWN/LOW ROW EXERCISES

Complete a multitude of exercises, including:

Lat pull-downs
Low rows
Straight arm pull-downs
Triceps pushdowns
Overhead triceps extension
Biceps curls
Upright rows
Bent over rows
Unilateral side delt raises
Unilateral rear delt raises
Cable pull-throughs
Glute kickbacks
Kneeling crunches
Attachment is compatible with the Force USA® MyRack ONLY
Specifications
Usage: Light Commercial
1 x Lat Pull down / Straight Bar attachment
1 x Lat Bar
1 x Straight Bar
2 x Standard and Olympic weight plate adapters (32mm and 50mm plate)
2:1 Ratio
Tubing (Upright) Size: 60mm x 60mm
Static Weight Rating: 450kg/880 lbs
Weight Plate Holders Length: 29.2 cm
Dimensions with Lat Attachment: 200cm (L) x 120cm (W) x 220cm (H) (Adds 60cm to the depth of the MyRack Base Unit (Accommodating space for weight plates)
SIMILAR AVAILABLE PRODUCTS
rig-and-rack-attachments
good quality
very good quality product u will need safety option 1 attachment to use though
Hi Dimitra,
Thank you for your review here, we appreciate it. We do recommend the Safety Option 1 too! If you ever need assistance, please feel free to reach out and we'll be happy to assist.
Happy training!
GAF Team
Great add on.
This finishes off our FORCE USA rack nicely. Fits together seamlessly and works perfectly. Lots great too. Wish we had of bought it Sooner.
Hi Karl,
Thank you for your feedback! We're glad to hear you are happy with your purchase, thank you for choosing GAF and we hope to see you again if you ever need more gym equipment :)
Happy training!
GAF Team
Verstatile
Works well with the MyRack base unit. Pulleys at top and bottom are a plus
Hi Anthony,
Thank you for your positive feedback! Your satisfaction is our top priority and we're glad to met your expectations. We hope the lat pull down attachment enhances your workout routine :)
Happy training!
GAF Team
Lat pulldown/low row attachment
Great attachment to my Force USA My Rack. Easy to assemble. Delivery was within 7 days. Good job gym and fitness!!
Hi Lorraine,
Thank you for taking the time to write about your positive experience with the lat pull down attachment for your My Rack from Gym and Fitness. We are thrilled to hear that you found it easy to assemble and that the delivery was prompt.
We hope that it enhances your workouts and helps you achieve your fitness goals.
Thank you for choosing Gym and Fitness, and we appreciate your kind words about our products and services.
Best regards,
GAF Team
Must have attachment
The main reason for me to choose ForceUSA MyRack over other brands is because of this lat pulldown attachment. Easy to install and fun to use. The only downside is quality control, the chains are missing and one of the bolt is way too short, I had to file down the side of the rack to attach the nut.
Hi Sam,
Glad to hear you are mostly enjoying the rack!
Since you do have a few small issues please do not hesitate to get in contact with the warranty team at warranty@gymandfitness.com.au and I am sure we will be able to help out.
Kind regards,
GAF Team