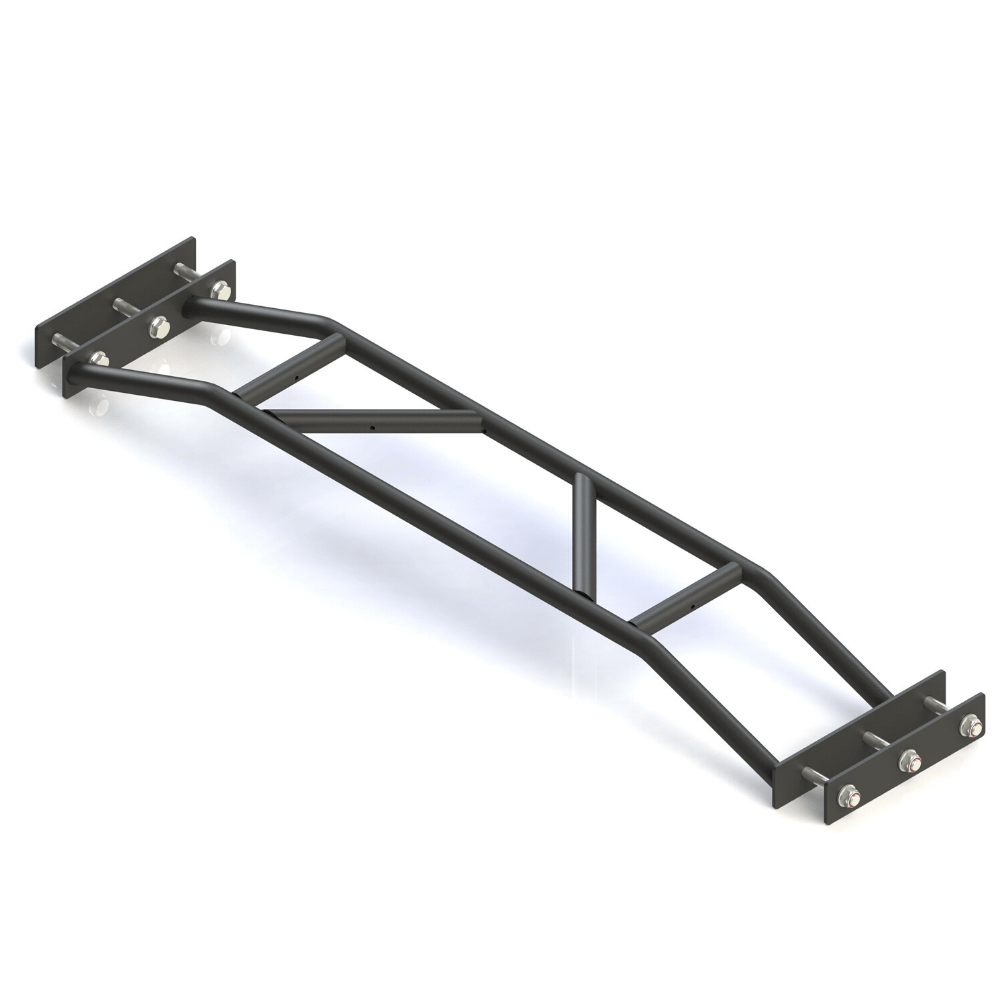 MyRack Chin Up Option 3
The Chin Up Option 3 Multi-Grip Attachment is the ideal pull up solution for those looking for variation in their training. The ergonomically designed Force USA® MyRack Chin Up Option 3 offers a ton of different grip width and wrist position combinations, including wide-grip, close grip, underhand, overhand and a stack of other varied movements. The bars' closed segments make training with rings, band or TRX training simple and effective.
---
Key Features
MULTI-GRIP CHIN-UP EXERCISES

Complete a range of chin-up variations, including:

Chin-ups
Pull-ups
Wide Grip Chin-ups
Neutral/Parallel Grip Chin-ups
Reverse Grip Pull-ups
Semi-Supinated Pull-ups
Hammer Grip Pull-ups
Rings/Bands/TRX Movements

The Multi-Grip Chin-up Bar is bolted flush to the support brackets, so there is no movement and with a solid fixture it can take up to 400kg in weight.

Attachment is for the Force USA® MyRack ONLY
Specifications
Usage: Light Commercial
Weight Rating: 400kg / 880lbs
Commercial Grade Knurling
Dimensions: 1084mm (W) x 210mm (D) x 215mm (H)
Handle Diameter: 28.25mm
Hole Diameter: 15 mm
MyRack Tubing (Upright) Size: 60 mm * 60 mm
SIMILAR AVAILABLE PRODUCTS
rig-and-rack-attachments
Very versatile
Great selection of hand holds. Attaches solidly to base unit
Hi Anthony,
Thank you for sharing your positive review. We're delighted to hear you are happy with your Chin Up option and if you ever need assistance, please don't hesitate to reach out we'll be happy to assist you.
Happy training!
GAF Team
Quality chin up attachment
Quality attachment great hand positions can't fault it
Good bar
Sturdy pull up bar, knurling is enough but still slippery as powdercoat nullifies this out. Wrapped some ankle tape around the points i use to give me some extra grip. But no complaints, is a good pull up bar that adds stability to the rack.
Excellent multi grip
Strong and stable multi grip chin up. Would highly recommend. Fast delivery too.
Chin up Bar
Great addition to my rack, good option with different grip angles for pull ups
Hi Frank,
Thank you for the feedback. We are glad to hear that you are enjoying the new chin up bar for your MyRack!
Kind regards,
GAF Team