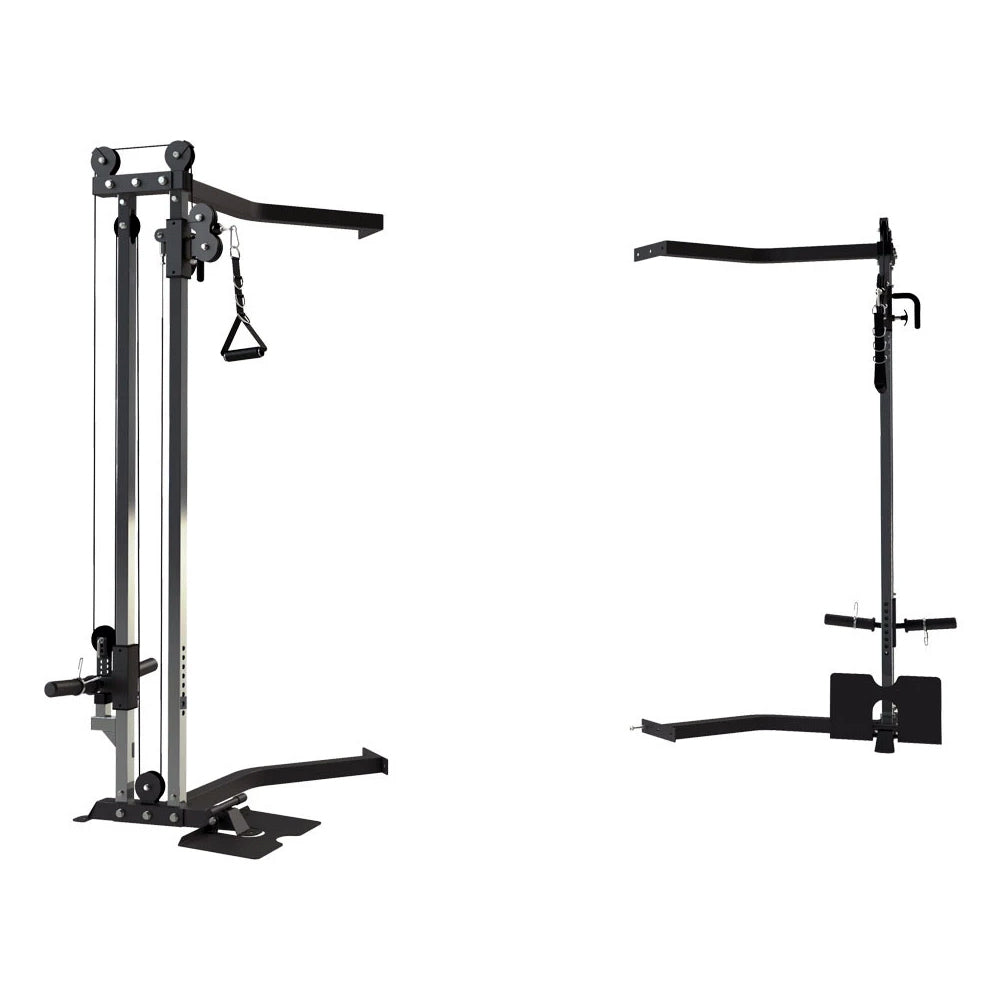 MyRack Cable Crossover Option (One Side)
The Force USA® MyRack fully adjustable Cable Cross Over attachment can work every muscle in your body in multiple ways and attaches easily to either side of your MyRack Base Unit. Unlike other similar Cable Crossover attachments, the MyRack offers floating pulleys, giving the user 28 different adjustment points to hit various exercises!
---
Key Features
TRAINING MADE SIMPLE

The Force USA® MyRack fully adjustable Cable Cross Over attachment is a must for those wanting to add another dimension to their MyRack. Each upright of the Cable Crossover has 28 adjustable height settings with laser engraved numbers for simple and easy training. The single-hand pop-pin adjustments make it easy to move the pulley up and down the shaft. The upper connecting tube shown below makes a great place for the storage of bands or other training accessories.

PACKED WITH FEATURES

The MyRack Cable Crossover comes with a built-in foldable footplate for added stability during low rows. Simply flip it open, adjust the cable pulley toward the bottom, sit on the floor, position your feet on the plate, and then start rowing. The included Single Stirrup Handle allows for a wide range of exercises to be performed. Combine this with other attachments such as Tricep Rope, Close Grip Triangle and Tricep Press Down Bar for an even wider array of exercise options.

The two (one each side) plate holders are suitable for Standard Weight Plates (32mm) or Olympic Weight Plates (50mm) with the use of included adapters. The weight plate holders have been ergonomically angled to allow for extra weight and added safety when training.

EXTREMELY VERSATILE

The MyRack Cable Crossover attachment is fully interchangeable on both sides of the rack. You'll have the option to purchase one attachment for a single side or two attachments allowing for a huge variety of exercises such as:

Straight arm pulldowns
Triceps pushdowns
Overhead triceps extension
Biceps curls
Upright rows
Face pulls (any height/angle)
Bent over rows
Unilateral side delt raises
Cable pull-throughs
Glute kickbacks
Kneeling crunches
A rage of bilateral cable exercises (when both sides are purchased)
Attachment is compatible with the Force USA® MyRack ONLY
Specifications
Usage: Light Commercial
2:1 Pulley Ratio
Standard and Olympic weight plate adapters (32mm and 50mm plates)
28x Adjustment options
Seat option available to perform lat pulldowns (F-MR-SEAT)
Low-row folding footplate
Hole Diameter: 15 mm
Tubing (Upright) Size: 45 mm * 45 mm
Weight Plate Holders Length: 20.3 cm
Static Weight Rating: 450kg/1000lbs each side
Dimensions (1 Side of the Cable Crossover): 220(H) x 110(W) x 80(D) cm
SIMILAR AVAILABLE PRODUCTS
rig-and-rack-attachments
Excellent quality at very affordable price
I recently bought the Force USA MyRack cable crossover attachment. If you don't have one, then you are definitely missing out on a whole new world of workout possibilities. The product is as you would expect; very well manufactured and super easy to assemble, stable and works very well. Gym & Fitness were very efficient and great to deal with as usual. The only negative was the courier, who delayed the delivery and needed to be followed up a few times, and in the end pressured to deliver it at a convenient time.
Good value product until it isn't
It was a great addition to the rack setup. We were able to add a lot of cable exercises to the training plans. Unfortunately the weight plate holder recently broke. The replacement part is costly and will take a long time to arrive.
Hi Shane,
We are terribly sorry to see the damage on your Crossover attachment.
Please feel free to get in touch with our warranty team via https://www.gymandfitness.co.nz/pages/warranty-form and we will gladly look into this further for you.
Kind Regards,
GAF Team
Good value
Great product for the price and does everything you need for budget home gym setup. Seems durable so far and cables run smoother than expected. Both of the plastic guides for the weight stack and handle height adjustment were a little sticky but sprayed them with silicone based lubricant and they glide like butter.
My only negative is that the cable is a little bit too short and makes setup a bit fiddly - there is zero room for adjustments. You have to attach cable to highest setting on weight stack side and on other end you can only screw attachments bolt in a tiny amount, even like this the weight stack won't rest on the bottom stop without weights loaded to stretch the cable a bit. This means that when the weight stack is loaded the plastic stop on the cable handle end is pressing all that pressure against pulleys. I'm hoping the cable stretches a bit over time and will fix this issue before damaging the pulleys.
Overall happy with the purchase and it functions great for my needs, just hope it holds up in terms of durability.
Hi Simon,
Thank you for your feedback. We're glad to hear that it offers good value and meets your needs for a budget home gym. We understand your concern about the pressure on the pulleys and hope that the cable will stretch over time to alleviate this issue. If you have any further questions or concerns, please don't hesitate to reach out. We value your satisfaction and hope that the product continues to serve you well.
Happy training!
GAF Team
Great product
Finnisher off my rack with this item so many new exercises available
Hi Jacob,
Thank you for your positive review of the MyRack Cable Crossover! We are pleased to hear that it has expanded your workout routine with new exercises. We hope that you continue to enjoy using the MyRack and see great results from incorporating it into your fitness regimen.
Happy exercising!
GAF Team
Cross trainer attachment.
This is 2nd side for my rack. This newer model improved laser numbers and lower seat attachment heights. I am very happy with having cable options for my rack at a reasonable price.
Hi Craig,
Thank you for your positive review of the FORCE USA MyRack Cable Crossover Option! We're thrilled to hear that you're enjoying the upgrade with the improved laser numbers and lower seat attachment heights. We appreciate your support and hope you continue to enjoy your workout with the MyRack base.
Happy training!
GAF Team