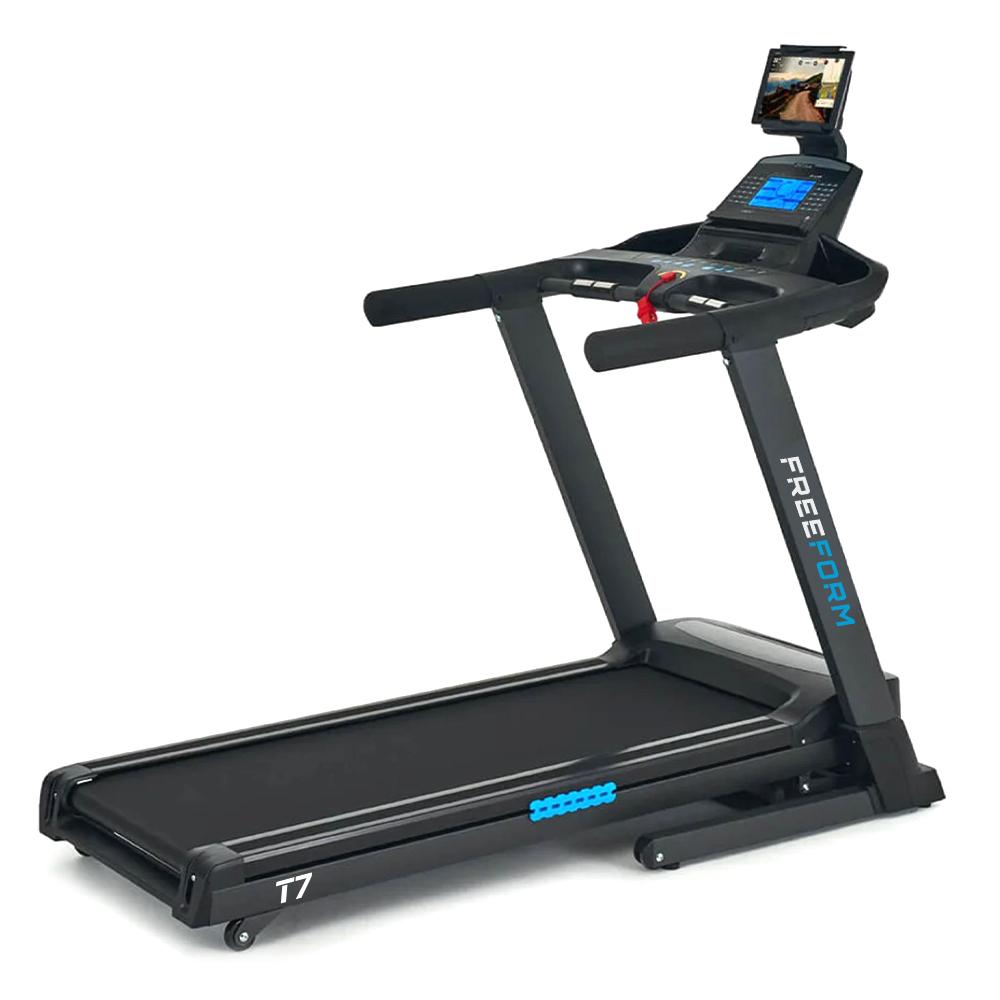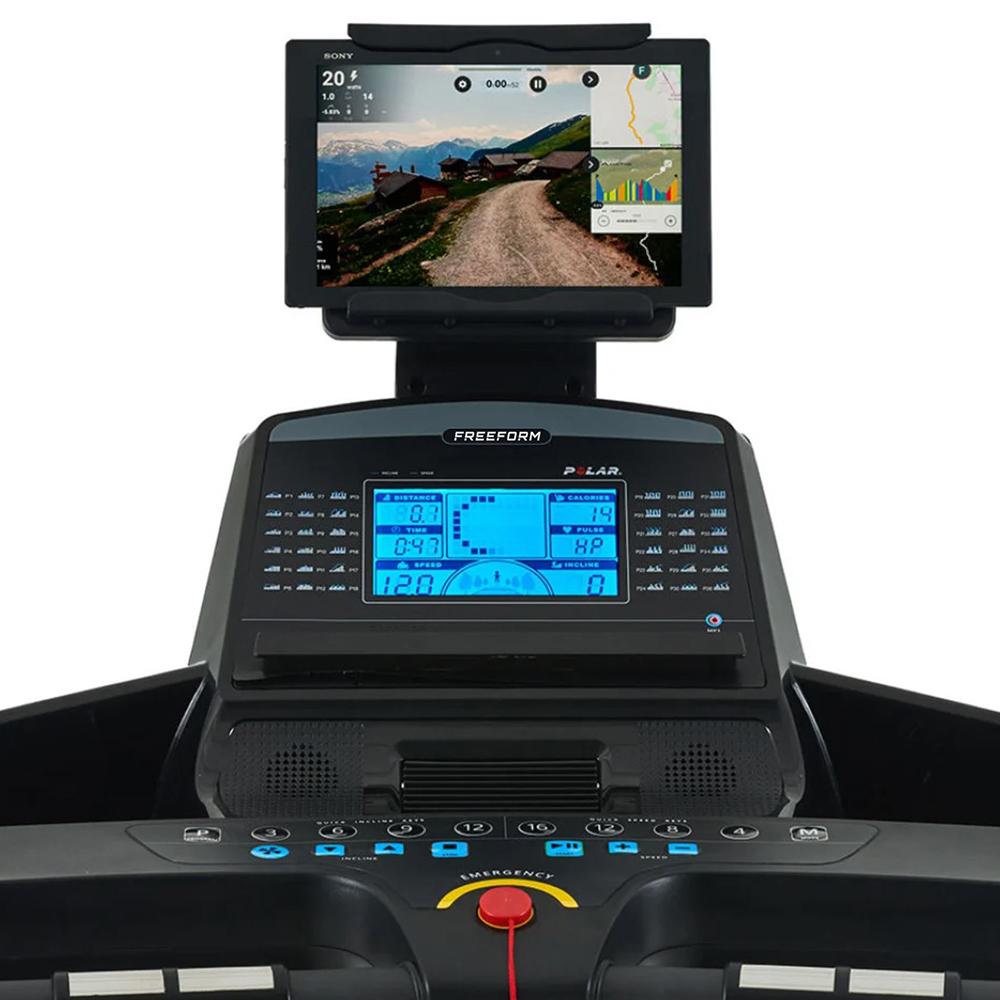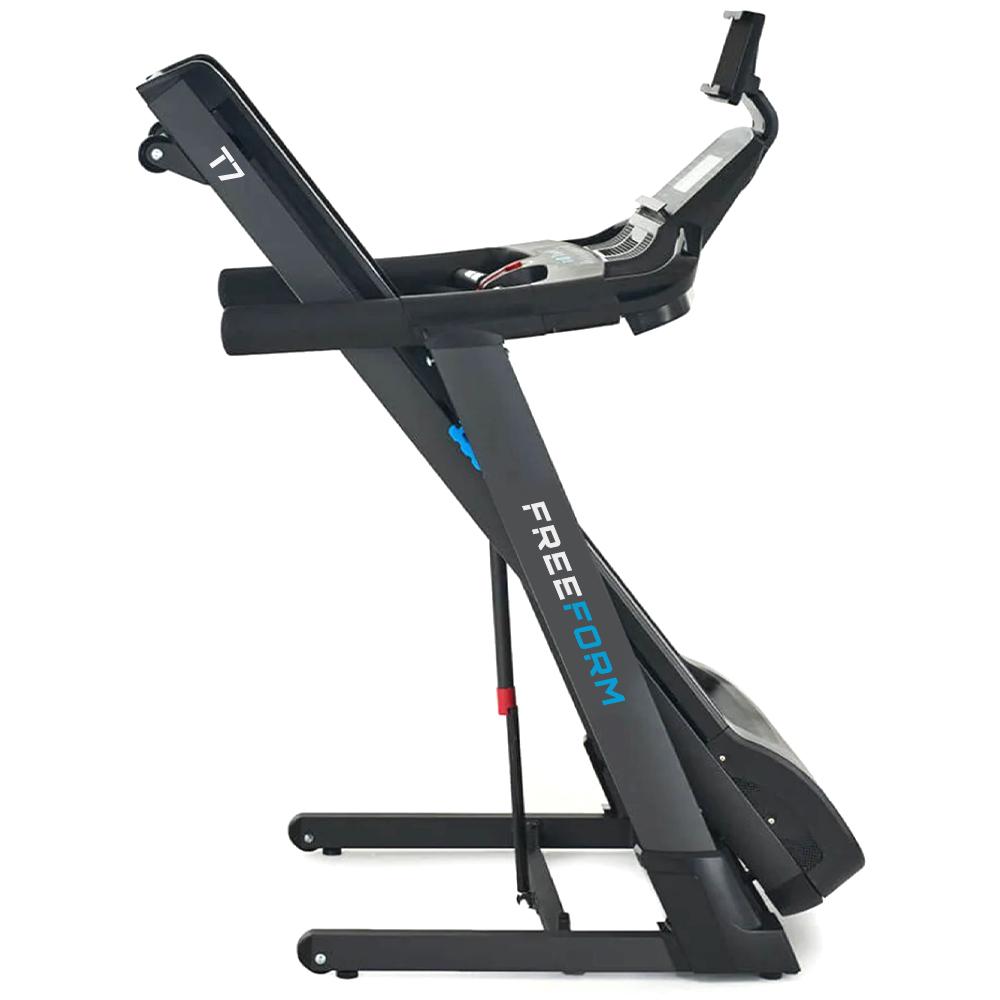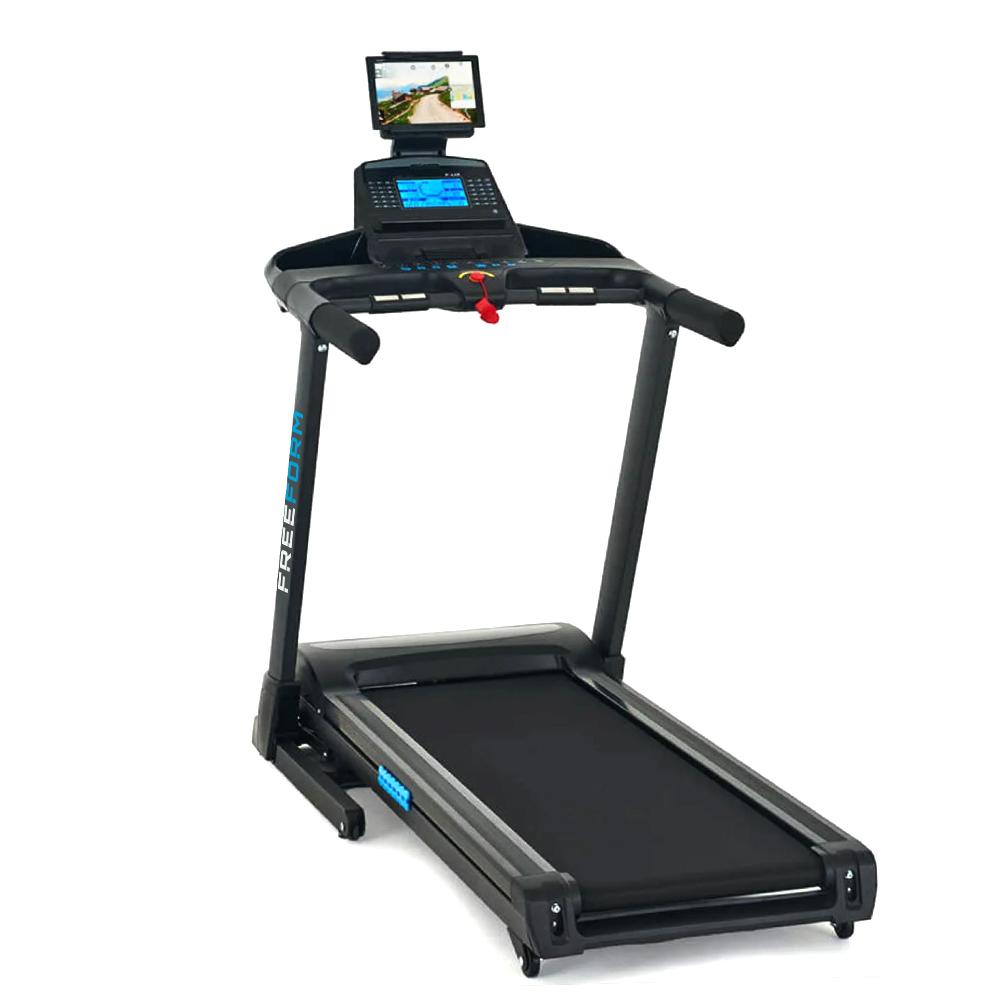 T7 Treadmill
Introducing the Freeform Cardio T7 Treadmill, the perfect solution for those looking for a superior treadmill that delivers a fast, easy and efficient home workout. This foldable treadmill has the power, auto incline and durability to push you to your limits! The T7 Treadmill is packed with interactive features and program options, plus heart rate training to help you progress in your fitness journey faster.
---
Key Features
HEART RATE MONITOR COMPATIBLE

Combine with the Force USA Heart Rate Monitor to train, track and optimise your performance while kicking those fitness goals! Understand how your body responds to different intensity exercises and keep your heart rate in the correct zone. Stay motivated, boost your cardio and enjoy the very latest in fitness tech.

*Force USA Heart Rate Monitor sold separately.

 

POWER, SPEED AND INCLINE

The Freeform Cardio T7 Treadmill is driven by a 2.5HP motor that delivers a smooth and consistent 1-20kph speed. With 60 in-built workout programs and an electronically controlled motorised incline system that raises the deck over a range of 0-15%, you can use the variations in speed and incline to challenge you and keep your workouts diverse and motivational.

 

REDUCE INJURIES AND INCREASE COMFORT

With an oversized running deck of 145 x 50cm, the T7 Treadmill provides a wide running surface so you can train in safety with no restriction to your running motion. FreeFlex Precision Cushioning utilises an 8-point rubber shock absorption so you can experience a natural, organic feeling during your workout while reducing the impact by up to 30% (when compared to running on the road).

 

COMPACT FOLDING DESIGN

The E-Z Lift and Drop Assist make it so simple to lift the treadmill deck to a nearly 90-degree angle allowing you to roll the unit away when you need the space. When you're ready to train, the hydraulic safety system lowers the deck gently towards the ground so that you can get ready for a heart-pumping workout.

 

BLUETOOTH CONNECTIVITY

Use the Bluetooth connectivity to join a global community as you run with the Kinomap or iConsole interactive app. By connecting via Bluetooth to Kinomap, the treadmill will automatically adjust your incline to match the terrain, making use of the 15 levels of incline available to you. You can also get detailed metrics on your performance, track your stats, compete with other users and strive to beat your personal best. The ergonomically positioned, sturdy tablet holder allows for optimised form while running.

*Access Kinomap or iConsole on your Bluetooth connected Android or iOS tablet. Tablet not included.

 
Specifications
Usage: Domestic
Compatible with the Force USA Heart Rate Monitor.
36 Pre-set Programs
3 Custom Programs
Bluetooth Connectivity
Noise Reduction Technology
Responsive Heart Rate Programs
8 Point Freeflex Cushioning Deck
Tablet Holder
Speakers
Power: 2.5HP
Speed: 1-20kph
Power Incline: 0-13% (Across 15 levels)
Treadmill Weight: 85kg
Max User Weight: 140kg
Running Deck: 51cm (W) x 145cm (L)
Dimensions: 88cm (W) x 179cm (L) x 141cm (H)
Dimensions Folded: 88cm (W) x 120cm (L) x 148cm (H)
Freeform Cardio T7 Treadmill
Basic and Great for the price, didn't want to pay more $ for one with a screen or app connectivity. Cheaper than local alternatives. Easy to assemble, Good size running surface, working well so far.
Hi RG,
Thank you for sharing your wonderful experience with us. Your feedback is greatly appreciated, and we are pleased to have provided you with a cost-effective and functional option for your fitness needs. We wish you continued success on your fitness journey!
Happy training!
GAF Team
Hi Khoa,
Thank you for your feedback, we appreciate it! If you have any questions or need assistance, please feel free to get in touch, we'll be happy to help.
Happy training!
GAF Team
Freeform t7 treadmill
Fast delievery, easy enough to put together. Runs well very sturdy. Only complaint was the tread was not adjusted as stated.
Hi Scott,
Thank you for taking the time to leave your feedback. We're sorry for the inconvenience caused by the tread, if the problem hasn't been resolved, please feel free to reach out to our customer service and we'll be happy to help!
Happy running!
GAF Team
LOVE THIS PRODUCT
I used the treadmill for the first time last night. The 15% incline means I don't need to walk fast to get a good workout. I am somewhat perplexed by the bluetooth. It seems that I need to download an app to my mobile phone in order to use it. Also, I received the heart rate monitor as a free gift. It did not come with instructions. Do I need to download one of the apps in order to see my heart rate? There are 36 programs clearly labelled on the treadmill, however, the specifications on your webpage indicate that there are 60 programs.
Hi Turnerfitz,
We appreciate you taking the time to share your rating with us.
We look forward to seeing you again soon.
GAF TEAM