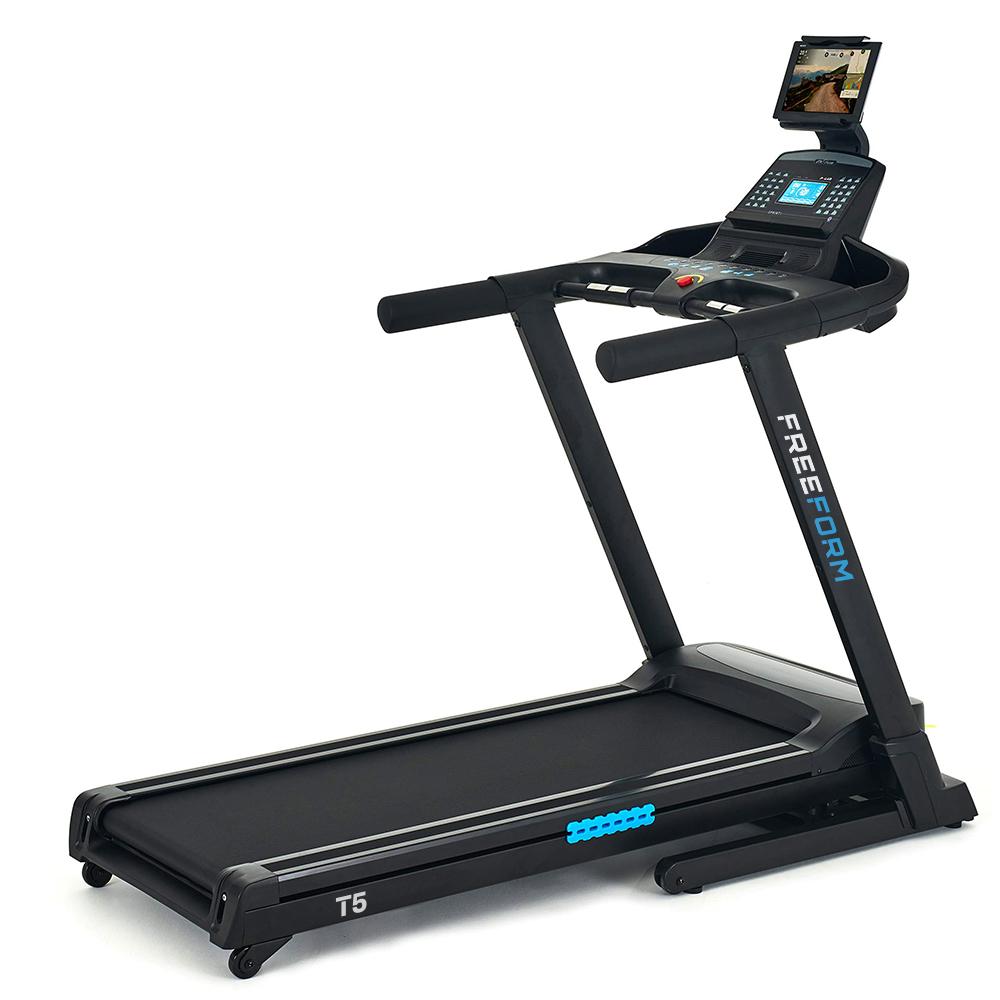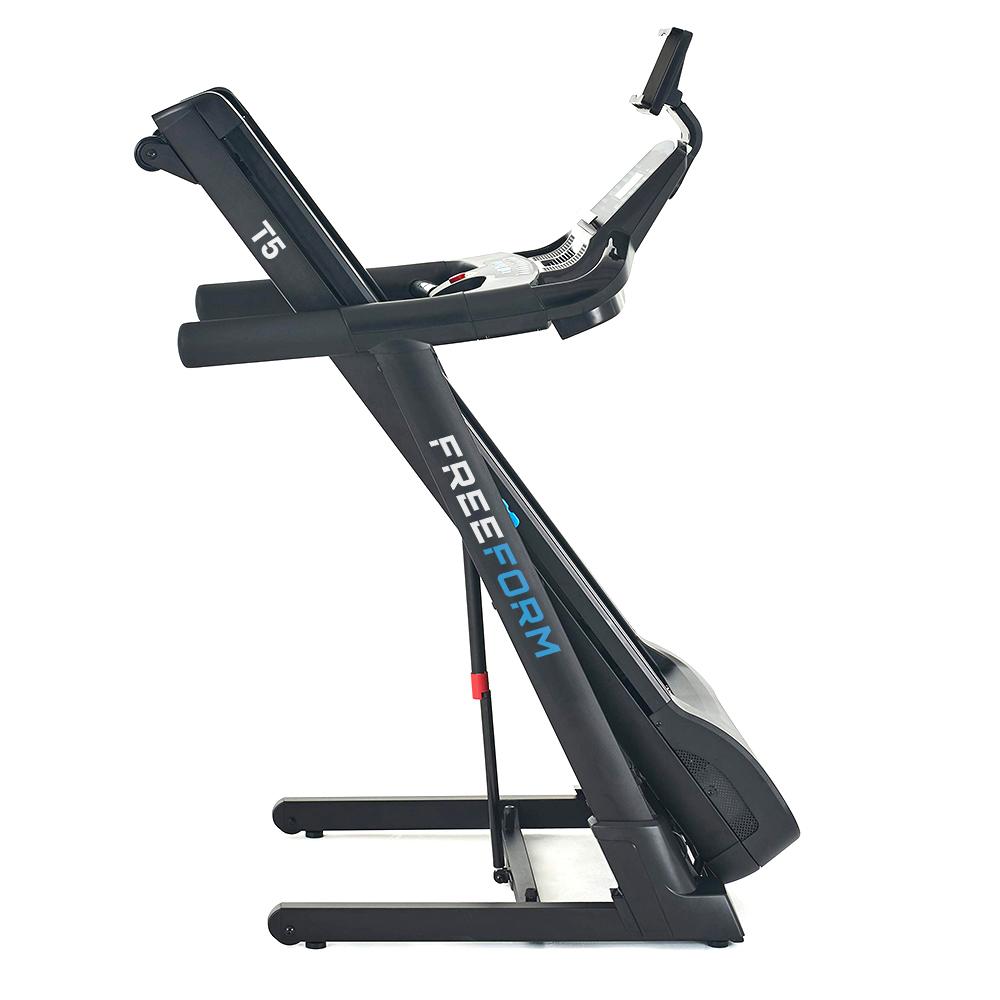 T5 Treadmill
Introducing the Freeform T5 Treadmill, the perfect solution for those looking for a fast, easy and efficient workout that you can do in the comfort of your own home. This foldable treadmill has the power, auto incline and durability to withstand a serious workout. Whether you're just starting your fitness journey or training a half marathon, the Freeform T5 has you covered.
---
Key Features
HEART RATE MONITOR COMPATIBLE

Combine with the Force USA Heart Rate Monitor to train, track and optimise your performance while kicking those fitness goals! Understand how your body responds to different intensity exercises and keep your heart rate in the correct zone. Stay motivated, boost your cardio and enjoy the very latest in fitness tech.

*Force USA Heart Rate Monitor sold separately.

POWER, SPEED AND INCLINE

The Freeform T5 Treadmill is driven by a 2.0 HP motor that delivers a smooth and consistent 1-18 kph speed. With a whopping 36 in-built workout programs and an electronically controlled motorised incline system that raises the deck over a range of 0-12%, you can use the variations in speed and incline to challenge you and keep your workouts diverse and motivational.

REDUCE INJURIES AND INCREASE COMFORT

With a large running deck of 138.5 x 47cm, the T5 treadmill provides a wide running surface so you can train in safety with no restriction to your running motion. FreeFlex Precision Cushioning utilises an 8-point rubber shock absorption so you can experience a natural, organic feeling during your run while reducing the impact by up to 30% (when compared to running on the road).

COMPACT FOLDING DESIGN

The E-Z Lift and Drop Assist make it so simple to lift the treadmill deck to a nearly 90-degree angle allowing you to roll the unit away when you need the space. When you're ready to train, the hydraulic safety system lowers the deck gently towards the ground so that you can get ready for a heart-pumping workout.

BLUETOOTH CONNECTIVITY

Use the Bluetooth connectivity to join a global community as you run with the Kinomap or iConsole interactive app. By connecting via Bluetooth to Kinomap, the treadmill will automatically adjust your incline to match the terrain, making use of the 12 levels of incline available to you. You can also get detailed metrics on your performance, track your stats, compete with other users and strive to beat your personal best. The ergonomically positioned, sturdy tablet holder allows for optimised form while running.

*Access Kinomap or iConsole on your Bluetooth connected Android or iOS tablet. Tablet not included.
Specifications
Usage: Domestic
Compatible with the Force USA Heart Rate Monitor.
36 Pre-set Programs
3 Custom Programs
Bluetooth Connectivity
Noise Reduction Technology
Responsive Heart Rate Programs
8 Point Freeflex Cushioning Deck
Tablet Holder
MP3 Input
Power: 2.0HP
Speed: 1-18kph
Power Incline: 0-12% (Across 12 levels)
Treadmill Weight: 78kg
Max User Weight: 110kg
Running Surface: 138.5cm (L) x 47cm (W)
Dimensions: 83cm (W) x 174 cm (L) x 157 cm (H)
Dimensions Folded: 83cm (W) x 114cm (L) x 157cm (H)