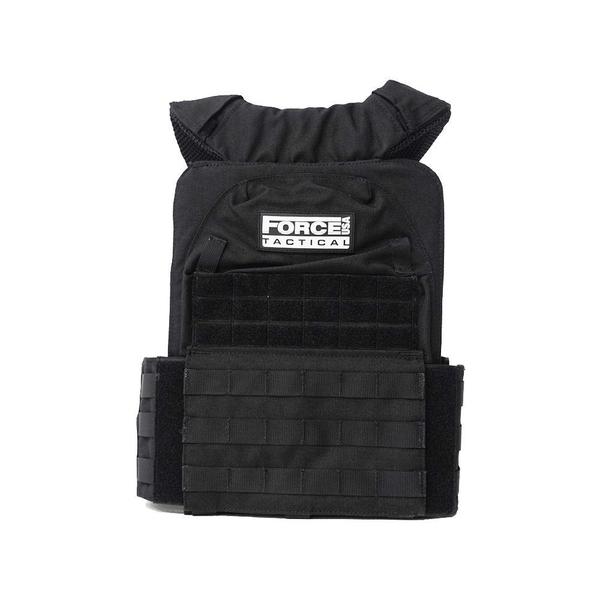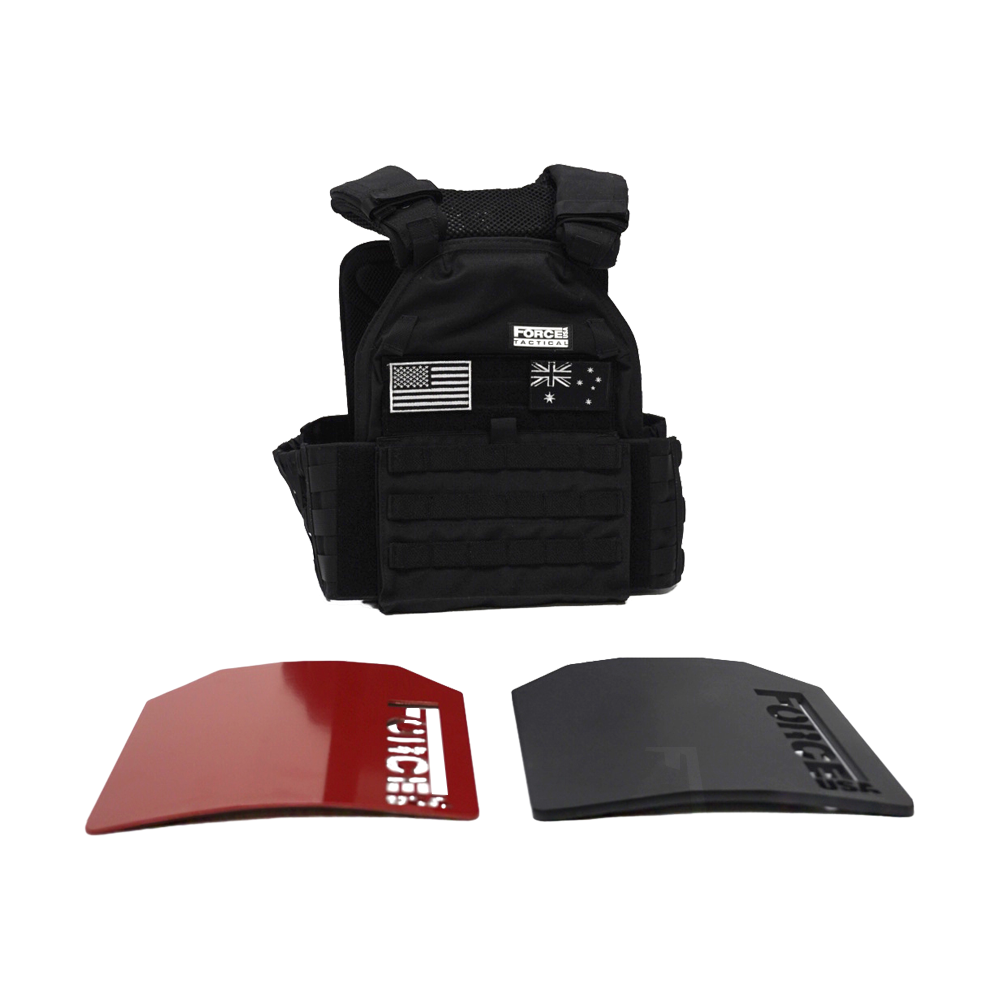 Tactical Training Vest
With a sleek, high-performance design, your Force USA® Tactical Training Vest lets you push your body to the limits with easily adjustable weight training. Offering enhanced comfort and breathability, this training vest accommodates 2kg, 4.5kg & 10kg weight plates to quickly modify your training goals mid-workout. Backed by Force USA's superior engineering, you'll love the strength and fitness gains from the Tactical Training Vest.
Add plates to your vest!
Add some plates to your weight vest as well to get the most out of your equipment.
---
Key Features
LESS BULK, MORE PERFORMANCE

Snug fit is perfect for both gym workouts and long-distance training
Superior engineered curved weight plates are designed for comfort
Clever front and back slots let you quickly add weight plates
Adjustable side-straps to suit all body shapes and sizes
Abrasion-resistant coating for the toughest workouts
Large airflow webbing for breathability during sweaty sessions
Quickly increase the load and carry up to 30kg/66lbs of weight plates!
Specifications
Usage: Light Commercial
Dimensions: F-TACTICALVEST: 40cm (L) x 40cm (H) x 10cm (W)
Vest Plates (Sold Seperately):

Best vest
Comfy and secure. The best weight vest I've worn. Cannot fault it at all
Hi Craig,
Thank you for your awesome feedback. We're pleased to hear you are happy with your purchase and if you ever need assistance, please feel free to contact us, we're happy to help!
Happy training!
GAF Team
Force USA training vest
Great product, takes the session to the next level, whether it's cardio or HIIT. Comfortable and enjoyable to use.
Hi Darren,
Thank you for sharing your positive experience with the FORCE USA tactical training vest. We appreciate your feedback and hope you continue to enjoy using the vest.
Happy training!
GAF Team
swag
Heard its a great product, amazing discount on it being $99, love it, hoping that itll come with patches or not but thats fine
Hi David,
Thank you for taking the time to review the tactical training vest! We're happy to hear that you think it's a great product and that you were able to take advantage of our amazing discount. Thanks again for choosing GAF and for sharing your thoughts.
Happy training!
GAF Team
Great Value.
Very happy with the vest. Feels very well made. Managed to strap it down quite hard, still managed a bit of chafe on my back, but not unexpected. Really quite forgiving.
Hi Matthew,
Thank you so much for your positive review! We are glad to hear that you are pleased with the quality of our tactical training vest. We appreciate your feedback about the chafing on your back, and please know that our team is always looking for ways to improve our products to provide the best possible experience for our customers.
Thank you for choosing GAF and we hope to serve you again in the future!
Happy training!
GAF Team
Awesome vests
I picked up 6 vests and various plates and these things are epic. Comfortable to wear and hard wearing tough kit which is essential for our type for training
Hi Scott,
Thank you for taking the time to share your positive review! We are delighted to hear that you are enjoying the tactical training vests and plates that you purchased, it is wonderful to know that we have met your expectations. Thank you again for your support and we look forward to serving you in the future for your fitness needs!
Happy training!
GAF Team