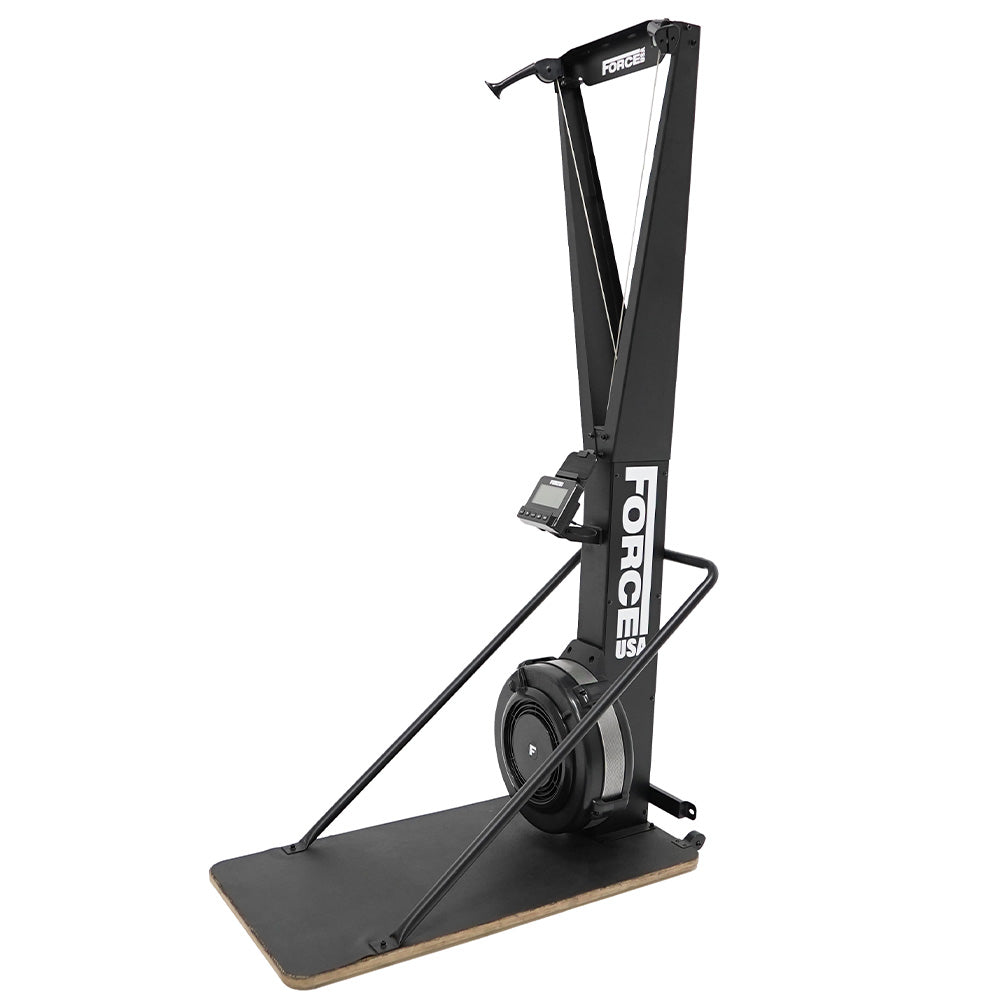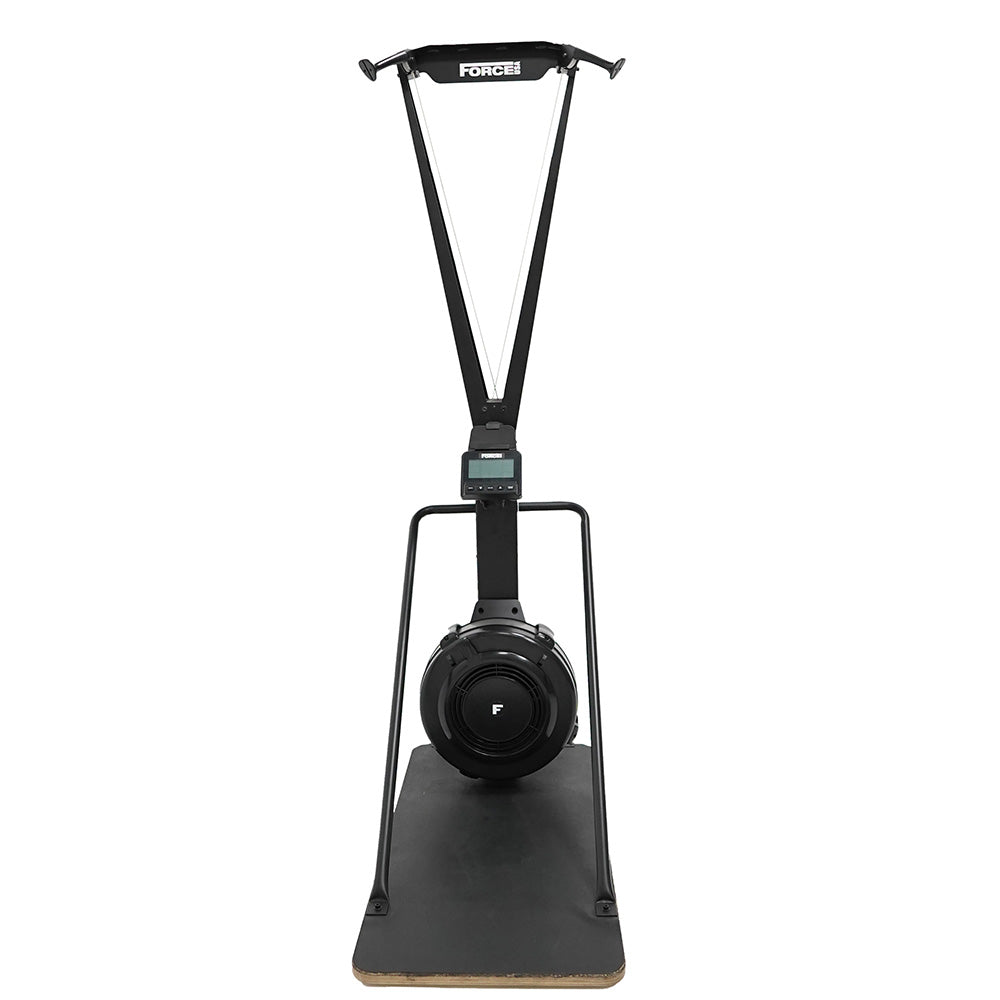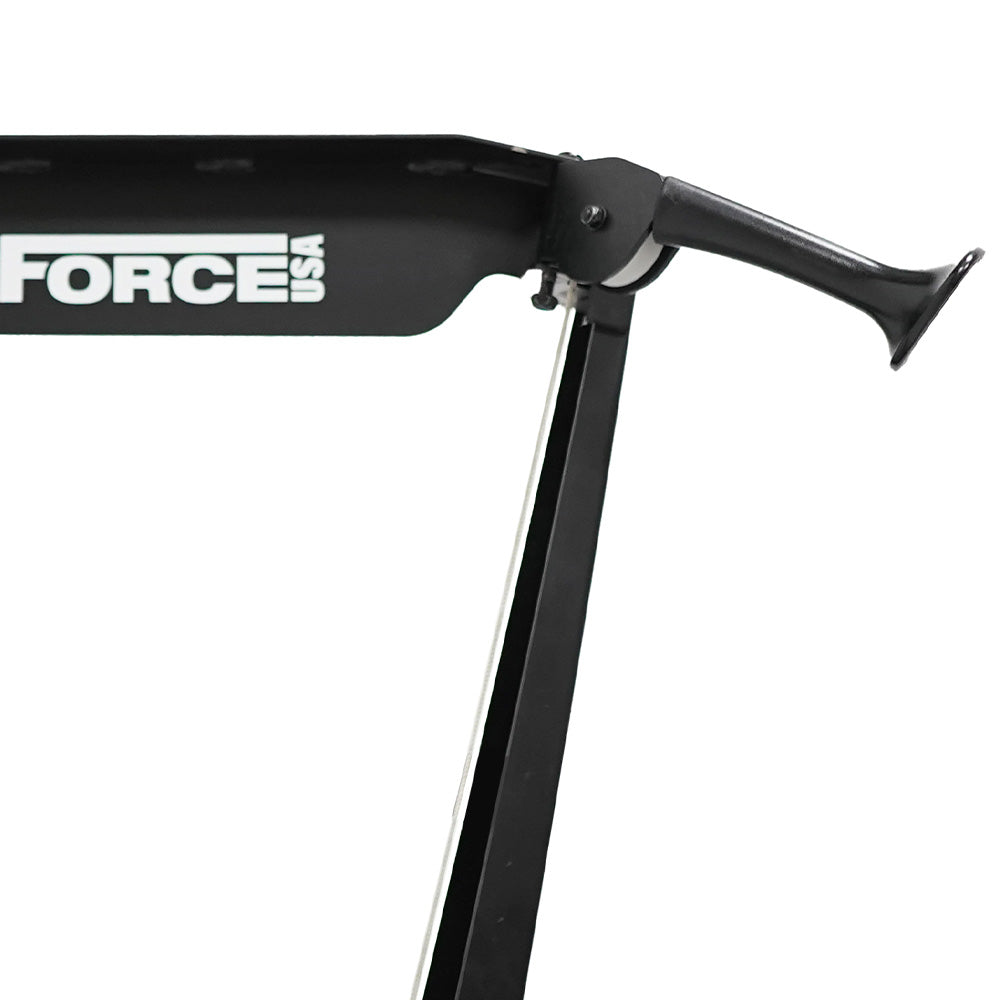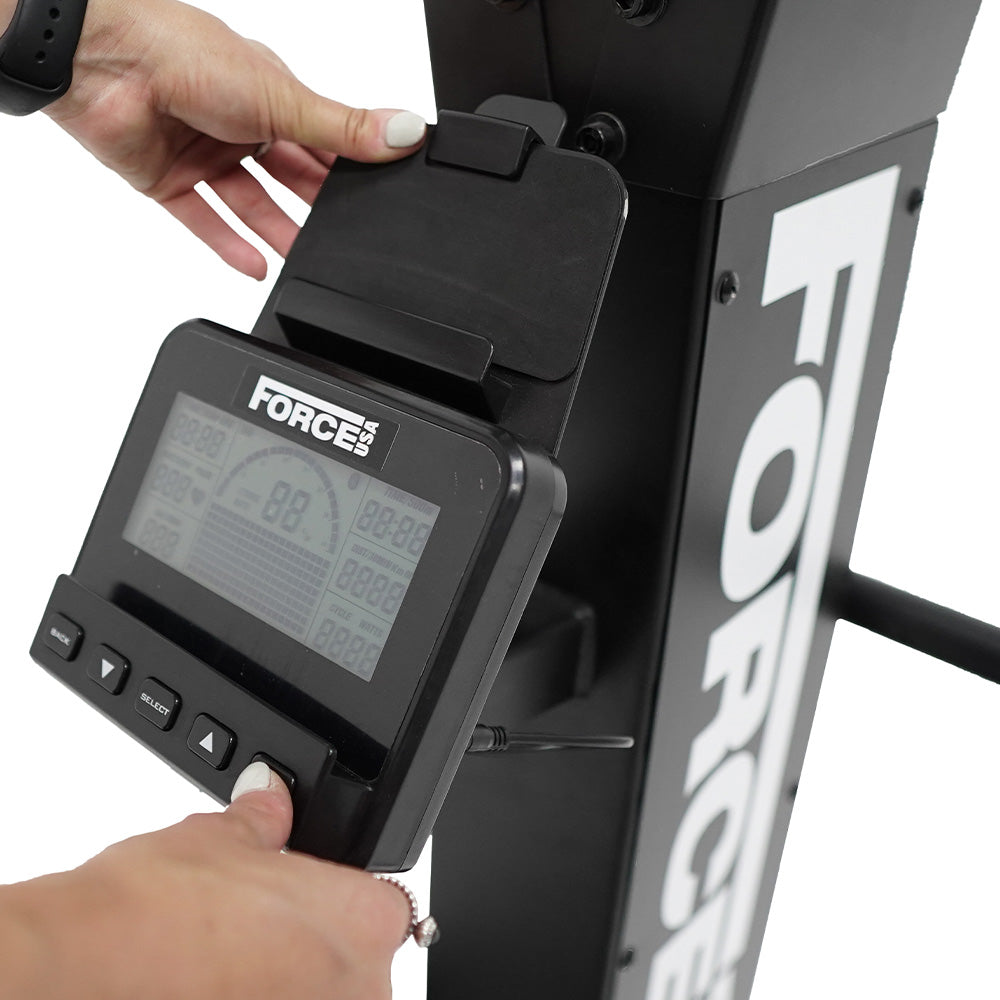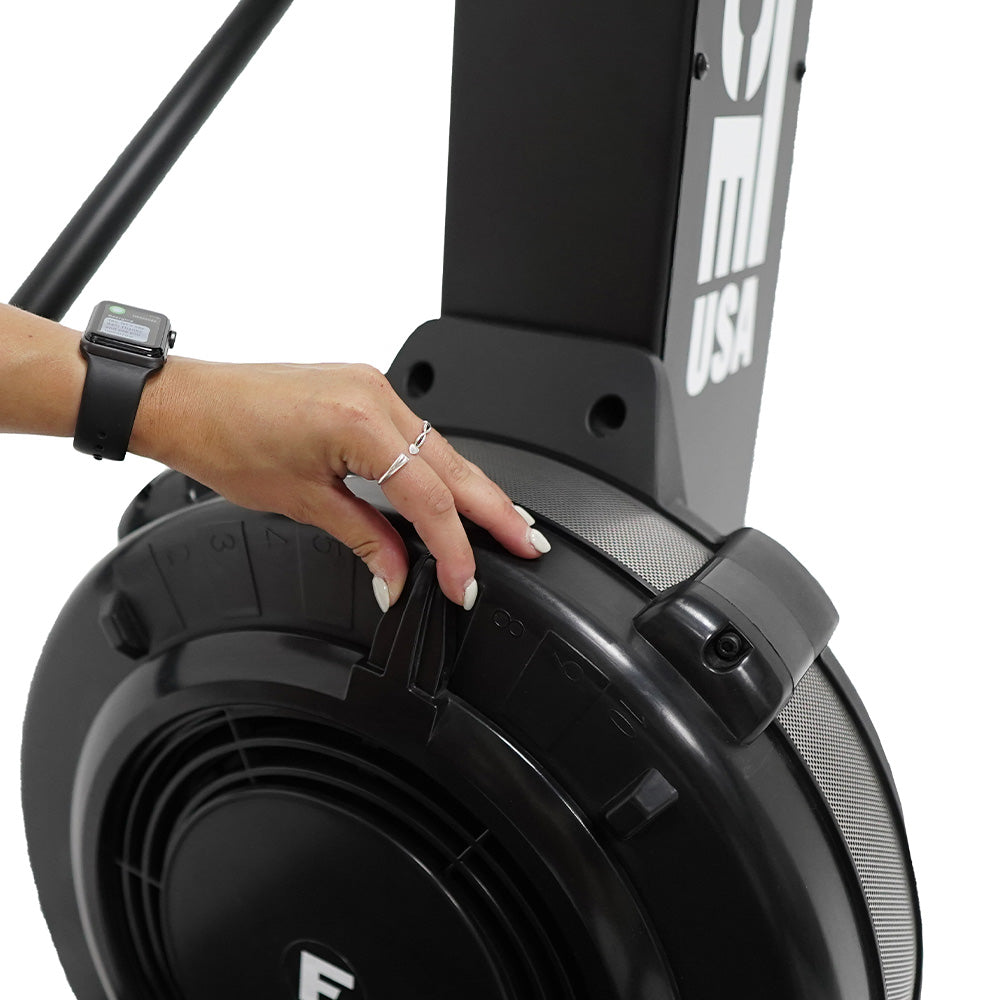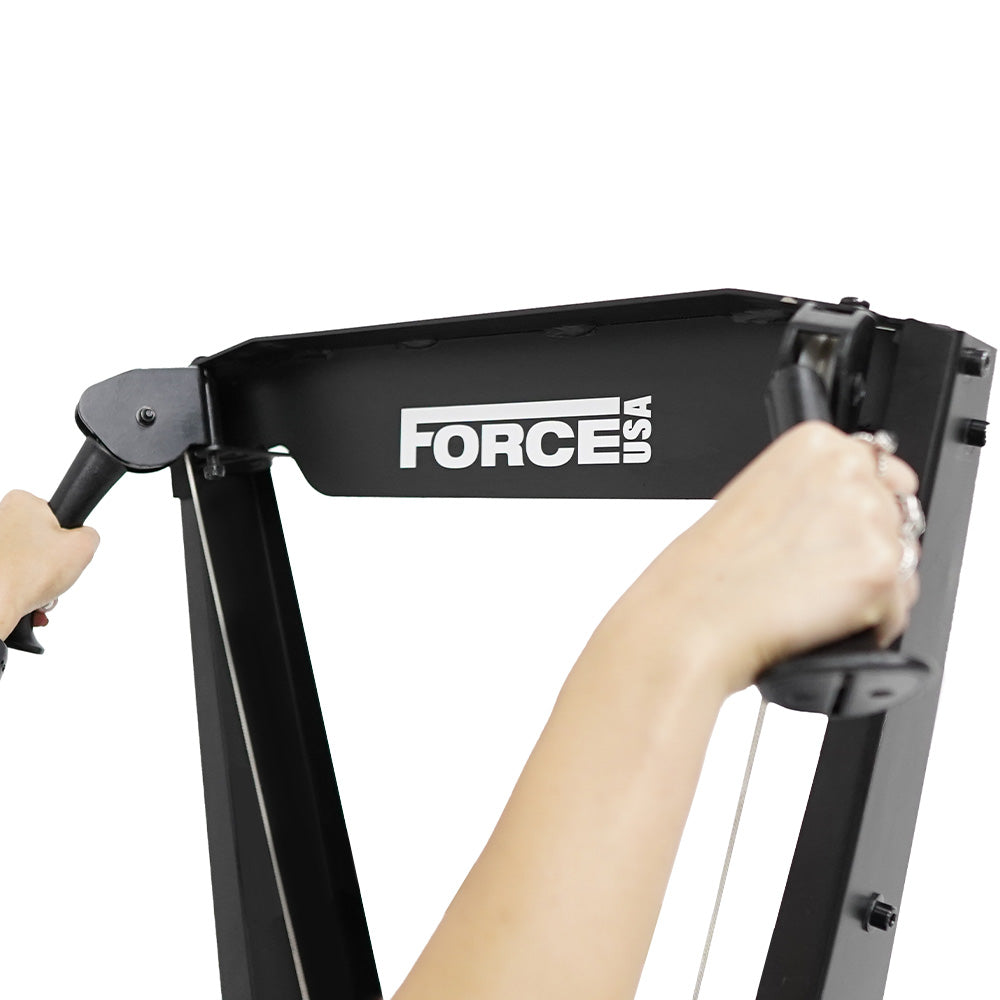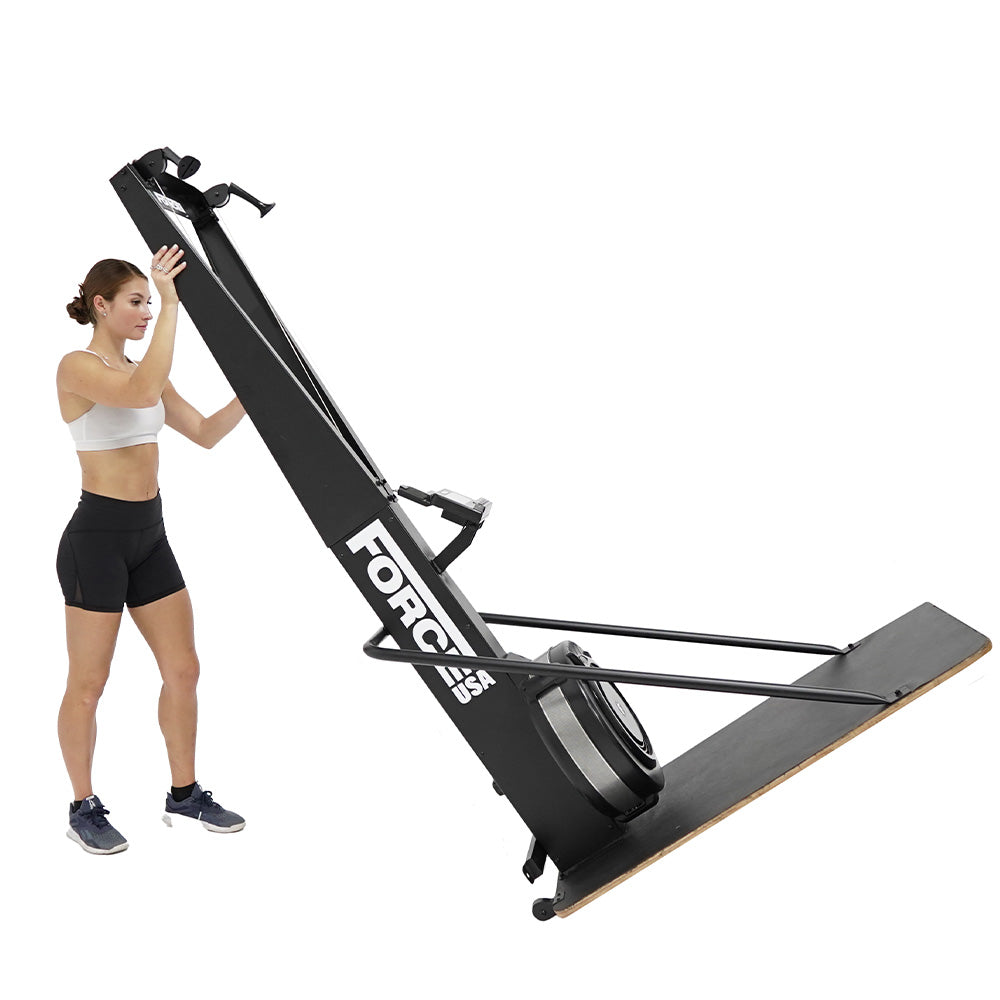 Ski Trainer
Rapidly improve your cardio fitness, strengthen and tone your entire body, and enjoy the movement of cross-country skiing with the Force USA® Ski Trainer. Designed for home or studio gyms, your Ski Trainer includes the latest technology from the undisputed leader in high-quality gym equipment. The innovative flywheel technology has 10 resistance levels and allows you to quickly adjust the airflow during your workout. With comfortable strapless handles, a slip and sweat resistant base plus a smooth lightweight drive cord, you'll quickly fall in love with this low-impact stationary trainer.
Includes wall mounting bracket and floor stand.

---
Key Features
THE LATEST AND GREATEST SKI TRAINER

Force USA has designed and engineered a durable, commercial-grade Ski Trainer that's perfect for anyone looking to boost their strength and fitness from the comfort of home.

By simulating the movement of cross-country this low-impact machine gives you a full-body cardio workout, helping to burn serious calories and fat while toning muscles. It's also ideal for anyone looking to reduce wear and tear on their joints.

10 ADJUSTABLE RESISTANCE SETTINGS

The clever flywheel technology in your Force USA® Ski Trainer includes 10 resistance levels to easily change your workout intensity. The in-built air dampener controls the volume of air moved by the vanes of the rotating flywheel - so the harder you pull, the harder the resistance is.

5 MORE REASONS THIS SKI TRAINER IS FOR YOU

Commercial lightweight drive cord delivers a smooth response on every ski pull.
Slip and sweat resistant base offer awesome grip so you can maintain perfect form.
Grip and go with ergonomic, moisture resistant strapless handles that are super comfortable.
Elite Performance Monitor with Bluetooth connectivity helps you keep track of strokes per minute, time, distance, cycle, calories and watts.
Front transport wheels allow for easy portability around your home or studio gym.

MADE TO LAST WITH SUPERIOR MATERIALS

Equipped with superb commercial-grade fixtures and fittings, your new machine can handle frequent, high-intensity usage. Have 100% confidence during every workout and ski stroke that Force USA has manufactured one of the toughest, most durable home trainers on the market.

BLUETOOTH CONNECTIVITY

The Force USA® Ski Trainer is equipped with Bluetooth connectivity, allowing it to connect to many heart rate belts, fitness devices and apps. Accurately keep track of your strokes per minute, time, distance, cycle, calories and watts with the elite easy-to-use performance monitor.

COMPACT, SPACE-SAVING DESIGN

Perfect for anyone who has a garage, apartment or studio gym set up, this Ski Trainer has a compact footprint (D: 120cm / W:59cm) that can be easily wall mounted. The maximum height on the machine is 214cm, so be sure to double-check your ceilings!

TESTED BY ELITE ATHLETES AND TRAINERS

The Force USA research and development team consists of athletes and trainers who rigorously test every piece of equipment. Relentless quality testing means Force USA is constantly elevating its products like the incredible Ski Trainer so you can reach your strength and fitness goals sooner.

FAST, EASY ASSEMBLY

To get you enjoying your new Ski Trainer as soon as possible, Force USA has made assembly a breeze. Once out of the box you'll only need 20-30 minutes to put together the entire machine. The included Ski Trainer stand allows you to set up your Ski Trainer anywhere, or fix a wall to save even more space in your home or commercial gym facility.
Specifications
Usage: Full Commercial
Includes Stand and Wall Mount
Bluetooth 4.0
Compatible with Kinomap App
Compatible with Force USA® Heart Rate Monitor
Battery Powered Console
Ski Trainer Weight: 37kg
Stand Weight:17kg
Total Unit Weight: 54kg
Assembled Dimensions: 120cm (D) x 59cm (W) x 214cm (H)
Assembly Time: 20 to 30 mins
Warranty:

Frame: Lifetime
Parts: 2 Years Domestic | 1 Year Commercial
SIMILAR AVAILABLE PRODUCTS
Hi Prasanna,
Thanks a ton for sharing your thoughts on the Force USA Ski Trainer We're stoked to hear you're rocking it!
Happy training!
GAF Team
Hi Craig,
Thank you very much for taking the time to share your positive feedback about the Ski trainer. We are thrilled to hear that you found our product to be excellent and we hope that it has helped you improve your skiing skills. Thank you for choosing Gym and Fitness!
Happy training!
GAF Team
Skierg
Bought a skierg from GAF, quick delivery and easy to setup instructions, have not looked back, great to use if raining or injury to a leg
Hi Scott,
Thank you so much for taking the time to write a review of your recent purchase of the skierg from GAF. We are thrilled to hear that you were satisfied with the quick delivery and found the setup instructions easy to follow. We also love to hear that you find the skierg a great option to use when it's raining or when you are dealing with an injury.
We hope that it enhances your workouts and helps you achieve your fitness goals.
Happy training!
GAF Team
Ski ERG
Awesome quality as usual. Force USA never disappoints.