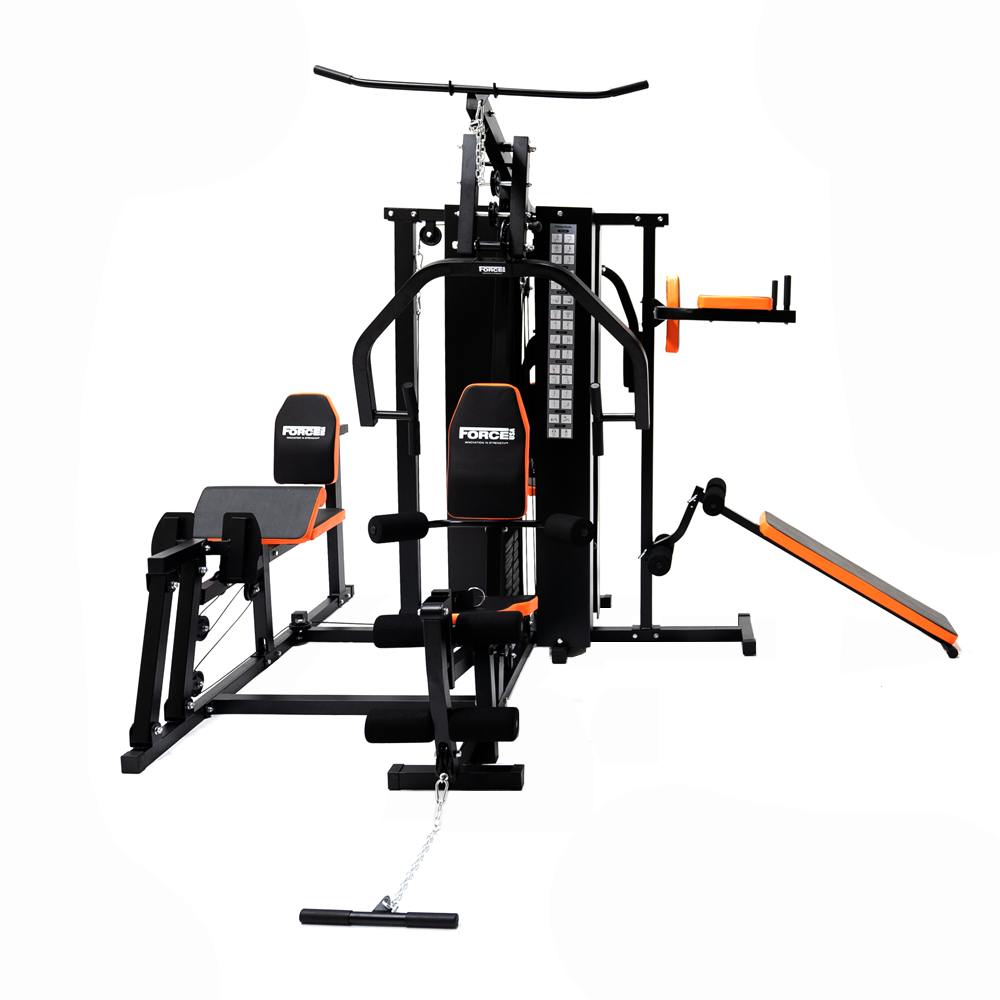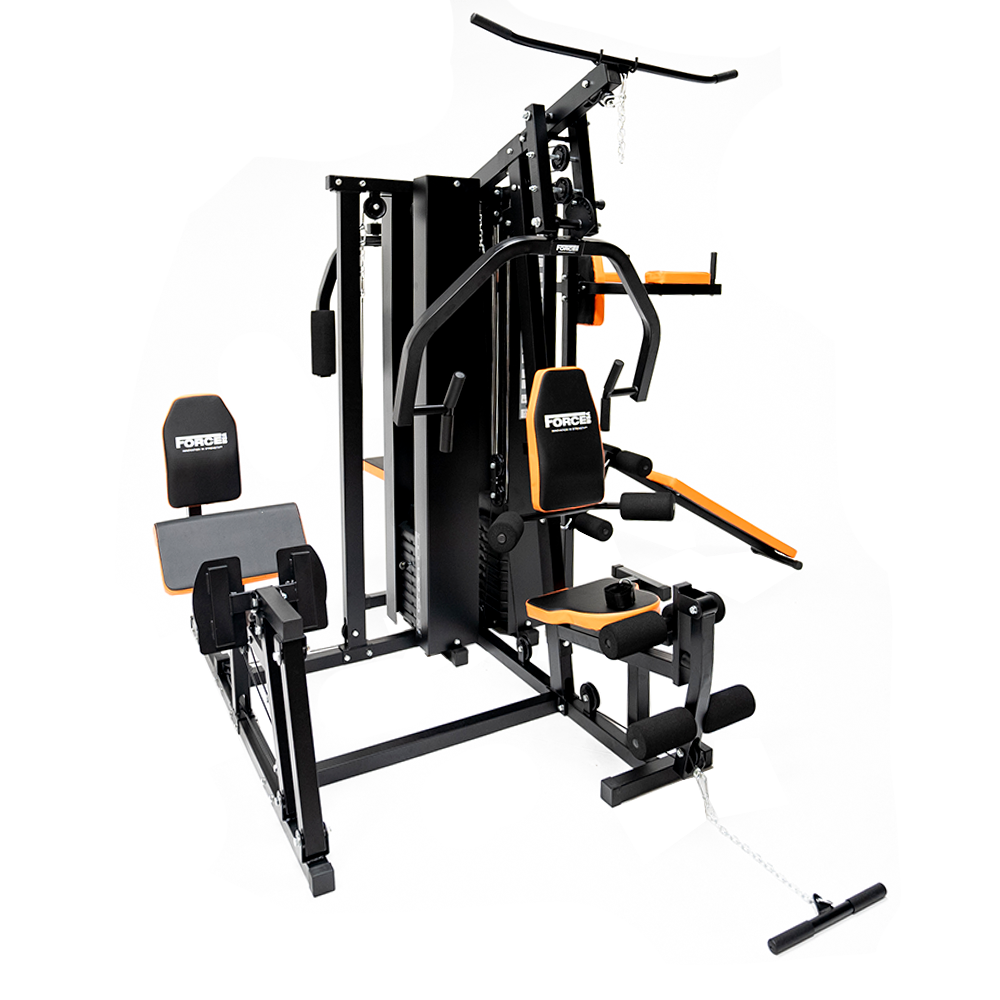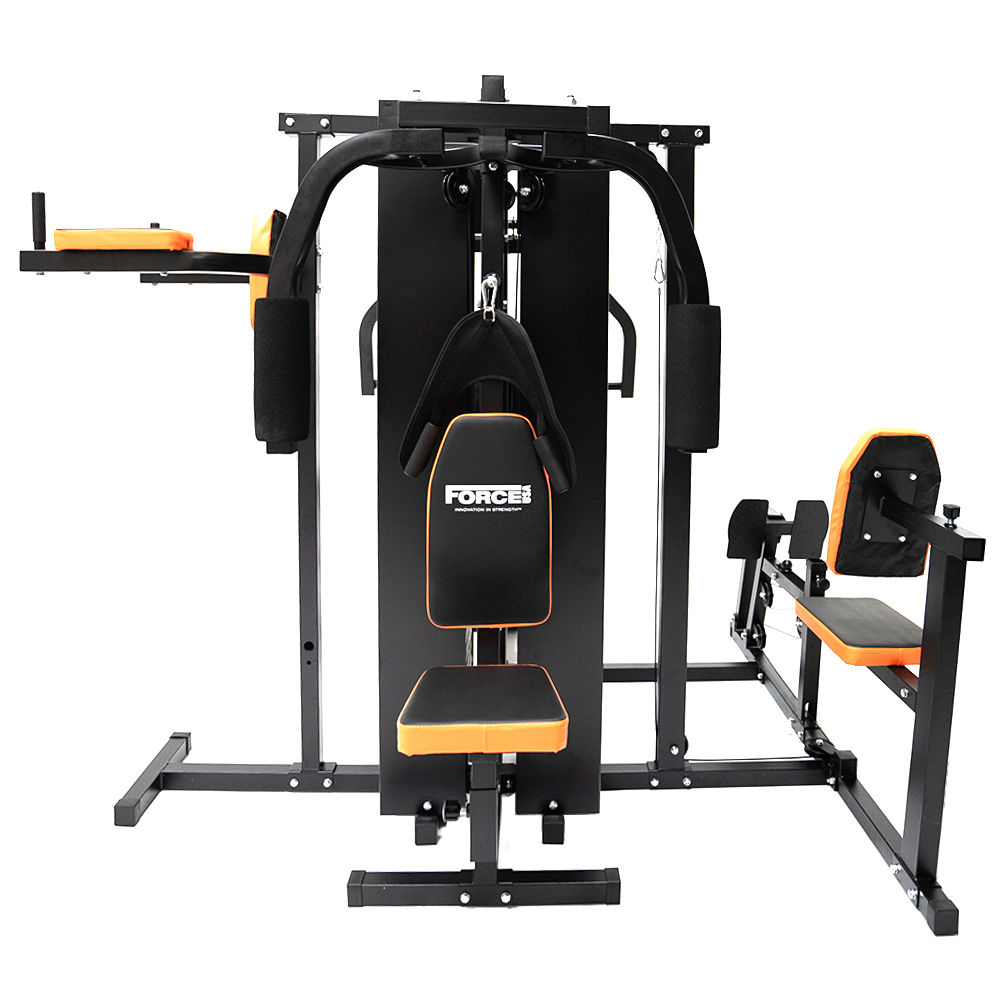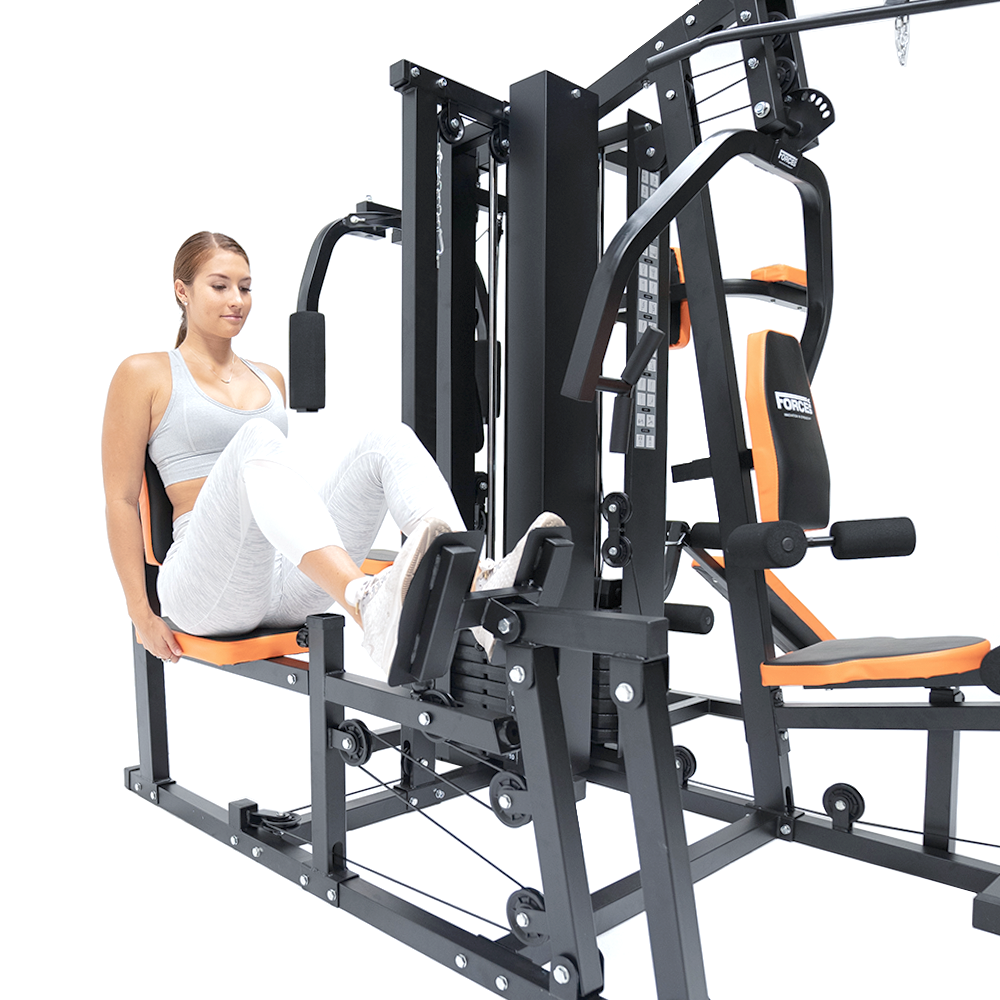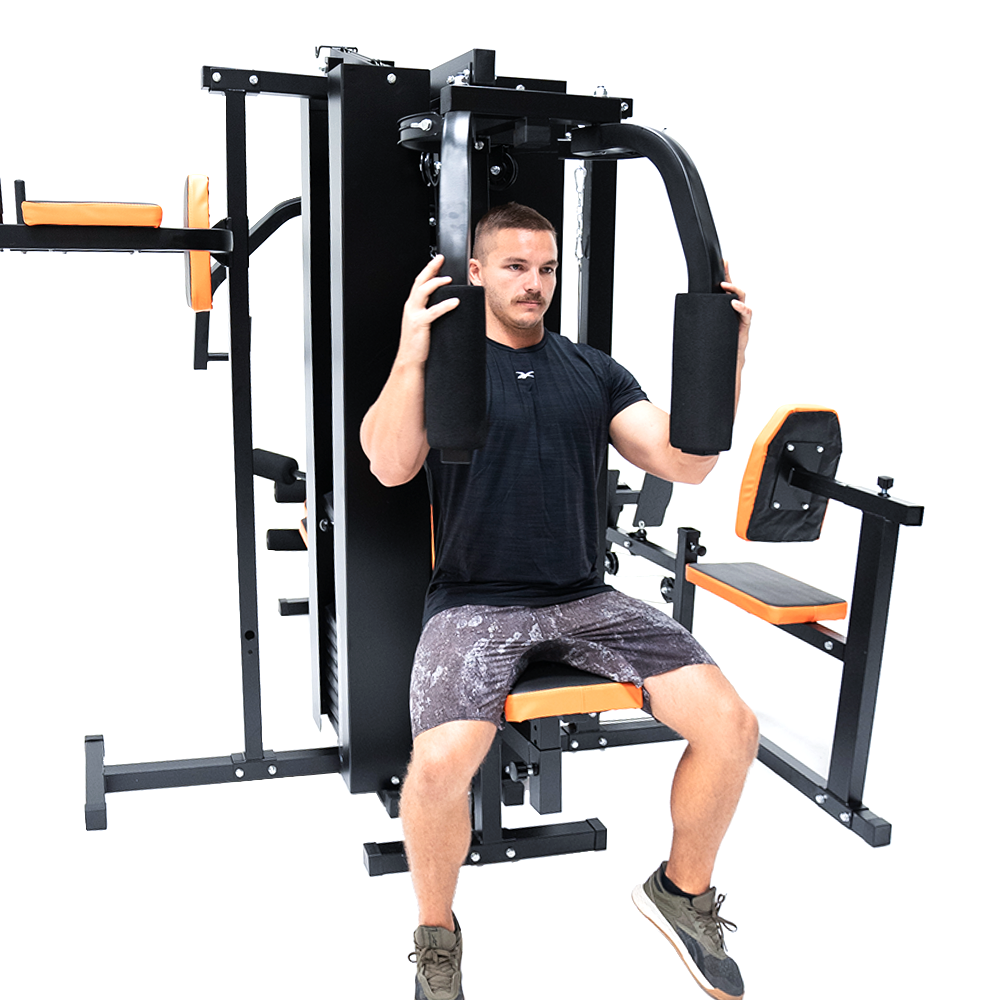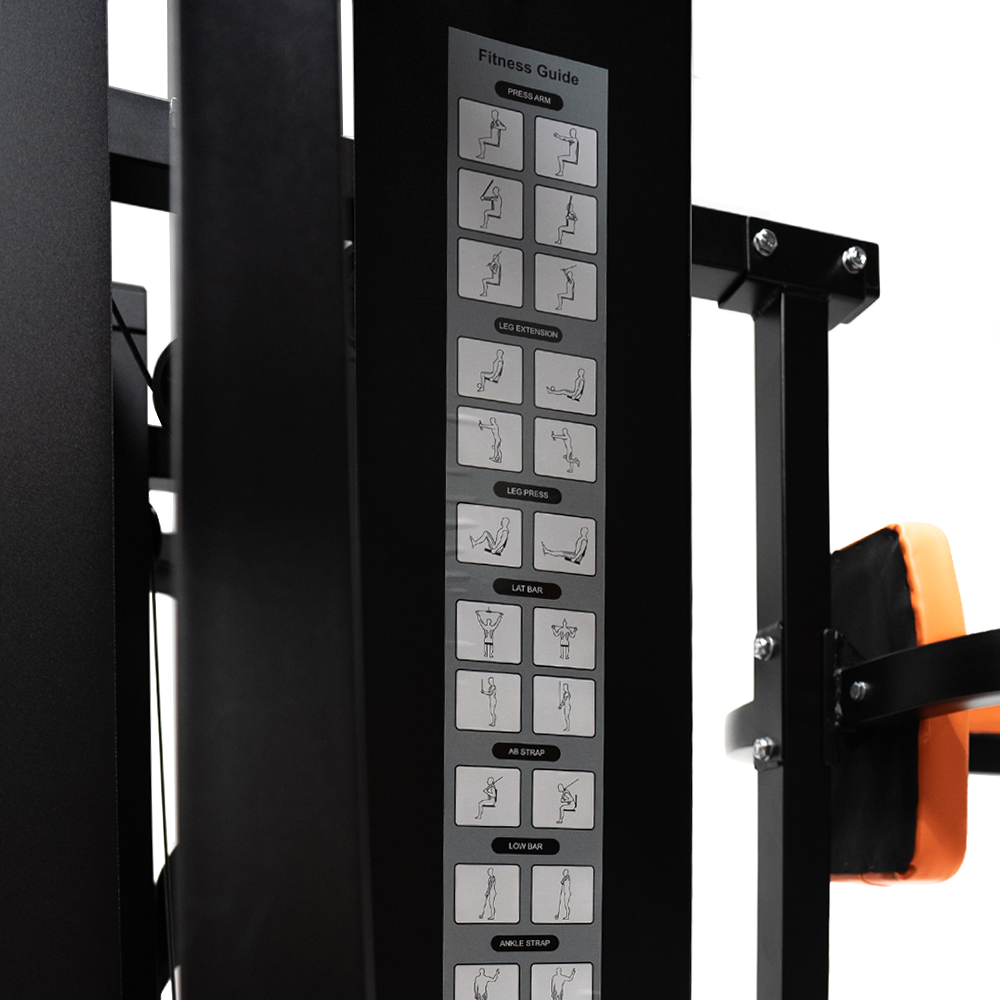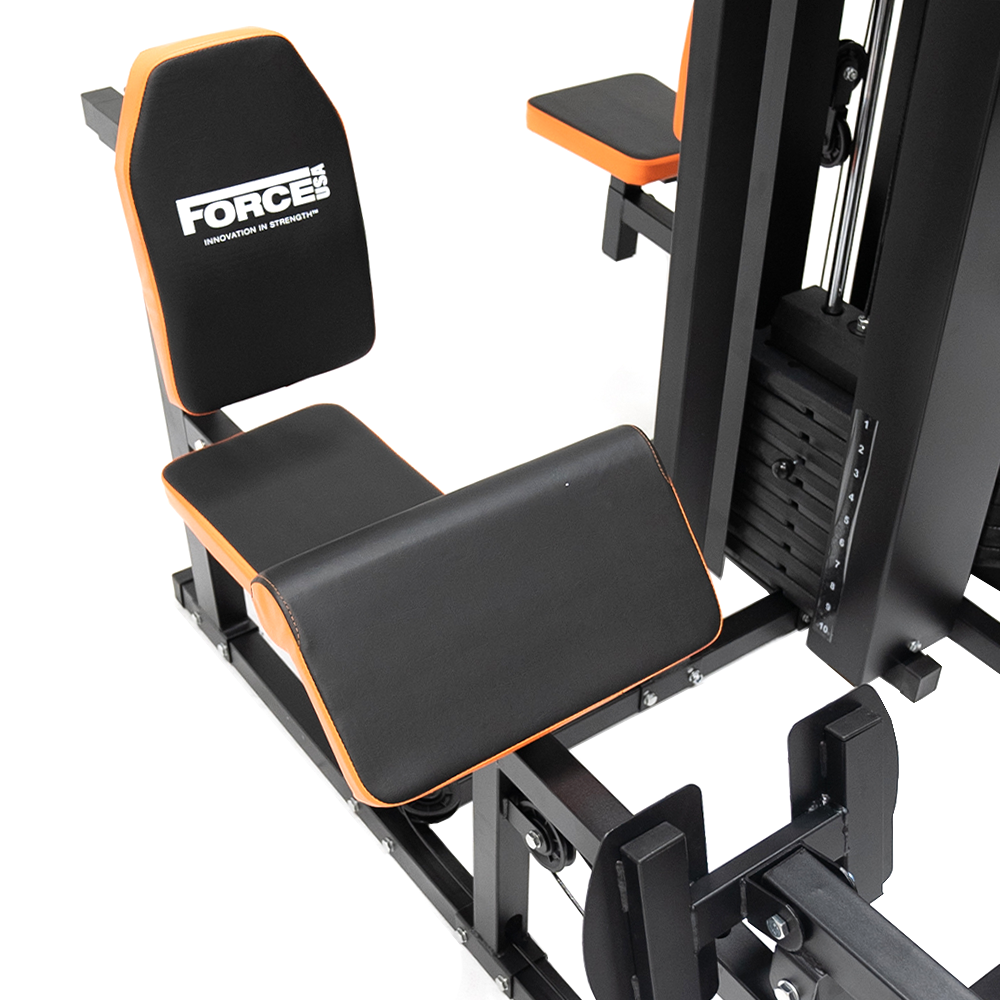 HG400 4 Station Multigym
The Force USA® HG400 Home Gym is an ideal workout machine for those looking for gym-quality workouts at home. Why waste time and money on expensive gym memberships when you can perform full-body training in the comfort of your home! Equipped with Bench Press, Leg Extension, Leg Press, Lat Pull Down, Low Row, Dips Station, Abs Station and much more, you can perform a wide range of upper and lower body exercises in a minimum amount of space.
---
Key Features
MULTI-STATION VERSATILITY

The Force USA® HG400 offers four workout stations to suit multiple users at one time, so if you're looking for a home gym that the entire family can use, look no further. The first of the four stations contains a Chest Press machine that doubles as a row machine by facing forwards. You will find a lat pulldown bar above your head attached to the weight stack offering a range of lat exercises, with an added leg curl attachment fixed to the seat. Station two contains a fully adjustable leg press with added preached curl pad for isolated bicep exercises. Comfortably perform all your pec deck exercises on station three. Complete your abs and dips workout on station four, fitted with elbow pads for comfortable static holds or knee raises and an added decline bench.

2 x 65KG PIN LOADED WEIGHT STACK

The 2 x 65kg pin-loaded weight stack offers adjustable resistance for satisfying all your weight training needs as you progress over time. With easy access, the simple and easy, pop-pin selection creates smooth adjustments between sets and different exercises.

TRAINING MADE SIMPLE

Perfect for those beginning their fitness journey, this sturdy and versatile home gym will take all the unnecessary stress out of your exercise routines. Perform your full-body workout right in the comfort of your home with a piece of high-functioning equipment that combines compact design and functionality for a minimum amount of space.

DURABLE CONSTRUCTION

The Force USA® HG400 Home Gym features a solid steel frame, tear-resistant seat fixed with deluxe upholstered cushioning so that you can experience ultimate comfort and durability.

COMPACT FOOTPRINT

Equipped with a:

Bench Press
Pec Deck
Shoulder Press
Preacher Curl Pad
Low Row Bar
Lat Pulldown Bar
Dips Station
Knee Raises
Decline Bench
Ankle Strap
Standing Leg Curl
Leg Extension
Leg Press
Specifications
Usage: Domestic
Dimensions: 312cm (L) x 180cm (W) x 210cm (H)
Weight Stack: 2 x 65kg
Max User Weight: 160kg
Force USA HG400
Fantastic customer service, fast delivery and love the product. Only negative is that the instructions are very vague and it ended up taking 8hrs to assemble. However overall experience was a very positive one. Thanks Gym and Fitness!
Hi Jaime,
Thank you for sharing your positive experience with us! Your gym loooks fantastic! We're sorry for the trouble caused by our manual, however, don't worry we are working on improving them to give you a better experience.
If you need further assistance, please feel free to contact us and we'll happily help.
Happy training!
GAF Team
Lots of faults with the product!
Footprint is much larger than listed in specs. Sharp redundant metal protrusions at foot level on the chest press side we have had to cover with foam slabs. One of the plastic weight plates was cracked. Instead of pin for the situp bench which should be removable so the leg lift station can be used they have a nyloc fastener. Instructions for assembly were very poor. The quality of the tube used is poor with one section at the situp bench being about 0.1mm thick on the side wall, strangely it was also bent in on arrival. Lots of other smaller issues.
Hi Katherine,
We're sorry to hear that you've experienced a number of issues with your HG400. We take customer feedback very seriously and appreciate you bringing these faults to our attention. We would like to extend our apologies for any inconvenience caused.
We encourage you to please fill out our warranty form here https://www.gymandfitness.com.au/pages/warranty-form and our team will be happy to help you with the issues we are having.
Please don't hesitate to reach out to us should you have further concerns at info@gymandfitness.com.au
Kind regards,
GAF Team
Perfect during lockdown
Hi there,
We loved using everyday was so good being able to hit full body.
We are moving and need to break it down can you please send through the instructions for setting this up?
Thank you.
Hi Courtney,
Thank you for sharing your feedback for the HG400, we appreciate your rating as well! No worries, a member of our team will advise you how to dismantle and set it up via email :)
We hope to see you again soon.
GAF Team
Fantastic service!!!
This arrived on time, everything from start to finish was a perfect transaction!
Hi Katrina,
Thank you for the feedback. We are glad to hear that you are enjoying the equipment and that it was a positive experience for you as well!
Kind regards,
GAF Team
Hi Ed,
We appreciate you taking the time to share your rating with us.
We look forward to seeing you again soon.
GAF TEAM