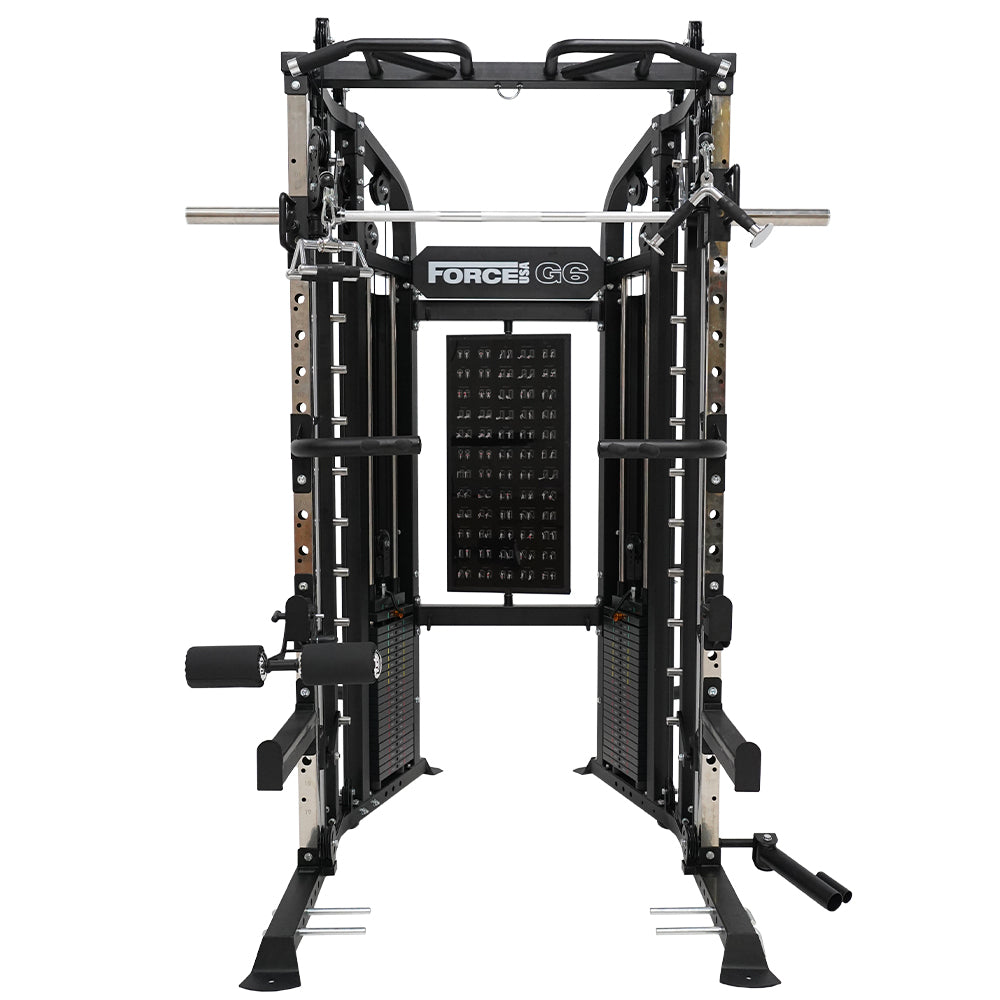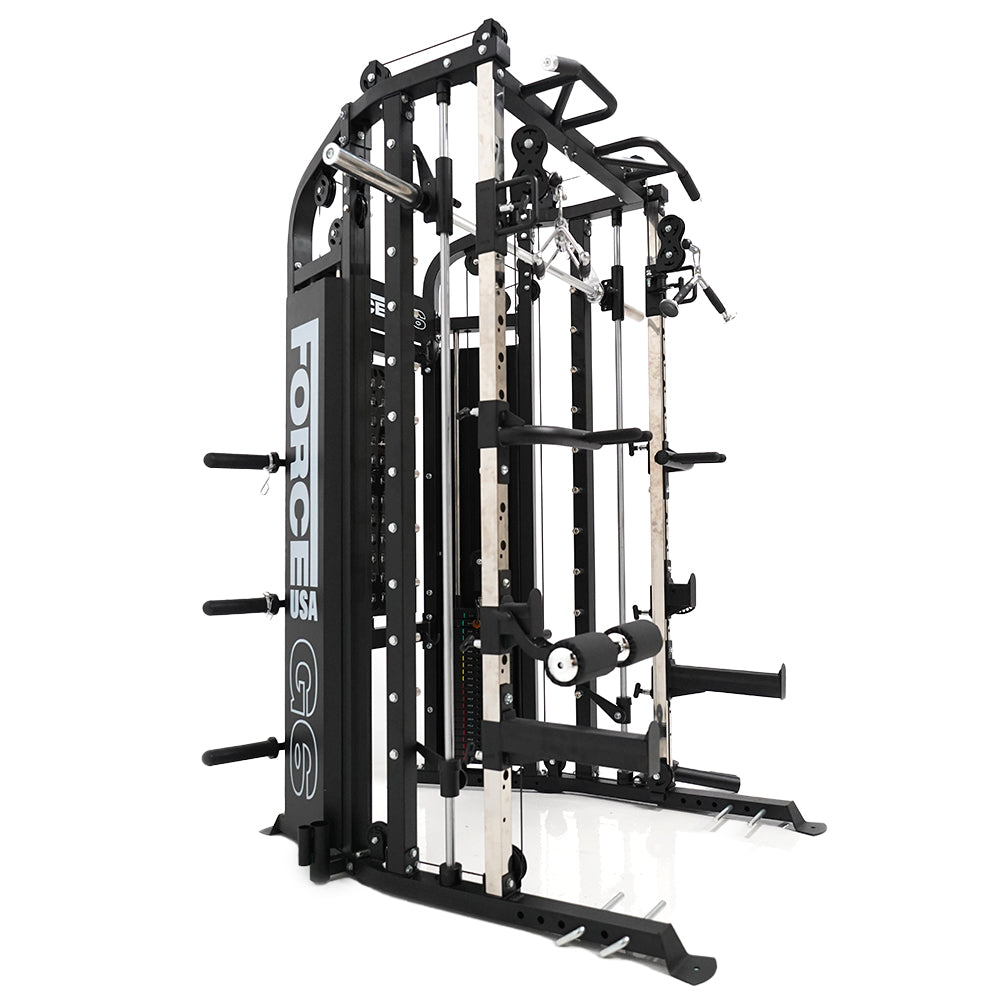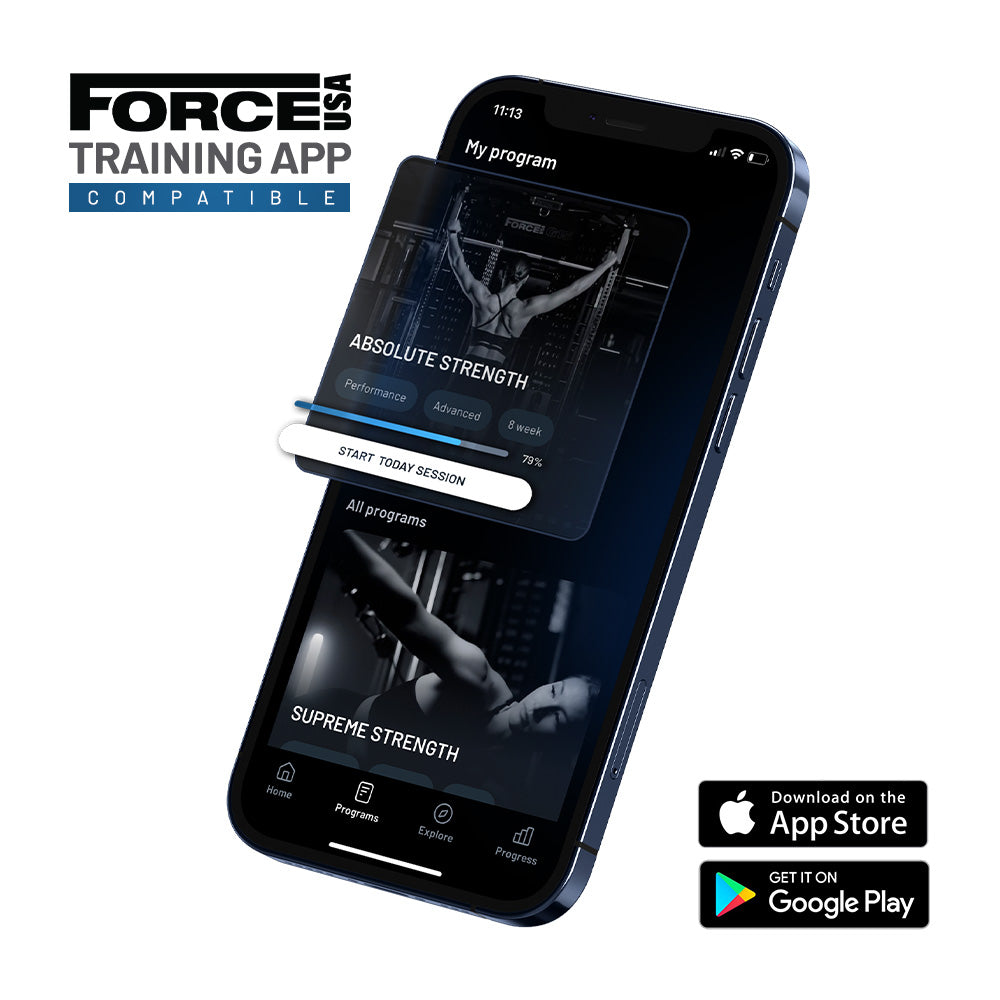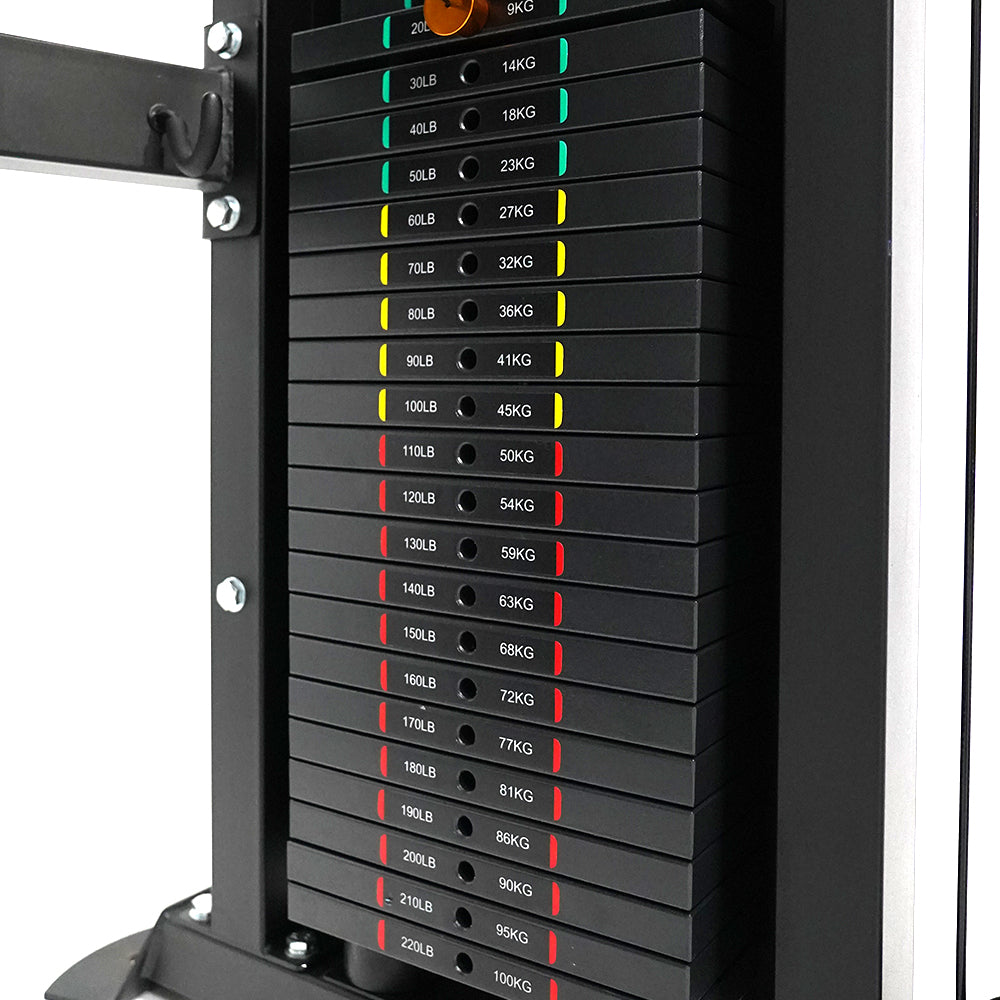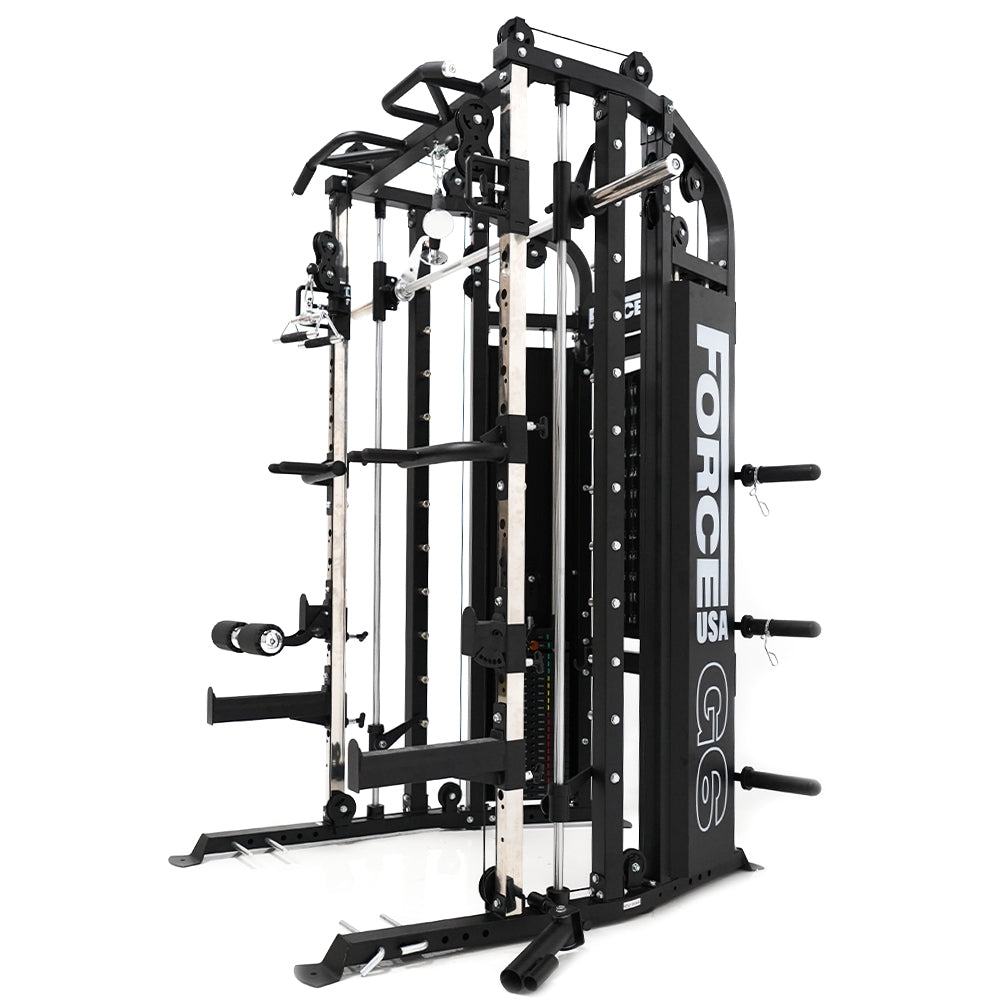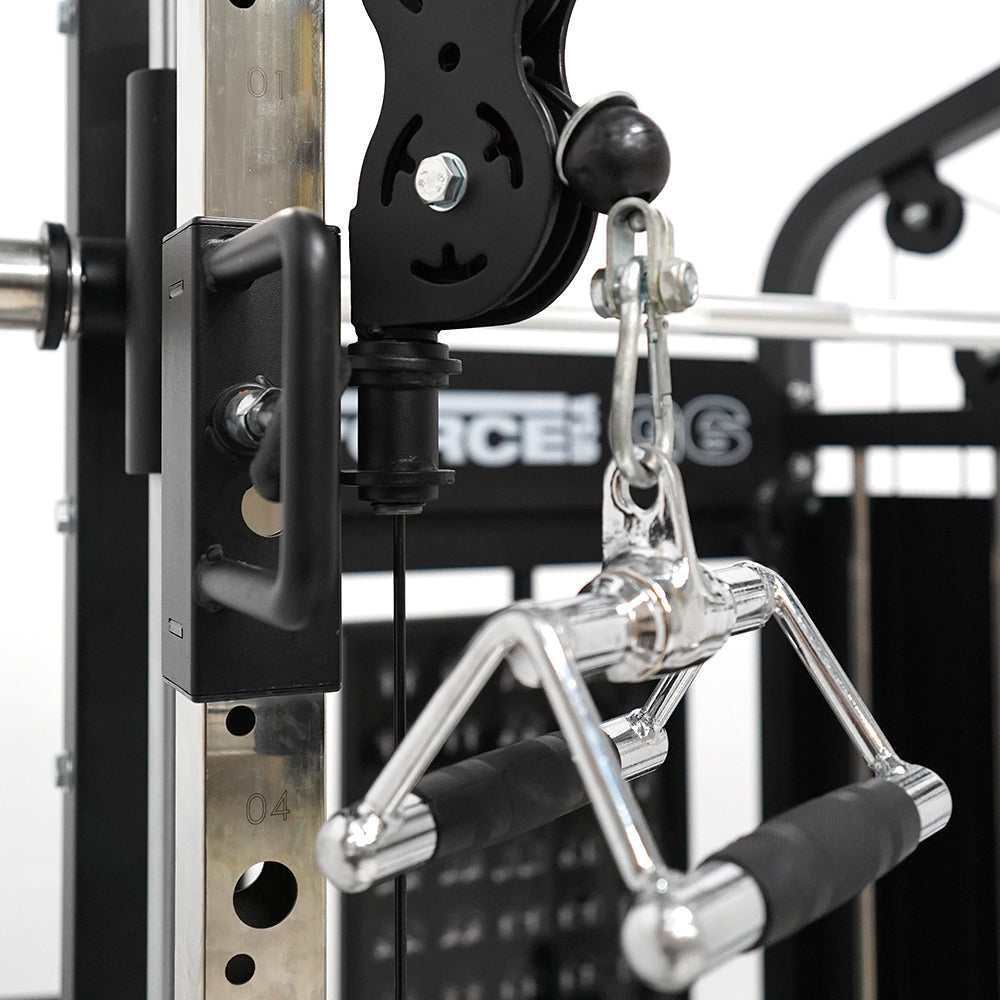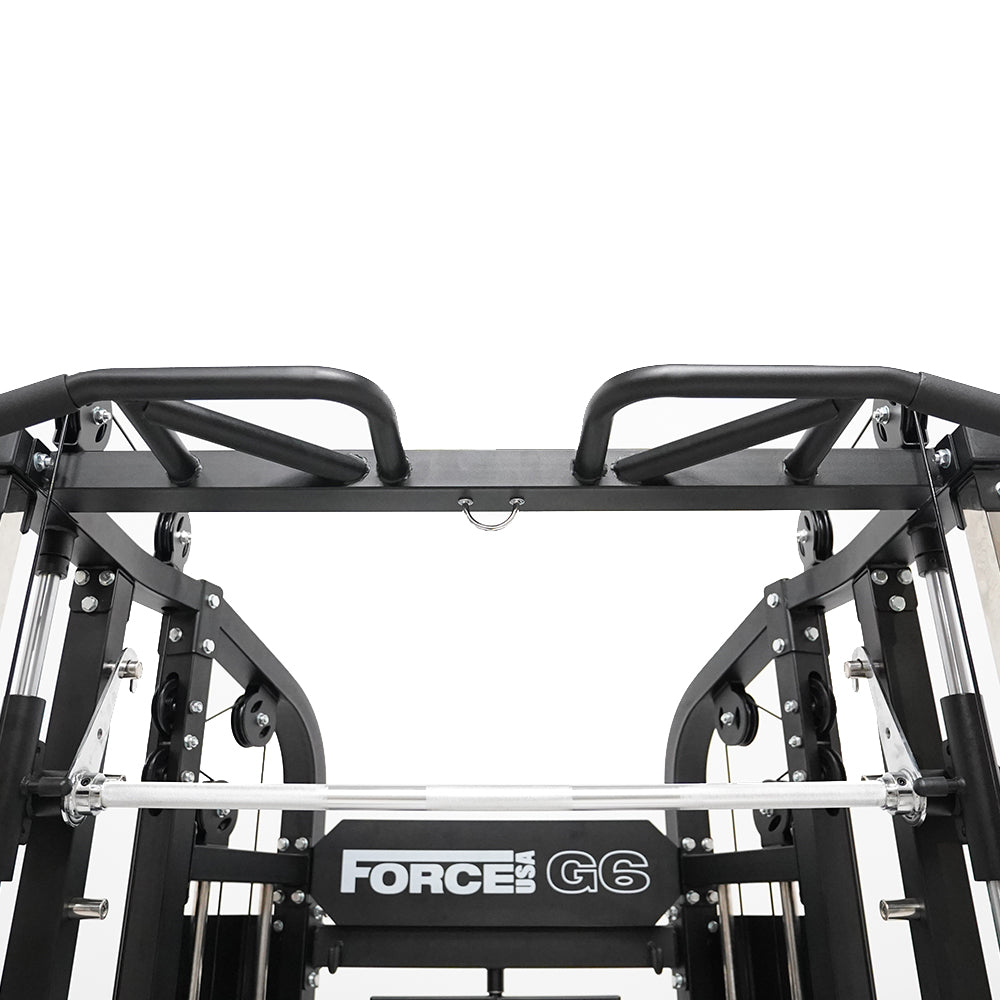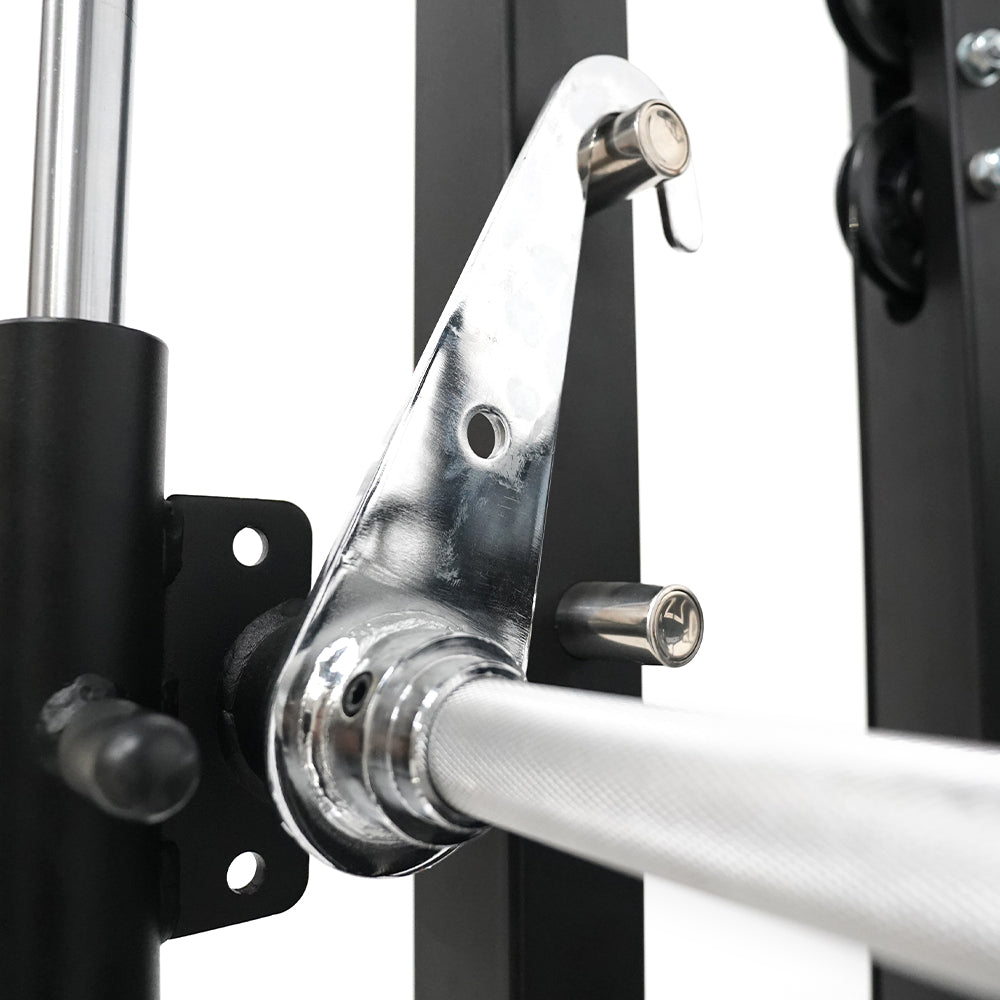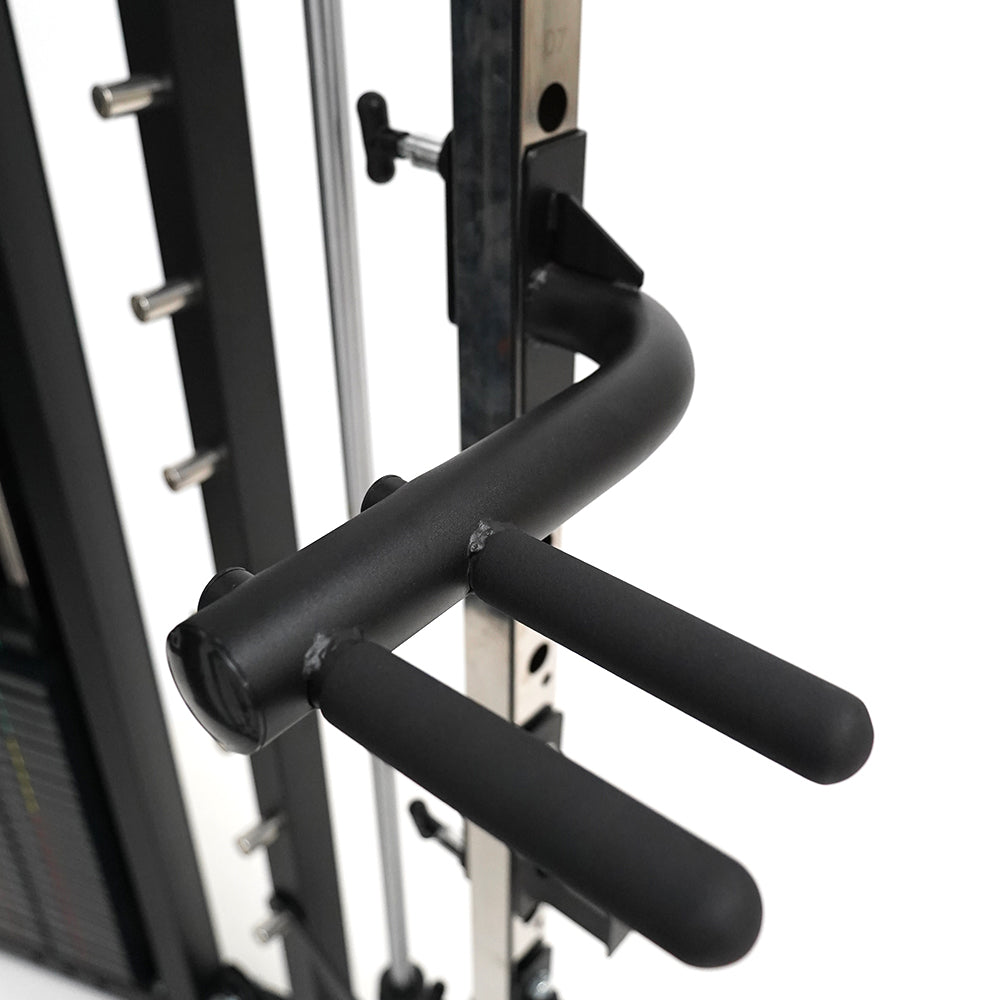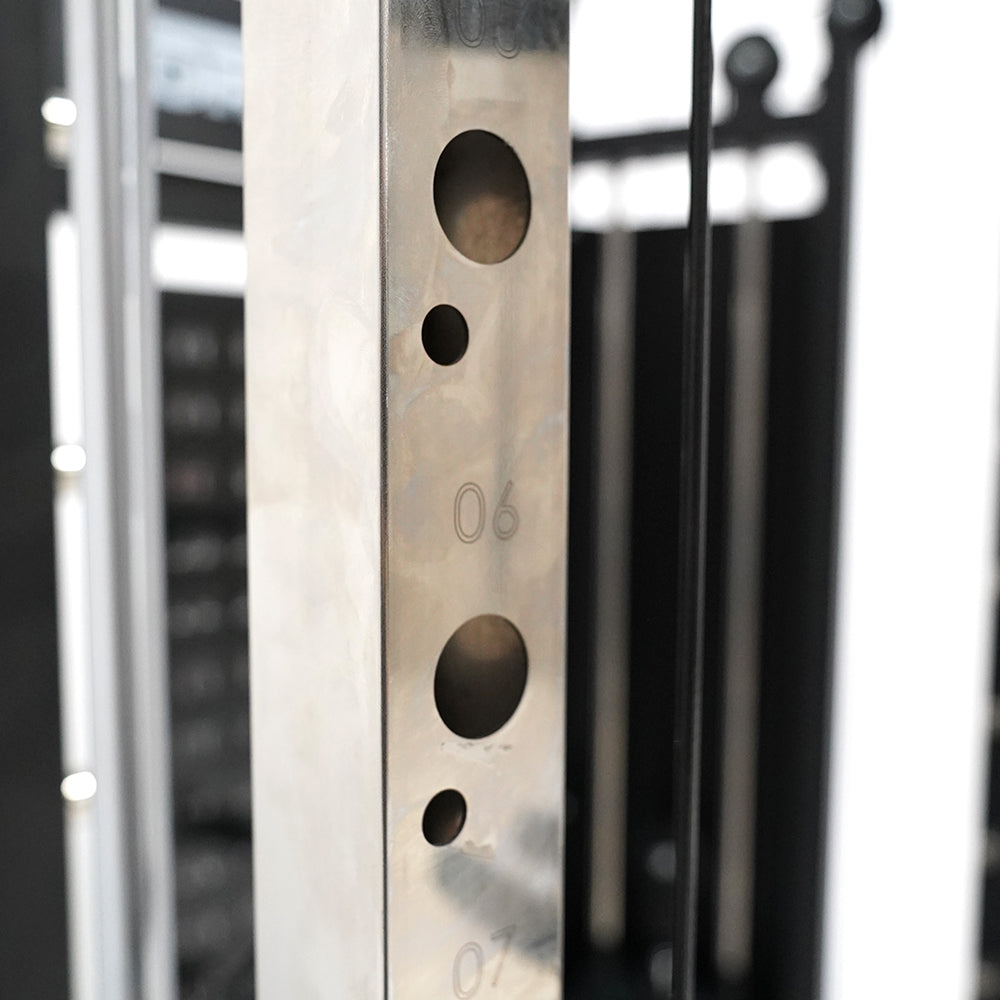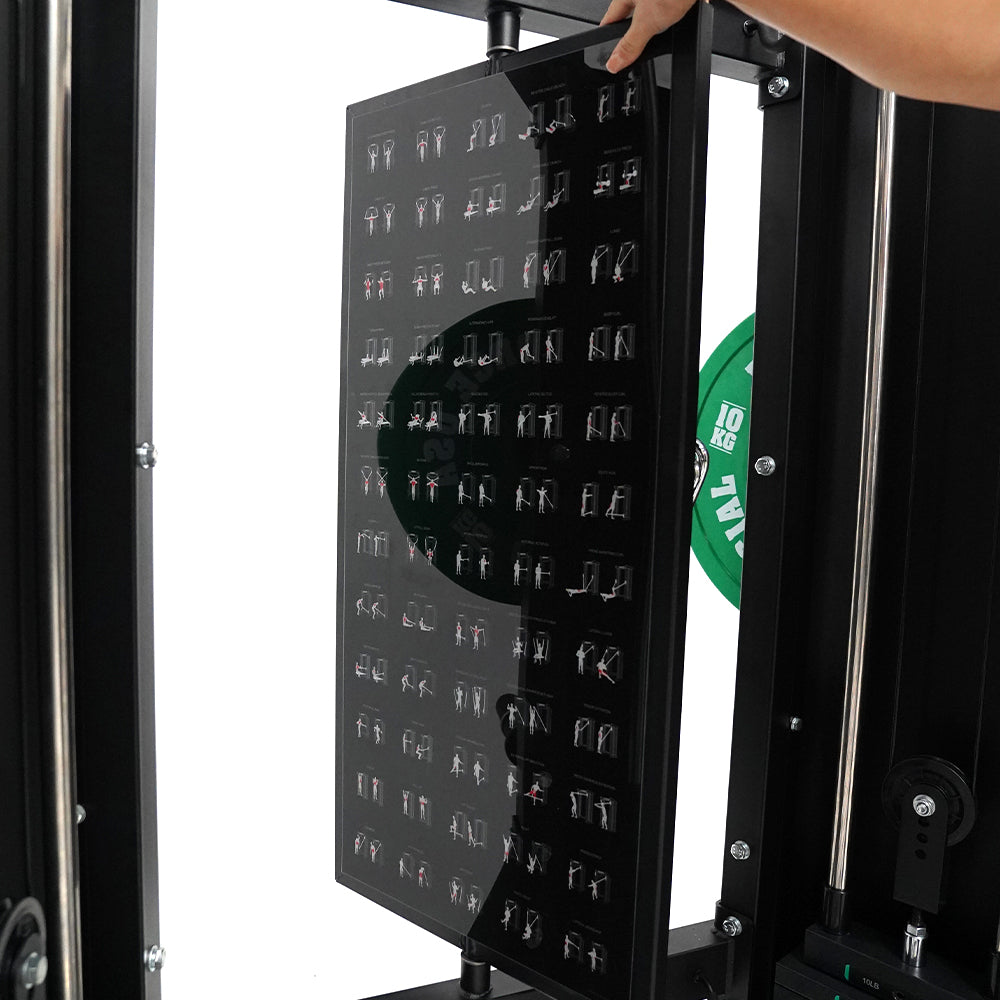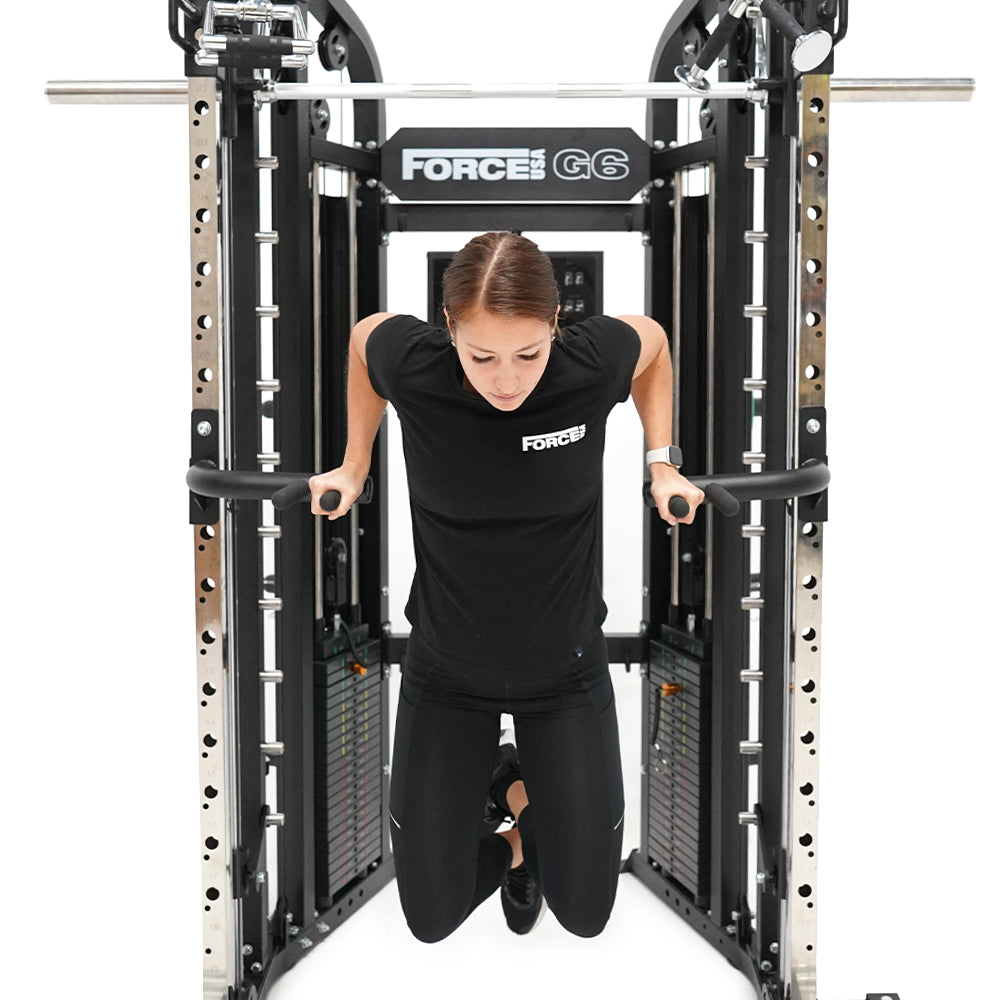 G6™ All-In-One Trainer
Take the next step in your strength training with the versatile, commercial-grade Force USA® G6™ All-In-One Trainer. Combining a Dual 99.5kg Weight Stack, Functional Trainer, Smith Machine, Power Rack, Chin Up Station, Dip Station, Core Trainer, Suspension Trainer Hook and Leg Press, plus a stack of attachments, this is a complete home training solution in a compact footprint. Engineered in our professional training labs and made with unbelievably tough heavy-duty steel, there's nothing the G6™ can't handle. Please note G6 attachments come in black powder-coated steel.
This unit is compatible with the new Force USA Training App!
---
Key Features
UNLEASH YOUR INNER ATHLETE WITH THE FORCE USA TRAINING APP

Unlock the secret to a seamless workout experience with the new Force USA Training app! Say goodbye to the overwhelm of planning your training sessions and hello to a streamlined approach that allows you to flow through your workouts. Force USA's expert strength coaches have recorded and organised hundreds of tutorial videos, giving you access to the knowledge and guidance needed to create an effective strength training program. Or simply browse through the videos and cherry-pick your favourite exercises to create your own workout routine. It's never been this easy to train at home.


NINE STRENGTH MACHINES IN ONE!

Your strength training is about to enter a whole new phase with the versatile Force USA® G6™ All-In-One Trainer. With many exercises to perform, the only limitation is your own imagination. You name the training type and this machine will deliver.

Strength and Split Training
Bodybuilding and Powerlifting
High-Intensity Interval Training
Plyometric and Explosive Training

 

YOUR LEGENDARY SMITH MACHINE

Angled for natural body movement, the Smith Machine is incredibly smooth, strong (350kg/770lbs weight rating) and perfect for compound movements so you can push yourself to the limit on Shoulder Presses, Calf Raises and Glute Building movements.

The guide rails deliver ultra-smooth movement during workouts, as well as safe lock and release mechanics and high-quality safety catches - allowing you to max out your training safely without the need for a spotter!

 

2:1 CABLE RATIO DOES IT ALL

The Dual Weight Stacks (99.5kg/221lbs) have a 2:1 cable ratio, delivering more explosive exercises and a long cable reach. The High Tensile Aircraft Grade Cables come with a massive 2000lb (907kg) weight rating. You can perform an endless variety of full-body exercises.

The commercial sliders and pop-pin adjustments have a high-end feel to them, making all your cable work smooth and effortless.

Want to increase your resistance? The G6™ comes fitted with Tri-X-Expansion ports below the weight stacks for optional band attachment.

 

PACKED WITH INCLUDED ATTACHMENTS!

The G6™ All-In-One Trainer is loaded with a diverse range of attachments to keep your workouts fresh. Your complete home gym comes with J-Hooks, Safeties, 3 Different Bars (Lat Pulldown, Triceps, Straight), Triceps Rope, a Leg Press Footplate, Abdominal Belt, Cables Handles and so much more!

 

MULTI-GRIP CHIN-UP BAR AND SUSPENSION TRAINER HOOK

Your G6™ includes an ergonomically designed multi-grip Chin-up / Pull Up station with a massive 350kg (771lbs) weight rating. Move between wide-grip, close grip, underhand, overhand and a stack of other varied movements.

This unit also has a Suspension Trainer Hook, which is great for mixing up your training by adding resistance work to build stability

 

LEG PRESS AND LOW ROW STATION

Quickly and easily convert the Smith Bar component to a vertical leg press with the included Leg Press Attachment to target your Quads, Glutes and leg muscles.

This leg press attachment comes with convenient handles for attaching and removing and a slip-prevention checker plate for added grip. Transform this attachment into a Low Row Station footpad with the cable system and easily work the upper body.

 

IMPROVED SESSION FLOW = TIME SAVED

Forget waiting for equipment at your busy gym and customise every workout to your unique needs with the G6™ All-In-One Trainer. The transition between your Powerlifting and cable work or upper and lower body exercises in just a few seconds.

By generating an improved session flow not only will you get more done in less time, but you'll stay motivated and locked in for longer.

 

SMALL FOOTPRINT, ENDLESS VARIETY

Designed specifically for garages, basements, spare rooms and studio set-ups, the space-saving G6™ All-In-One Trainer packs an incredible amount of training options into a compact footprint: 183cm (W) x 160cm (L) x 231 (H) cm.

Want to view in your space? Our new AR feature lets you size up your G6™ in seconds. Shop with confidence knowing all AR products are true to size, so you will know exactly what your new All-In-One will look like - all before being delivered to your door!

 

DESIGNED TO OUTLAST EVERY OTHER HOME GYM

The G6™ All-In-One Trainer was precision built and manufactured using the highest quality materials. With a Lifetime Frame Warranty and 2-Year Warranty on parts and attachments, you can see why our customers love it. Read our G6 reviews below!

11 gauge, 3mm thick heavy gauge structured steel tubing throughout
Tough PVC and rubber in heavy use areas to increase durability
Long-lasting clear coating with anti-rust protection
Eco-friendly premium commercial grade powder coating

 

CONVENIENT INSTALLATION AND ASSEMBLY

To get you up and training as soon as possible, let Gym and Fitness help you book a technician to come to your home or studio and assemble the G6™ for you!

Rather do it yourself? Force USA also provides detailed and easy-to-follow instructions to help you assemble your new G6™ All-In-One Trainer. Most customers are able to assemble the full machine over the course of two days with the help of one person.

 
What's Included:
Multi-Grip Chin-Up Bar
Multi-Grip Dip Handles (Pair)
Suspension Trainer Hook
J-Hooks (Pair)
Front Safeties (Pair)
Core Trainer with Rotating Holder
Lat Pulldown Bar (Straight)
Small Straight Bar
Tricep V Bar
Metal Cable Handles (Pair)
Triceps Rope
Abdominal Belt
Adjustable Leg Press Footplate
Lat Pulldown Knee Anchor
4x Band Pegs
6 x Spring Collars (50mm)
6 x Weight Plate Holders
2 x Extension Chain
4 x Carabiners
Exercise Chart
Specifications
Usage: Domestic & Light Commercial
Attachment Material: Black Powder-Coated Steel

Cable Ratio: 2:1
Weight Stack: 2x 99kg
Dimensions: 183cm (W) x 160cm (D) x 231cm (H)
Interior Working Space: 91cm (W) x 94cm (D) x 216cm (H)
Weight Rating: 450kg
Chin Up Bar Weight Rating: 350kg
Cable Rating: 2000lbs/907kg
Warranty:

Frame: Lifetime
Parts: 2 years
Compare
Amazing Solid Equipment
I have purchased over $10,000 worth of fitness equipment with Gym & Fitness and every cent was defiantly worth it! Amazing tough quality in my home gym/garage. Can't beat training at home. Amazing fast high quality customer service and I highly recommend Gym & Fitness Products for anyone looking to purchase Strong quality Equipment. 5 STAR!
Hi Annabel,
Thank you so much for your kind feedback! We value you as our loyal customer and we are pleased to be your supplier for gym equipment :)
We appreciate your recommendation and your business, thank you for choosing GAF!
Happy training!
GAF Team
Awesome machine
Got our G6 3 weeks ago and the whole family have loved it. Feeling healthier and happier
Hi Tim,
Thank you for your feedback! It's fantastic to hear how the G6 is helping the family live a fitness lifestyle. We hope you will achieve your fitness goals with the G6 and if you ever have any questions or concerns, please feel free to reach out.
Happy training!
GAF Team
Dad-Tested, Dad-Approved: Force USA G6™ All-In-One Trainer Review
As a new parent with a jam-packed schedule, finding time for a proper workout became increasingly challenging. That's when I stumbled upon the Force USA G6™ All-In-One Trainer, and let me tell you, it has been an absolute game-changer in my fitness journey. And Gym and Fitness have been absolutely incredible (this is my second time purchasing from them)
Pros:
- Time-Saver: With the G6™ in my garage, I can work out whenever I have a moment, saving me the trip to a gym. Perfect if you WFH like I do.
- Easy Setup: Professional installation took just 3 hours. To compare, I've seen videos of couples attempting to build this smith machine on their own often taking 2 full days. The expert was efficient, highly professional, intelligent and friendly. We talked about lego building haha.
- Suitable height and width: Despite the low-ish garage ceiling clearances in most Sydney homes, I can do pull-ups comfortably on mine (2.55m ceiling). I was concerned about how narrow it was going to be, but as a person around average height, I could comfortably bench with a wide grip, without elbows hitting anything
- Exercise Variety: The G6 offers a range of workouts, keeping things interesting. I especially love the smoothness of the smith bar. I use the cables the most.
- Built to Last: Sturdy design and quality materials assure durability. I like the new black attachments..
- Top-Notch Customer Service: Jonathan, a shining star in the Gym and Fitness customer service team, has truly set a gold standard. His level of support mirrors the kind of service one would expect from an Apple Store's Genius Bar. His name is mentioned in other reviews for a reason, and I can vouch for the exceptional service he provides.
- Redemption After a Scam: I experienced a distressing situation with a different company (please note that this was unrelated to Gym and Fitness) that proved incapable of fulfilling orders and engaged in deceptive practices, affecting numerous customers. This obviously left a sour taste in my mouth... On the contrary, my interactions with Gym and Fitness were the complete opposite! They managed to restore my faith in ethical business practices. Their approach to customer service was truly authentic. Remarkably, I received my order within a week. Throughout the entire process, Jonathan provided unwavering support and guidance.
- Storage: it has storage at the back.
- Space-Saving: The G6 maximises my garage space. Let me paint a picture for you: I have a standard double garage. On one side, I have the G6 + an exercise bike + a large treadmill. This all fits on ONE HALF of my garage. On the other side, I can still comfortably park my SUV.
- Leg rest: Sturdy foam padding, definitely high quality, with plenty of degrees of micro-movement for the perrrrrfect thigh fit.
- Cables are 2:1 ratio: Personally, I find the 2:1 cable ratio to be advantageous due to its smooth operation. Why? (Warning: incoming physics explanation...) It's important to realise that a 2:1 ratio machine essentially halves the effective weight of your chosen weight. This can lead to a smoother motion and less resistance at the beginning of the exercise. (Heavy lifters may prefer 1:1 cable ratios for its consistent tension.) If this concept is unfamiliar, I recommend researching it further before making your purchase decision.
I previously owned a 1:1 ratio cable machine, and I simply didn't enjoy it as much. It's worth noting that my wife and family members, who are relatively new to the gym, prefer the 2:1 ratio as this can be gentler on joints, tendons, and ligaments, especially during the initial part of the movement, as mentioned.
Cons:
Cable Adjustments: Adjusting cables could be smoother. Then again, this isn't exactly a commercial machine.
Weight Limit: More weight capacity for plates would be great. As I progress, I find myself maxing out the existing weight capacity sooner than anticipated.
In short, the Force USA G6™ All-In-One Trainer is my go-to, especially as a time-strapped parent. I've owned it for 3 months with zero issues, using it 4-5 times a week. It's convenient, safe, versatile, and backed by great support. While it has minor drawbacks, the pros dramatically outweigh the cons, and it's transformed my garage into a fitness haven. For anyone looking for a fitness solution with support, the G6 is a solid investment. Gym and Fitness are the best to buy from.
Thank you!
I leave you with this quote ;) "Quality may be expensive, but regret is even costlier."
Hi M,
Thank you so much for sharing your detailed wonderful experience with us and your feedback! We appreciate you taking the time to write kind words about our service and your review for the G6 will truly help our customers get a better point of view.
Thank you for choosing GAF and we appreciate your support.
Happy training!
GAF Team
Performs well & decent app
Was satisfied until I found ForceUSA workout app in App Store. I'm now able to select the G6 as my equipment and do equipment specific workouts, rather than make it up myself or follow another app and adapt. Would recommend buying some weight plates & a bench with the unit to really get the full functionality out of it from the get go. Also check the dimensions, it's relatively compact, which translates to a somewhat narrow workspace between the uprights which would be my only real concern, larger operator might want to get a wider example? (Though I'm 193cm/120kg and its ok) can't speak highly enough of G&F team also!
Hi Greg,
Thank you for your wonderful feedback. We appreciate your positive feedback about the GAF team as well! If you have any further questions or need assistance, please don't hesitate to reach out. Keep up the great work with your workouts and enjoy your fitness journey!
Happy training!
GAF Team
Force USA G6 All-in-one Trainer
The machine is of excellent build quality, smooth operation and it has a nice and small footprint. It does, however, have some minor but disappointing features too. The design has changed from the earlier model that I am familiar with, and as a result, there is: less elbow room when doing bench-press and means the safety stops can't be used for bench-press workouts without hitting my elbows; the chin-up bar is thicker gauge and has a different grip feel to the older style which was a thinner, more comfortable knurled grip; the older model had plate weights increasing in 5kg increments, whereas the newer model uses 10lb increments (eg 80lb/36kg) so not really set for metric users. I got the machine on a very generous sale so I was happy to put up with these flaws but it would have influenced my purchase otherwise.
Hi Mark,
Thank you for your detailed review! We apologize for the inconvenience caused by the features you are not satisfied with. We value your feedback and will take it into consideration for potential future improvements. If you have any further questions or concerns, please don't hesitate to reach out.
Happy training!
GAF Team