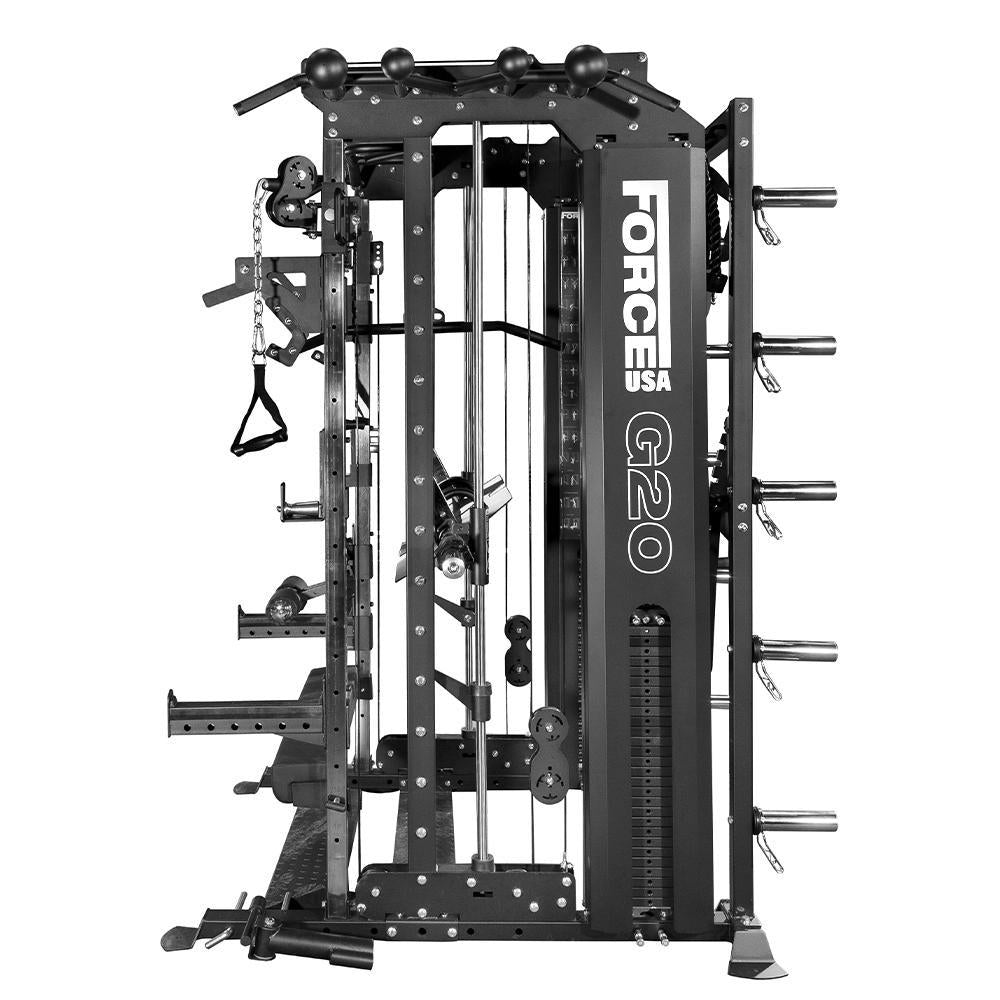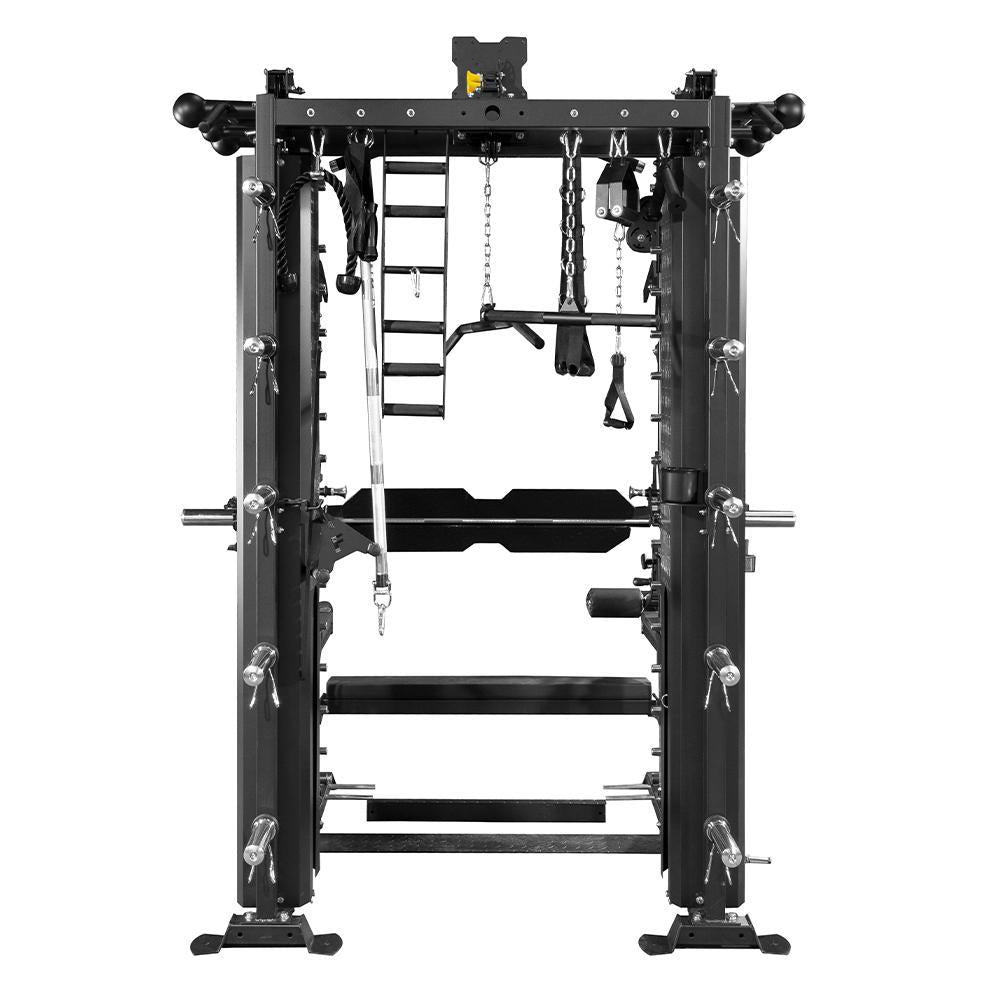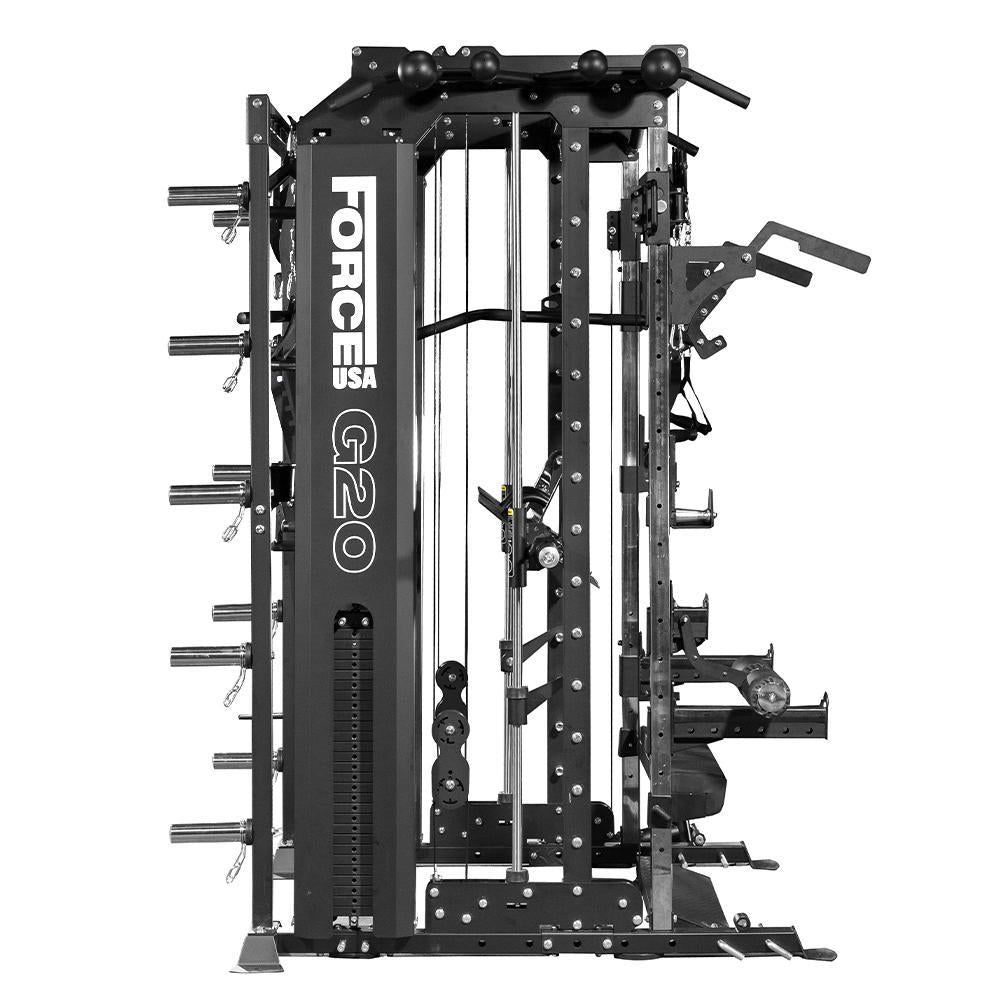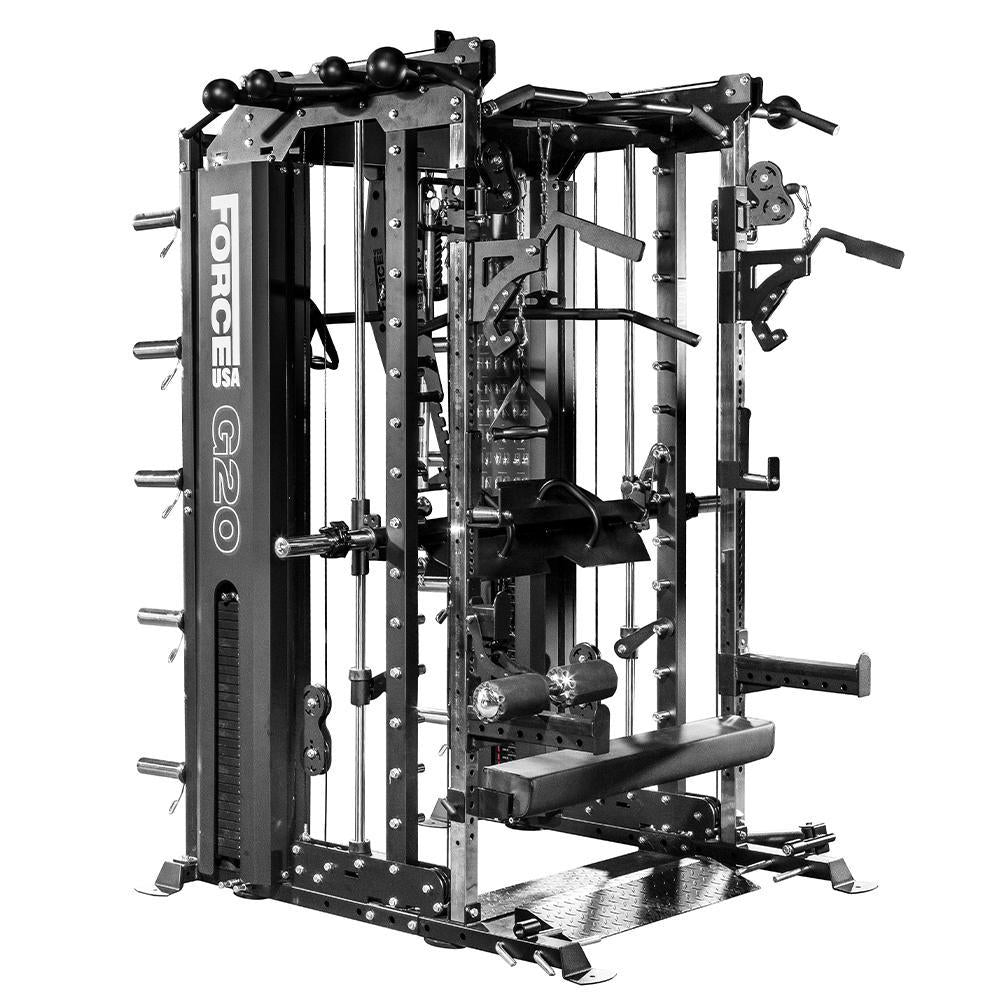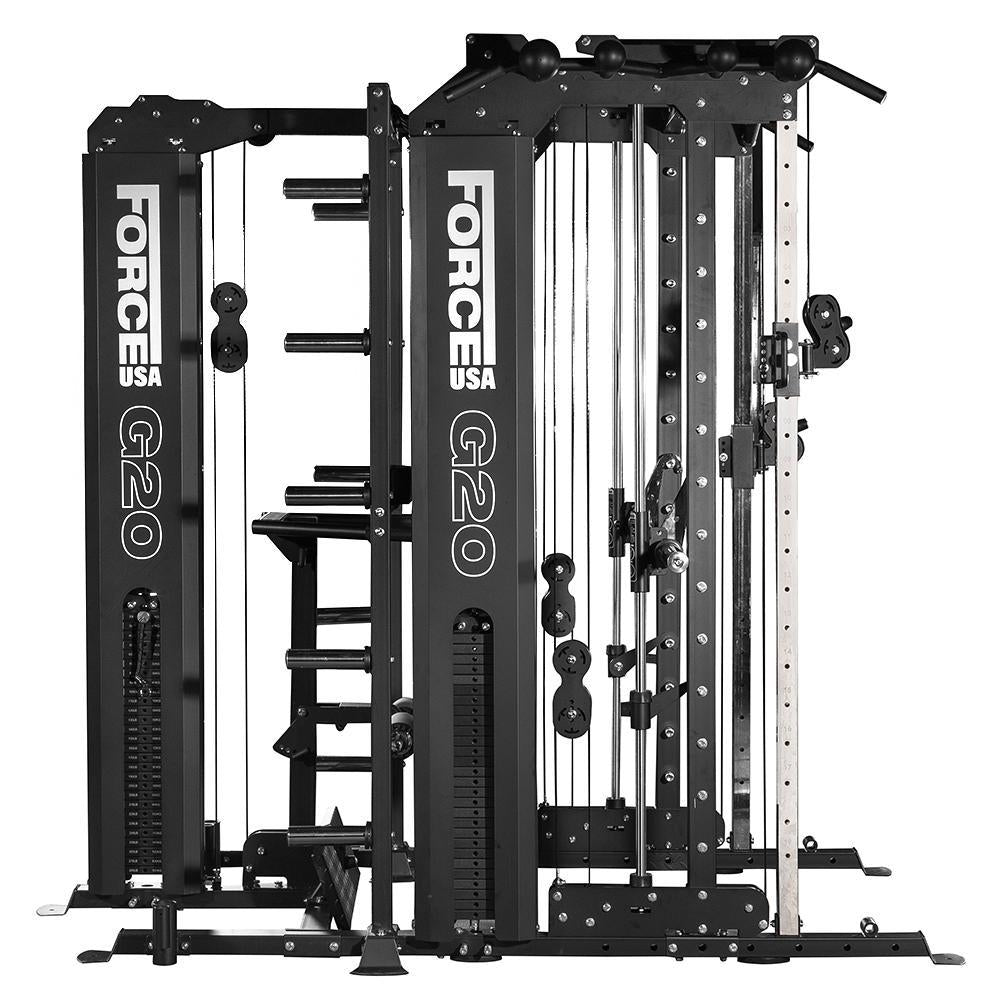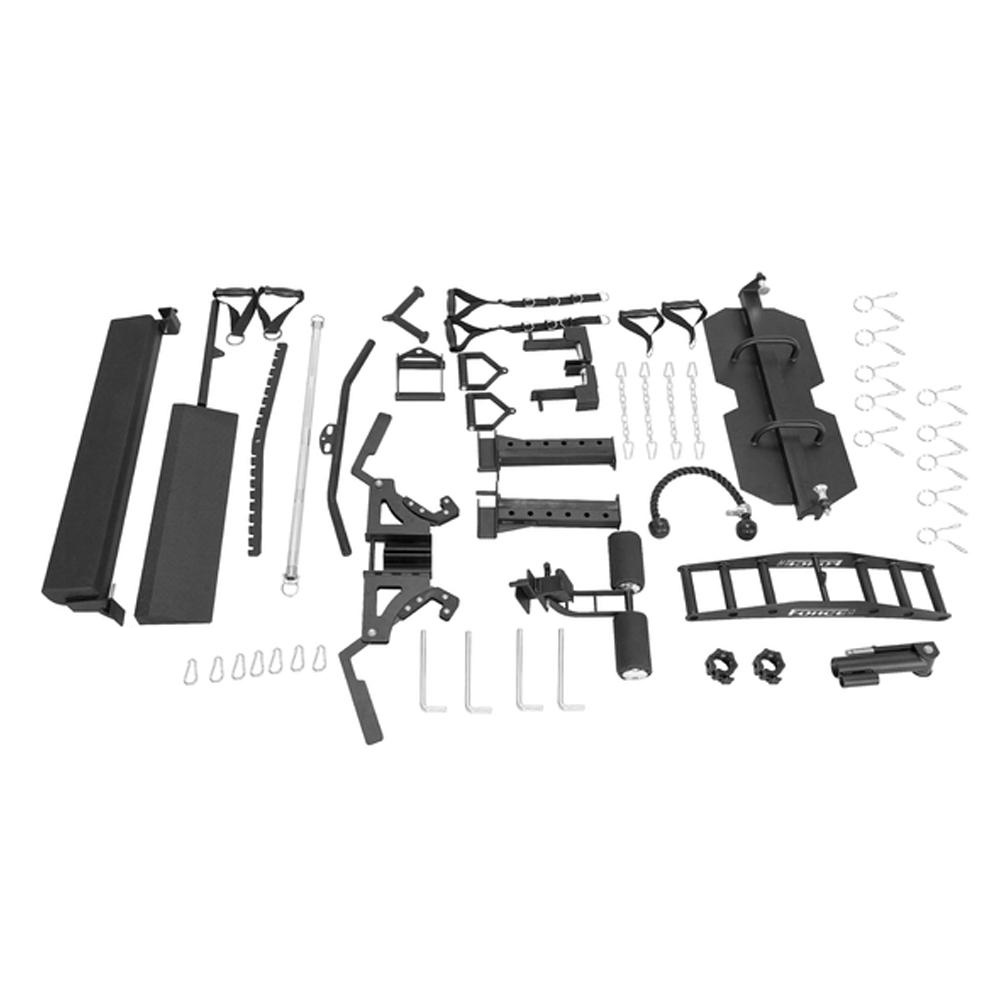 ™ G20® All-In-One Trainer
Imagine a home or studio strength and fitness solution that had everything you ever wanted packed into a single compact footprint? The Force USA® G20™ All-In-One Trainer is the ultimate workout partner and will quickly elevate every workout. Boasting the largest number of included attachments ever released with a Force USA all-in-one trainer, the G20™ is your commercial-grade Functional Trainer, Smith Machine, Power Rack, and Leg Press - all rolled into one.
This unit is compatible with the new Force USA Training App!
Upgrade Your G20 All-In-One Trainer
---
KEY FEATURES
UNLEASH YOUR INNER ATHLETE WITH THE FORCE USA TRAINING APP

Unlock the secret to a seamless workout experience with the new Force USA Training app! Say goodbye to the overwhelm of planning your training sessions and hello to a streamlined approach that allows you to flow through your workouts. Force USA's expert strength coaches have recorded and organised hundreds of tutorial videos, giving you access to the knowledge and guidance needed to create an effective strength training program. Or simply browse through the videos and cherry-pick your favourite exercises to create your own workout routine. It's never been this easy to train at home.

 

THE ULTIMATE ALL-IN-ONE TRAINER

Do you want to improve session flow, save time and achieve more results? The Force USA® G20™ All-In-One Trainer does it all - easily switch up your training, customise every session, and boost your motivation.

Offering unrivaled toughness, safety, and performance, this incredible unit is designed for the next generation of strength and fitness athletes. Are you ready?

SMOOTHEST WEIGHT STACKS ON THE MARKET

You'll never max out with the two massive 130kg/289lbs weight stacks on your G20™. With a smooth gliding feel, 1:1 cable ratio, and high tensile aircraft grade design, you can take every workout to the next level - day after day.

HOW MANY ATTACHMENTS IS ENOUGH?

The G20™ All-In-One Trainer is loaded with the most diverse range of attachments ever released with an all-in-one trainer to keep your workouts fresh and maximise floor space. This includes Lat Pulldown Bar, Small Straight Bar, Tricep V Bar, Adjustable Nylon Cable Handles, Triceps Rope, Adjustable Leg Press Footplate and so much more!

VERSATILE, HEAVY-DUTY PULL-UP STATION

The G20™ All-In-One Trainer features three separate Pull-Up Stations for all of your upper body grip training. Force USA has also built-in a TRX Suspension Trainer Ring for even more exercise options.

LOOK FORWARD TO EVERY LEG DAY

Force USA continues to deliver the toughest and most reliable Leg Presses available today. Designed with a slip-prevention surface and a black powder-coated finish, the oversized Leg Press Attachment makes use of the Smith Machine's 14 starting heights and built-in safety stoppers for a highly effective leg workout.

WHAT DO CURRENT USERS SAY ABOUT THE G20™?

You don't need Force USA to tell you how good the G20™ is - here's some recent feedback from GAF customers who already have it in their gym! View all product reviews below.

"True commercial feel about it and is made of quality material." Marty

"What can I say, I love it, looks and feels fantastic, very smooth, excellent quality." Ric

"Amazing piece of equipment - very strong and sturdy." Vanessa

"Great value for money, they pack so much into it, without substituting quantity for quality." Daniel

"Amazing amount of exercise options, and comes with everything you need, plus easily purchased add ons." L.D

DESIGNED TO OUTLAST EVERY OTHER HOME GYM

The G20™ All-In-One Trainer was precision built and manufactured using the highest quality materials. With a Lifetime Frame Warranty and 2-year warranty on parts and attachments, the trainer includes:

Thick heavy gauge structured steel tubing throughout
Tough PVC and rubber in heavy use areas to increase durability
Long-lasting clear coating with anti-rust protection
Eco-friendly premium commercial grade powder coating

SMALL FOOTPRINT, ENDLESS VARIETY

Designed for garages, basements, spare rooms and studio set-ups, the space-saving G20™ All-In-One Trainer packs an incredible amount of training options into a single compact footprint (190cm (W) x 169cm (L) x 230 (H) cm.)

CONVENIENT INSTALLATION AND ASSEMBLY

To get you up and training as soon as possible, let Gym and Fitness help you book a technician to come to your home or studio and assemble the G20™ for you!

Rather do it yourself? Force USA also provides detailed and easy-to-follow instructions to help you assemble your new G20™ All-In-One Trainer. Most customers are able to assemble the full machine over the course of two days with the help of one person.

WHY NOT ADD A G20™ LAT ROW STATION UPGRADE?

Want even more training options with your new G20? Add the optional G20™ Lat Row Upgrade to unlock:

Additional Lat Row + Lat Pulldown Station
Additional 289lbs/ 130kg weight stack (1:1 cable ratio)
Heavy duty Dip Attachment Bar
What's Included?
3 x Chin-Up Bars (Multi-Grip & Globe Grip)
Suspension Trainer Hook
J-Hooks (Pair)
Monolift Hooks (Pair)
Front Safeties (Pair)
Core Trainer with Rotating Holder
Functional Training Bar (Long Bar)
Lat Pulldown Bar
Small Straight Bar
Tricep V Bar
Saw Tooth Bar
Hammer Grip Bar
Close Grip Handle
Metal Cable Handles (Pair)
Adjustable Nylon Cable Handles (Pair)
Single Nylon Handles (Pair)
Triceps Rope
Adjustable Leg Press Footplate
Lat Pulldown Knee Anchor
Calf Block Attachment
4x Band Pegs
2 x Olympic Lock Collars
6 x Spring Collars (50mm)
10 x Weight Plate Holders
4 x Extension Chain
15 x Carabiner
Barbell Storage
Attachment Storage
Exercise Chart
Optional Extras
Add the G20™ Lat Row Station Upgrade to your G20® All-In-One-Trainer and enjoy even more benefits. This package includes:

Lat Row and Lat Pulldown Station
Additional 130kg Weight Stack (1:1 Cable Ratio)
Lat Pulldown Knee Anchor
Oversized Slip Resistant Low Row Footplate
Multi-Grip Dip Handles
2x Barbell Storage


Specifications
Usage: Full Commercial
Usage: Commercial
Cable Ratio: 1:1
Weight Stack: 2x 130kg
Dimensions: 190cm (W) x 169cm (D) x 230cm (H)
Weight Rating: 450kg
Cable Rating: 2000lbs/907kg

Frame: Lifetime
Parts: 2 years
Compare
Beast of a machine + great customer service
Sales staff were very helpful and pricing very reasonable for good quality gear. We purchased the Force USA G20 and its a beast of a machine. My wife and I have used the equipment for two weeks now and we're very happy. It can be a little cluttered with all of the attachments thpugh so keep this in mind for space requirements however it's great having everything that we need in one piece of equipment. Staff helped arrange a local technician to come and assemble the gear for us. I would not hesitate purchasing future items from these guys 👍
G20
Great machine, takes a bit of time to set up . 1:1 ratio Is great.
Make sure you use the chain extensions for work outs when using cables .
Great quality 👌
Would recommend for the money.
Hi Michael,
Thank you for the feedback. So awesome to hear that you are loving the machine and a great recommendation there with the chain extensions.
Kind regards,
GAF Team
Absolute Beast- not for beginner
I absolutely love this piece in my gym and all of the attachments that come with it were awesome. It is a challenge assembling and you'll need a bit of know how, to get this together properly, so be prepared. I say this is not for a beginner as the 1-1 cable ratio means that some exercises may simply be too difficult for a beginner, but if you have some strength and experience this won't be an issue.
I worked in gyms for more than ten years and bought this after I suffered a severe spinal injury and it is so versatile to my needs it has got me back at it again confidently and safely. The team here were also awesome to deal with throughout.
Great kit but for a few improvements; even better service from Gym & Fitness
The service from the team at Gym & Fitness, let by sales, was fantastic: pro-active, prompt and good follow up when needed. The product is amazing, but why oh why would they send rusting washers; and there was rust inside some of the fittings, which arguably, over time, would have little or no impact on the performance and hopefully, the longevity of the unit. But still, for something offered as absolute premium grade, a little more care and it would have been 5 star.
Force USA G20 Beast
Customer service was excellent; I felt I got the best value for the dollar.
The G20, what can I say, I love it, looks and feels fantastic, very smooth, excellent quality. I don't feel as though, I could break it. Love the 1 for 1 ratio.
Assembly wasn't so bad; just read and follow.
Thanks again, and I will buy more in the future.
Hi Ric,
We appreciate you taking the time to share your rating with us.
We look forward to seeing you again soon.
GAF TEAM