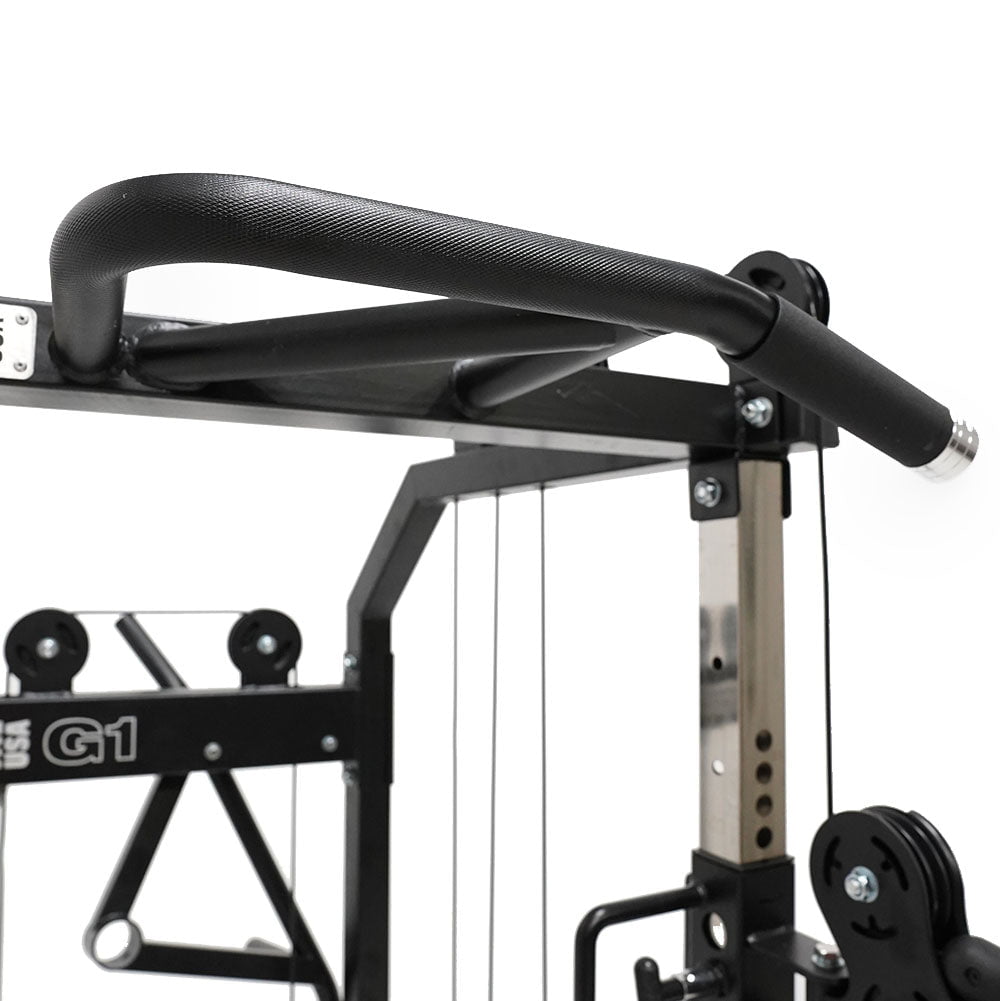 G1™ All-In-One Trainer
This unit is everything you've ever needed to build your home gym, without the huge price tag or having to buy individual pieces of equipment that take up extra space. Made with unbelievably tough high tensile steel, this machine includes a Multi-functional Trainer, Power Rack and a smooth Cable Pulley System, opening you up to a world of training possibilities. The all new G1® All-In-One Trainer is the perfect multi-functional trainer that grows with you, giving you the ability to add more attachments and more exercises as you progress.
---
KEY FEATURES
THE FOUNDATION OF YOUR NEW HOME GYM

The G1® All-In-One Trainer is the launch pad for your home training. It's a gym that will grow with you, offering incredible versatility and added attachments.

Target every major muscle group, from shoulders and arms to chest, back, core, and legs. Experience seamless transitions between powerlifting, cable workouts, suspension training, and chin-ups/pull-ups, all within a lightweight (110kg) and space-saving design (D: 150cm x H: 220cm x W: 145 cm).


5 FEATURES YOU'LL LOVE ABOUT THE G1

Force USA has packed a heap of features into the latest G1® All-In-One Trainer! Here are just 5 features to get excited about.

Powerful 2:1 ratio Cable Pulley System, supporting up to 160kg (353lbs) and offering 21 adjustable cable positions.
Commercial quality cable attachments: Long Straight Bar, Short Straight Bar, Nylon Handles, and Tricep Rope.
Precision positioning with Westside spacing on the uprights for improved Squat and Bench Press performance.
Versatile 32mm multi-grip knurled Chin Up Bar with 5 different positions and a weight rating of 350kg.
Bonus accessories: Landmine Core Trainer, Bar Row Handle, and Suspension Trainer Anchor for expanded exercise options.

BUILT TOUGHER THAN THE COMPETITION

Your G1® All-In-One Trainer is meticulously crafted and constructed using top-tier materials. It comes with a lifetime warranty and a 2-year warranty on parts and attachments, and includes:

Heavy gauge structured steel tubing throughout
Tough PVC and rubber in heavy use areas to increase durability
Long-lasting clear coating with anti-rust protection
Eco-friendly premium commercial grade powder coating

EFFORTLESS STORAGE SOLUTION

Effortlessly store your weight plates with the 6 in-built Weight Plate Storage Holders (Standard/Olympic), 4 Attachment Storage Hooks, and 1 Standard/1 Olympic Size Barbell Holder. Keep your plates off the floor for easy racking/unracking.

QUICK, HASSLE-FREE ASSEMBLY

With an average assembly time of just 2-3 hours, you'll be ready to train in no time. Force USA provides user-friendly instructions, eliminating the need for a costly professional technician.
For added stability, the unit features floor bolting holes, allowing you to securely anchor it to the ground. Enjoy the convenience of a straightforward assembly process and the peace of mind that comes with a stable training setup.


EXPAND YOUR OPTIONS WITH AN UPGRADE KIT

Enhance the number of exercises you can do by adding the G1 Upgrade Kit or the compatible G20 Upgrade Kit.

The G1 Upgrade Kit features a Lat Seat and Lat Bar for Lat Pulldowns, along with a Low Row Foot Plate and Close Grip Triangle. For an even more comprehensive upgrade, the G20 Upgrade Kit offers Jammer Arms for Presses, Rows, and Squats with your Power Rack, alongside a Leg Extension/Curl Attachment and Dip Bars.

TRAIN ON YOUR TERMS

Ready to take your Squat, Deadlift, Bench Press, and Leg Press goals to new heights? Say goodbye to waiting for machines at the gym and embrace the freedom of the all-new Force USA G1® All-In-One Trainer in your own home or garage gym. Experience the ultimate convenience as you design your perfect workout flow, stay motivated, and save precious time with every session. Unleash your full potential and train on your terms with the Force USA G1® All-In-One Trainer, empowering you to achieve greatness in the comfort of your own training space.
WHAT'S INCLUDED?
Multi-Grip Chin-Up Bar

Suspension Trainer Anchor

J-Hooks (Pair)

Front Safeties (Pair)

Core Trainer with Rotating Holder

A Bar Row

Single Nylon Handles (Pair)

Tricep Rope

Long Straight Bar

Small Straight Bar

4 x Band Pegs

6 x Weight Plate Holders

Extension Chain

8 x Spring Collars (50mm)

4 x Carabiners

Barbell Storage

4 x Attachment Storage Hooks
OPTIONAL G1 EXTRAS
SPECIFICATIONS
Usage: Domestic
Materials and Finish:

Heavy gauge structured steel tubing
Tough PVC and rubber in heavy-use areas to increase durability
Long-lasting clear coating with anti-rust protection
Eco-friendly premium commercial-grade powder coating

Cable Ratio: 2:1
Weight: Plate-loaded
Product Weight: 110kg (242lbs)
Dimensions: 150 (D) x 220 (H) x 145 (W) cm
Interior Working Space: 127 (W) x 208cm (Floor to Chin-Up Bar)
Weight Rating: 250kg (551lbs)
Chin Up Bar Weight Rating: 350kg (771lbs)
Cable Rating: 2000lbs/907kg
Max Cable Stretch: 2.5m (8.2ft)
Cable Slider: 21 North/South Positions
Stability Holes: In base to bolt the unit to the floor
Assembly: 2-3 Hours
Warranty:

Frame: Lifetime
Parts: 2 Years
All what you need for a home gym
This power rack is a full home gym if you also buy the bench and the extensions that come with it. It is very good quality and made of solid metal. Highly recommed it!
Hi Rami,
Thank you for your wonderful feedback, We appreciate your recommendation as well! If you ever need assistance, please don't hesitate to get in touch, we're always happy to assist.
Happy training!
GAF Team
Force USA g1
Great solid product could be better instruction on the build but over all great product
Hi Daniel,
Thank you for your honest feedback! Your satisfaction is important to us, rest assured we will work to improve our manuals however, we're delighted to hear you are happy with the G1! If you have any further feedback, please let us know, we'll be happy to hear it.
Happy training!
GAF Team
Force USA G1® All-In-One Trainer
Purchased the Force USA G1® All-In-One Trainer, arrived quickly, easy to put together. Very happy with my purchase, great home gym.
Hi Richard,
Thank you so much for your kind review! We're pleased to hear you are happy with your purchase. We appreciate your business and we hope to see you again soon.
Happy training!
GAF Team
Force USA G1
Perfect for my home gym setup .... Compact and sturdy ... great attachments .... all that I need ... very happy with the purchase.
Hi Michael,
Awesome to hear that our Force USA G1 is a perfect fit for your home gym! We're delighted you're satisfied with your purchase. Keep up the great workouts, and if you ever need more, we're here!
Happy training!
GAF Team
Force USA G1 - Excellent VFM
Hi all, this was very to order, arrived on time, and only took a couple of hours to set up. The hardest part is running the long cable, otherwise, it was pretty simple. I'm happy with the quality, especially considering the price.
Hi Canberra,
Thank you for your positive feedback! We're glad to hear you had a smooth ordering and set up experience with us and the G1. If you have any further questions or need assistance in the future, feel free to reach out :)
Happy training!
GAF Team