Force USA
Flat/Incline/Decline Bench
Get a full-body workout with the toughest Flat to Incline/Decline Bench available! The Force USA Flat to Incline/Decline Bench (F-FID) is heavy duty and fully adjustable to give you a solid workout! The Force USA Flat to Incline/Decline Bench is made to take as much as you can give it and is the ultimate bench for a complete free-weight workout!
---
Solid, compact and effective, the Force USA Flat to Incline/Decline Bench is strong enough for gym use, while designed to fit into any home. Featuring SteelForce™ Structural Integrity and heavy-duty, DuraCore™ high density foam padding wrapped in sewn rip-stop VorTex™ Upholstery, the Force USA Flat to Incline/Decline Bench is built to take a pounding. And, with a "Class A" rating, the Force USA Flat to Incline/Decline Bench comes with a Lifetime Structural Warranty. The Force USA Flat to Incline/Decline Bench is unmatched in its class and will give you solid and intense workouts for many years to come!
The Force USA Flat to Incline/Decline Bench is a solid unit and provides free weight exercises to build a rock solid body! The back rest features two piece DuraCore™ high density foam which is extremely comfortable and will not bottom out during your workout, along with fully adjustable back rest you can workout in flat to incline (90 degrees) and decline positions which will help give you many exercise positions for rock solid results! Combine with a power rack, smith machine or squat racks for the ultimate workout!
INCLUDES
FID Bench (Does not include preacher or leg attachment - both available separately.)
PRODUCT SPECIFICATIONS
Assembled Dimensions (LxWxH):


Upright position: 158cm x 64cm x 130cm
Flat position: 158cm x 64cm x 51cm

Weight: 38kg
Weight Rating: 275kg
Fully adjustable from Flat to Incline (90 degrees) and Decline positions.
Gives you some of the best free weight exercises to build a rock solid body!
Perform free-weight exercises knowing you are safe, with quality DuraCore™ padding you will not bottom out and can build your muscles to the max!
Get a full-body workout with the strongest and most versatile Flat to Incline/Decline Bench available.
Adjustment markings from 0 Degrees to 90 Degrees to make your workout easier and more enjoyable.
Quick and easy seat and back pad adjustment handles.
Dual rear transport wheels which allows you to easily move and roll the bench anywhere you like without having to pick up the bench completely.
Non slip rubber feet gives you a solid and stable workout.
Removable handle and leg pad attachment for intense decline exercises.
Option to add F-LEGA Leg Extension/Leg Curl Attachment and F-ARMA Preacher Curl Attachment
SteelForce™ Structural Integrity – Built to last high quality heavy-gauge steel that supports even the toughest of workouts.
DuraCore™ High Density Foam Padding – Strong and durable high density gym quality foam padding.
VorTex™ Upholstery – Commercial grade upholstery which has a rip-stop feature.
EcoCoat™ – Environmentally friendly powder coating.
Sewn Seats – Not only do they feature VorTex™ Upholstery, they look nicer too. Sewn seats are more comfortable and will last longer than vinyl seats that are just stretched or stapled on.
Class A, Lifetime Structural Replacement Warranty along with 2 years parts warranty on all cables and pulleys.
Assembly required.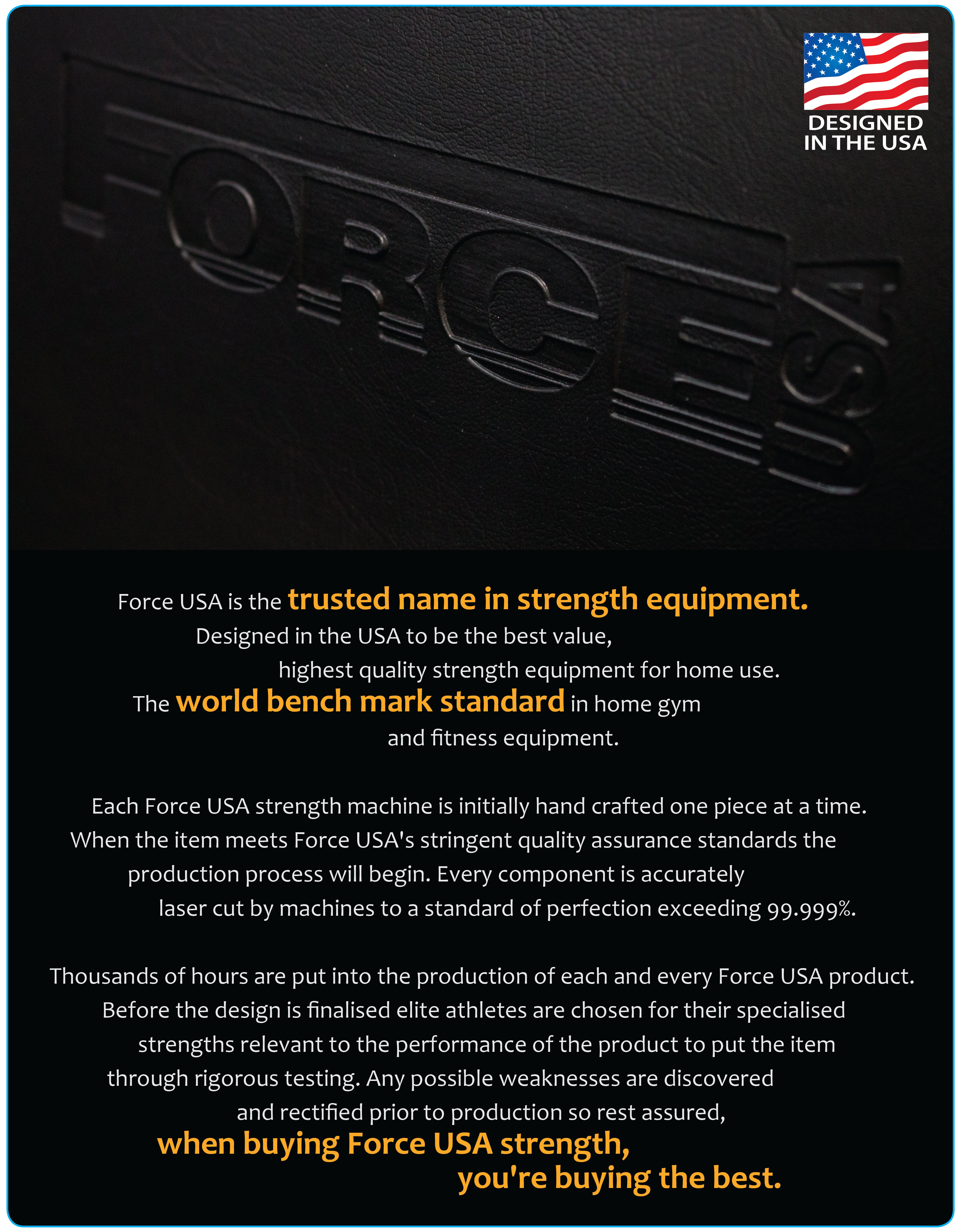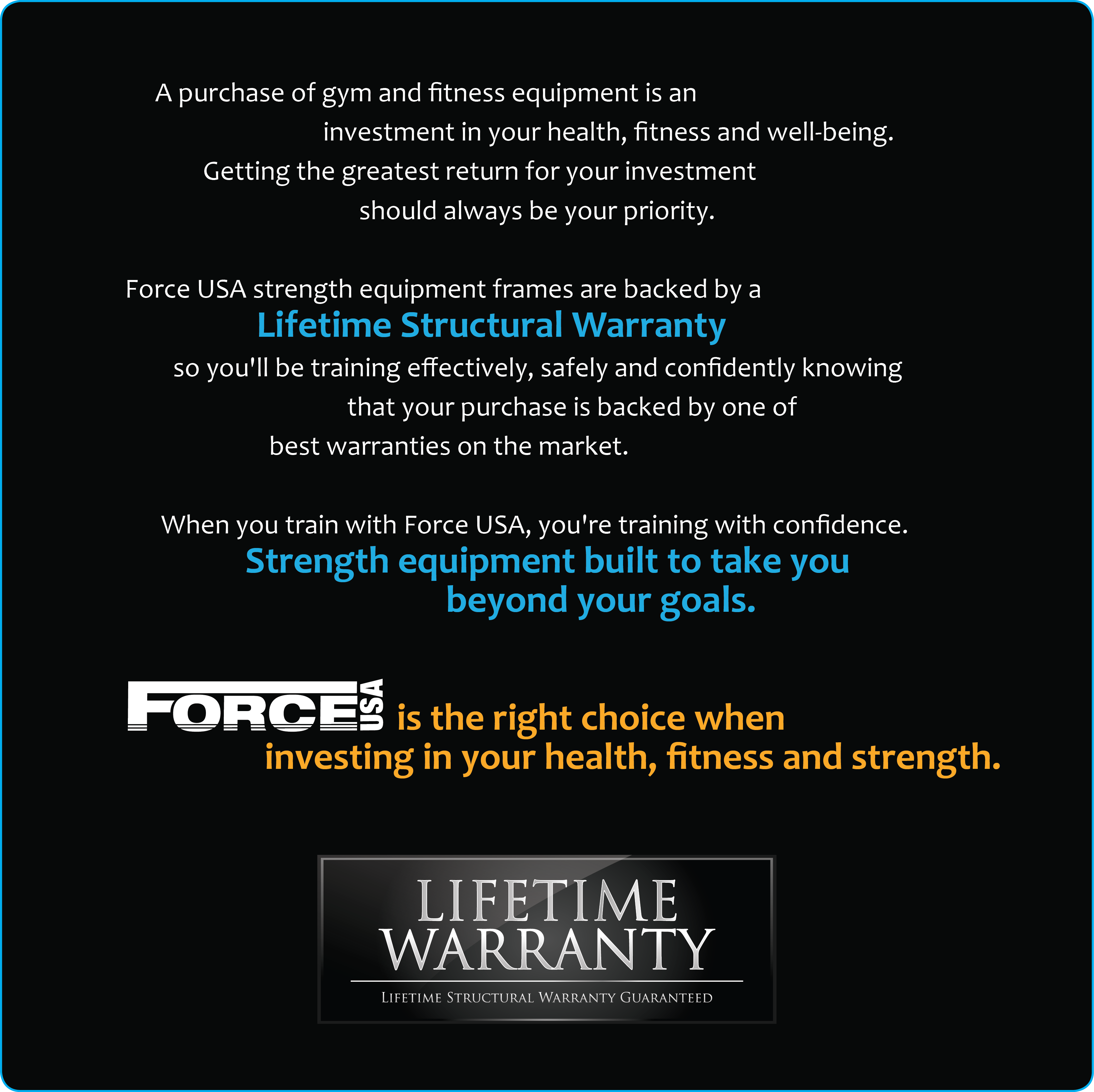 Force USA > Adjustable work out Bench > Fantastic!
Another great product from Force USA (Manufacturer) and Gym and Fitness Australia (Distributor) . This bench is commercial grade. Very strong and solid construction. Supreme quality. Compliments your existing weight equipment eg. dumbells and ezy curl bar for the perfect training partner. The bench is fully adjustable > Incline, decline, flat positions. it also has provision for additional attachments. i have ordered the leg extension unit myself and i can't wait for this to arrive. You can train abdominal's also as there is a leg attachment to keep you locked in when bench is in decline. In my opinion, this has got to be the best adjustable bench on the market. Gym and Fitness were fantastic. Their online shopping system is market leading. They also delivered the product ahead of Schedule. Well done Gym and Fitness.
Bench
Great bench and arrived earlier than expected.
Force USA Flat/Incline/Decline Bench
Solid Bench, but ... (Leg Pad & Height)
The bench has a solid construction. Zero movement when pressing in all positions with 100-120kg. Feels glued to the floor. Padding is perfect.
Reason for 4 stars: The handle/leg pad attachment has some 'play', but when you lock in for a heavy decline, this isn't an issue. The bench (when flat) is higher than most benches I've used - it may impede your ability to leg-drive if you're a shorter athlete (around 5'6'' or less).