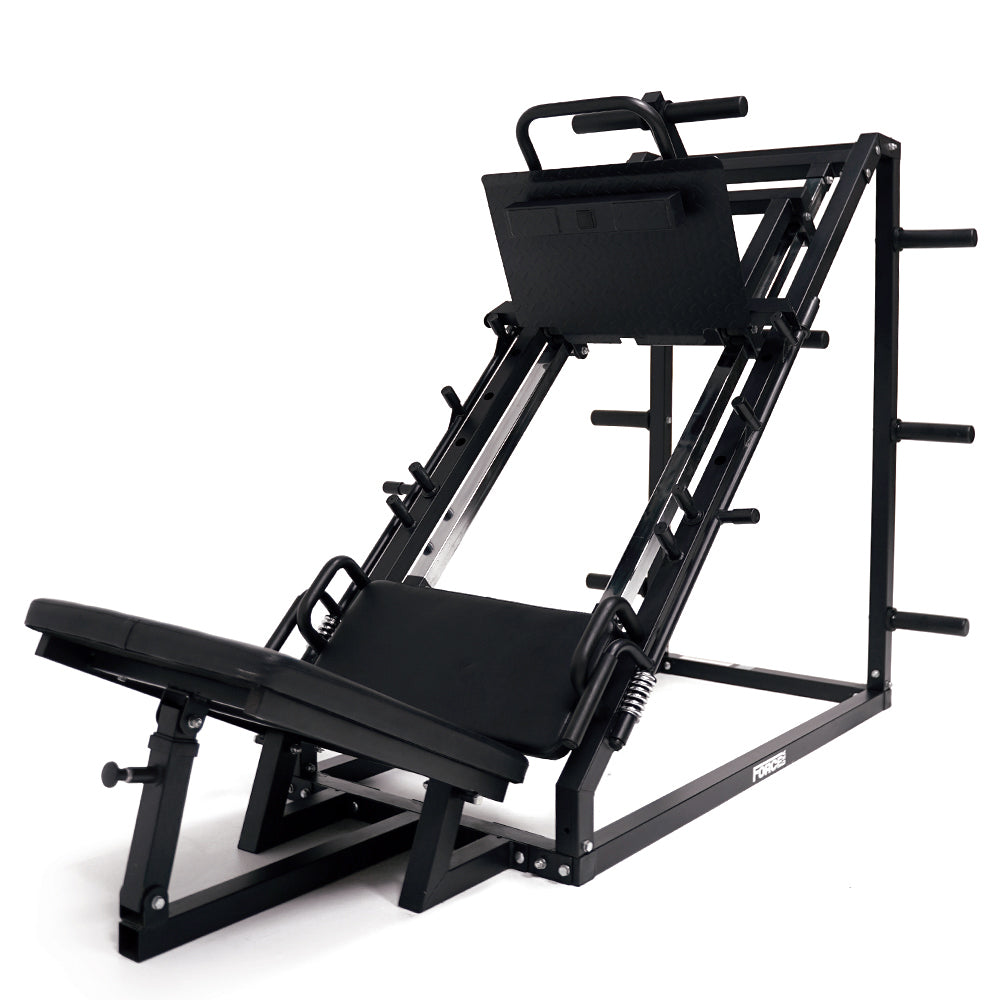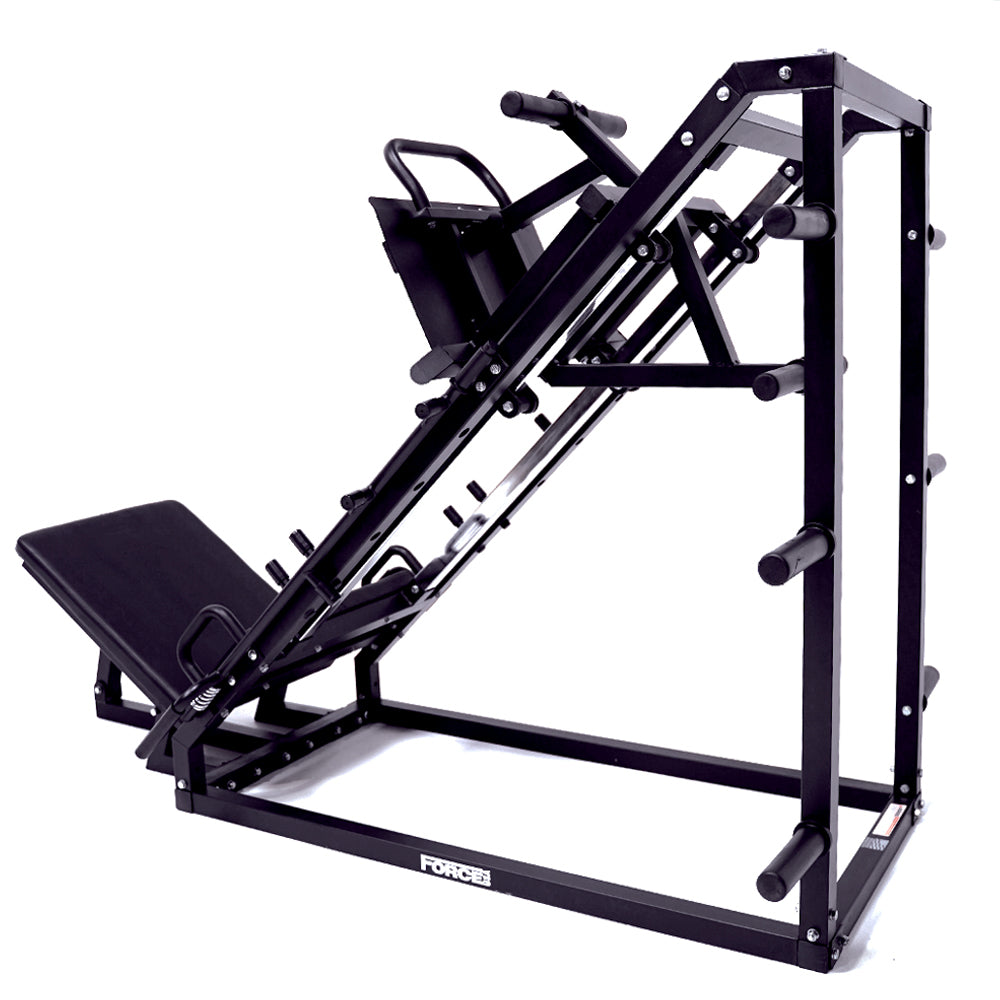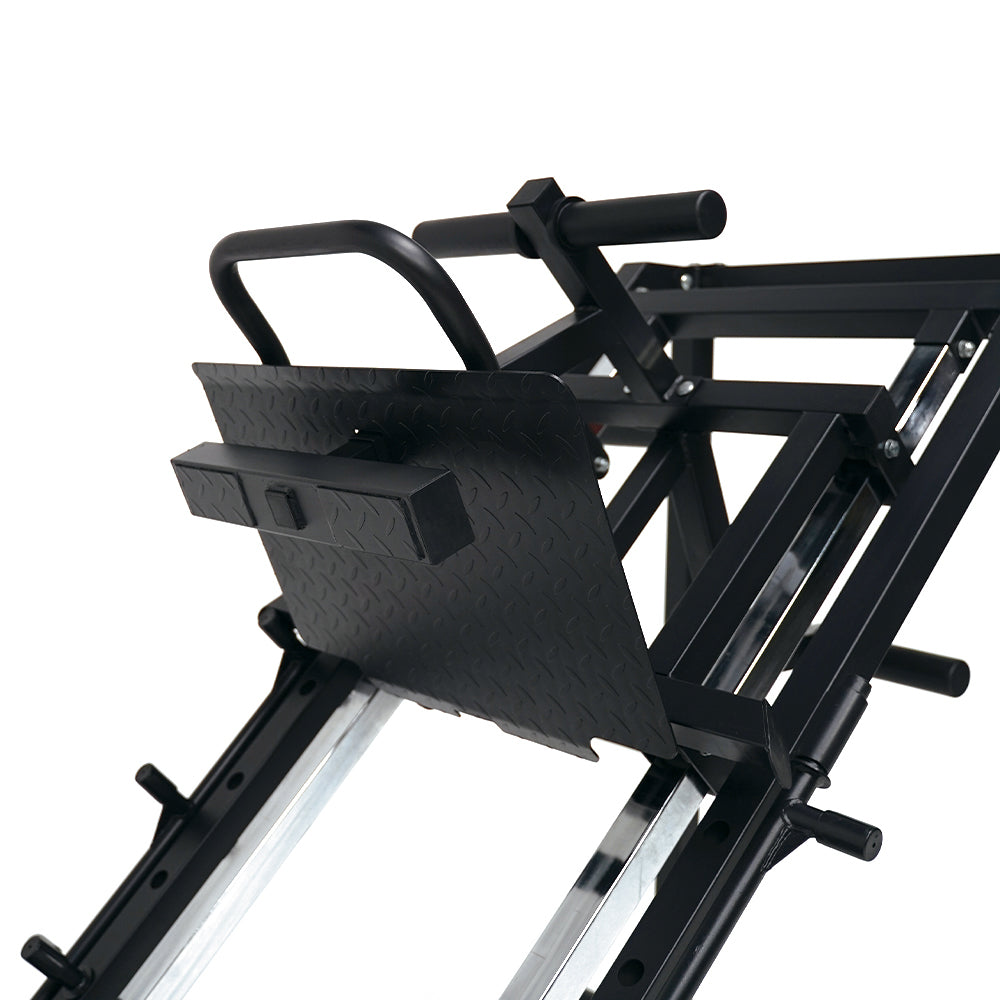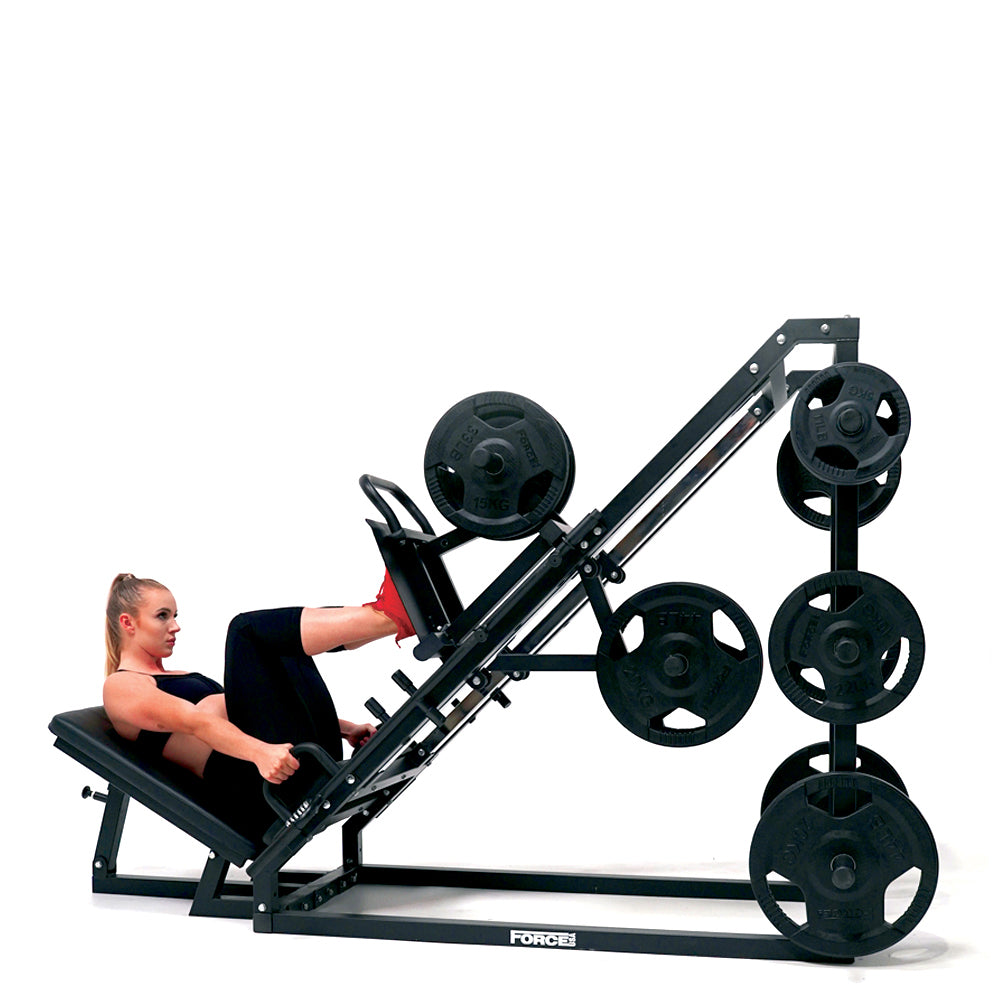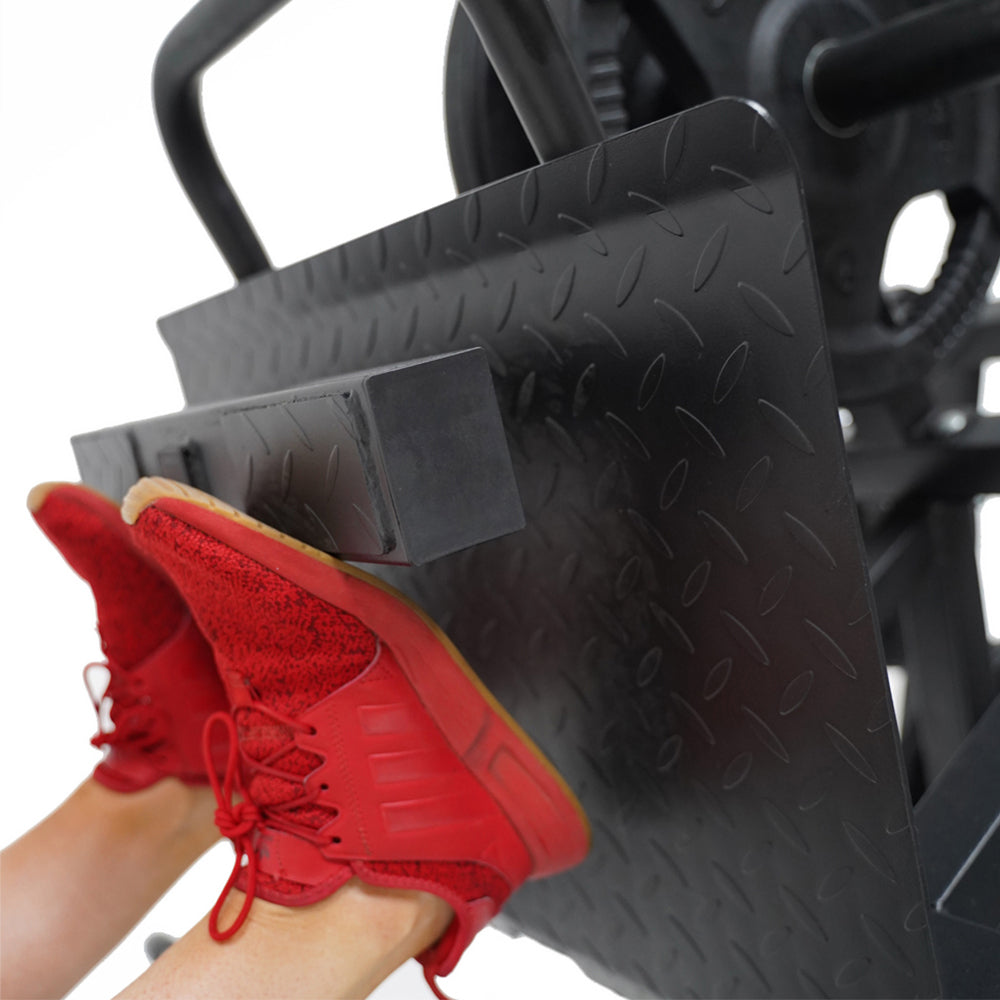 45 Degree Leg Press with Calf Block Black
The perfect addition to your home or studio gym, Force USA®'s 45 Degree Leg Press is the ultimate lower body strength building machine. Offering multi-adjustable settings and ultra-smooth travel on every leg press rep, you can precisely isolate your quads, hips, glutes and calves.
Made with heavy-duty high tensile steel and durable high-density foam padding, all backed by a Lifetime Frame Warranty, it's time to step up your leg workouts and choose Force USA.
---
Key Features
QUICK SET-UP, EASY TO ADJUST

An easy set-up means you can quickly find the perfect position to get those sets in and not waste time fiddling with poorly designed seat rests, weight plate holders or safety handles.

COMFORTABLE, SMOOTH RIDE

Every single detail and material choice has been carefully considered, so you can enjoy a comfortable, smooth and reliable ride on the heaviest leg days.

ONE STEP AHEAD OF THE COMPETITION

Force USA continues to pack all of its design and engineering expertise into its equipment, and this powerful leg machine is no different.

Innovative features in your 45 Degree Leg Press include:

Comfortable, ergonomic back support to minimises stress on your joints and reduce injury
Greater grip with unique anti-slip checker plate foot platform and adjustable calf block
Enhanced 5-star safety rails on both sides with adjustable safety catch stops
Huge 350kg of storage, with adaptor sleeves for Olympic weight plates

HIT THOSE TRAINING GOALS

Offering deeper and varied foot positions, you can perform precise seated leg and calf presses and calf raises to really hit those strength and fitness goals.

This 45 Degree Leg Press is also ideal for any athlete who has overdeveloped hamstrings and wants to target and strengthen their quadriceps.

CHOSEN BY ELITE TRAINERS & ATHLETES

The Force USA research and development team consists of trainers, athletes and weightlifters who test every piece of equipment.

This rigorous quality testing means Force USA is constantly enhancing its products so you get the most benefits during your weight and strength training.

NEXT LEVEL DURABILITY AND PERFORMANCE

Equipped with superior commercial-grade fixtures and fittings, your 45 Degree Leg Press will deliver incredible performance for years to come.

The heavy gauge structured rolled steel tubing is coated in eco-friendly premium commercial grade powder, followed by an extremely durable clear coating with anti-rust protection.
This machine uses state-of-the-art, fully automated laser cutting and robotic welding technology on the weight, so you have complete confidence when performing heavy, repetitive lifts.
Specifications
Usage: Light Commercial
4 x Weight Loading Sleeves
6 x Weight Storage Sleeves
Usage: Domestic
Dimensions: 212cm (L) x 115cm (W) x 152cm (H)
Footplate Dimensions: 63cm x 44cm
Weight Rating: 350kg
Estimated Assembly Time: 120 mins
Warranty: Lifetime* Structural Warranty, 2 Years - Parts, 90 Days - Upholstery.
SIMILAR AVAILABLE PRODUCTS
Leg Press Rollers
Purchased one of these recently. For all those experiencing difficulty with "stiff'" rollers, it's as simple as purchasing a cheap aerosol can of general purpose silicone spray. A quick spray of the shafts the rollers travel up and down on, and also the rollers themselves, and it then slides up and down like a dream with no issues.
Hi Paul,
Thank you for your wonderful review! We appreciate your advice, this is helpful to our customers who miht experience the same issue. Thank you for choosing GAF and we look forward to see you again soon :)
Happy training!
GAF Team
Leg press
Took ages to put together. Doesn't slide that good on the rail
Hi Ben,
We apologize for the inconvenience you experienced during the assembly process and for the issue with the sliding mechanism. We understand how frustrating it can be when a product doesn't meet your expectations.
At GAF, we take customer feedback seriously, if you ever need assistance, please don't hesitate to reach out to our customer service at info@gymandfitness.com.au our team will be more than happy to help.
Kind regards,
GAF Team
Great set of instructions, with no missing parts..only drawback are the poor quality plastic rollers
Dear Gym and fitness team.
Your service is spectacular. The set of instructions to assemble this were clear. And it was a huuuuge help to have the nuts & bolts safely packed and split out for each step!!
The only drawback with this machine is the poor quality plastic rollers. These don't allow the weight to roll up and down but rather the whole set up just slides clumsily and noisily. It is annoying as the whole point of a good leg press is to have the weight move smoothly up and down.
Hopefully Force USA can engineer better quality rollers which would make this product a fantastic purchase for the home gym.
Hi Vikram,
Thank you for your valuable review. We are dedicated to continuously improving our products, and your feedback helps us identify areas for enhancement. If you have any further feedback or concerns, please feel free to let us know, we'll be happy to hear it.
Happy training!
GAF Team
Great definitely worth it
Great leg press machine, highly reccomend for home gym or classes
It's the perfect size for my gym also very practical
Hi Holli,
Thank you for your wonderful feedback! We appreciate your recommendation and if you ever need assistance, please don't hesitate to get in touch and we are happy to assist.
Happy training!
GAF Team