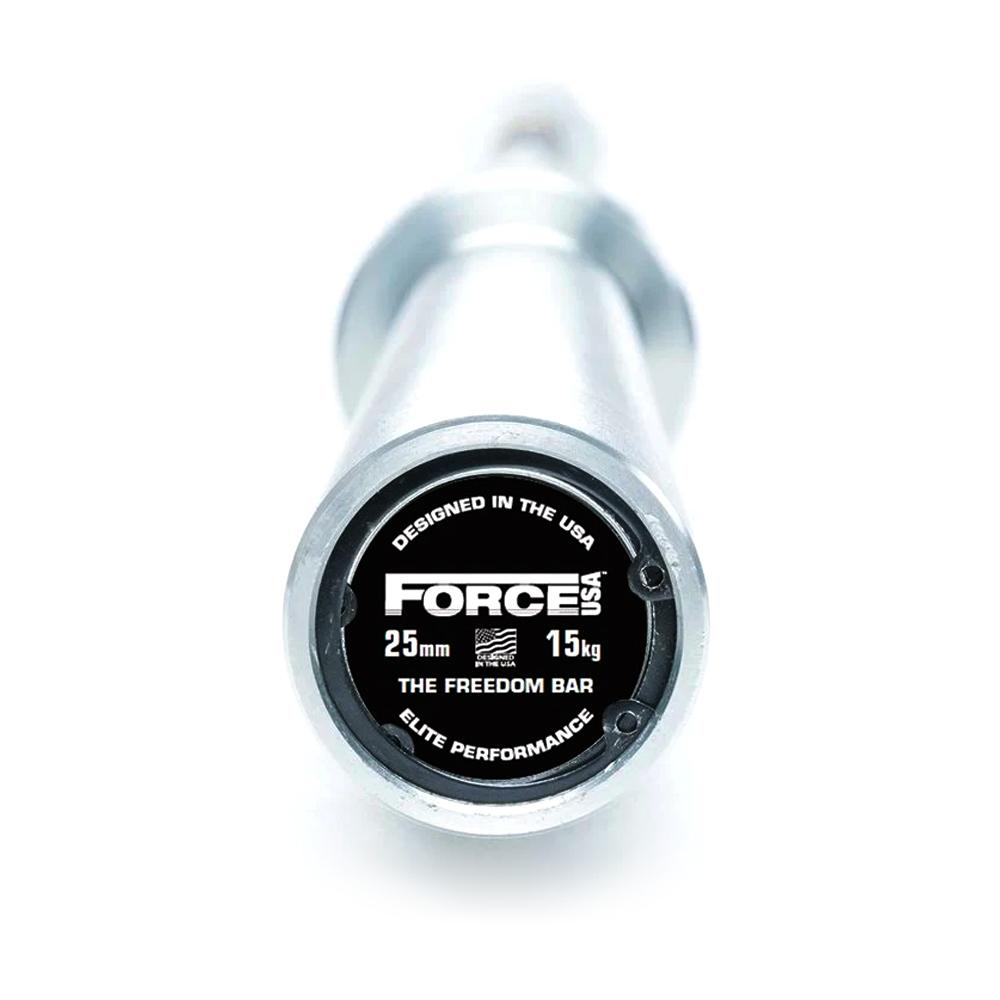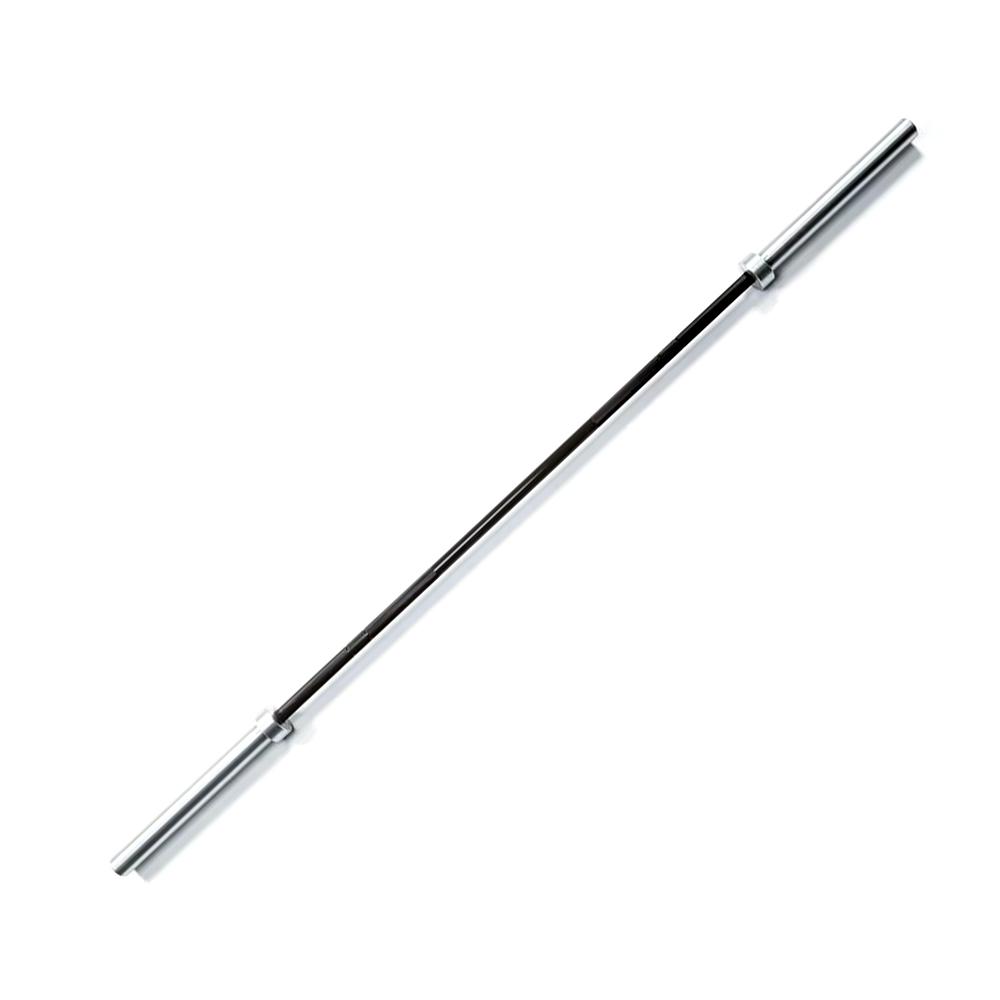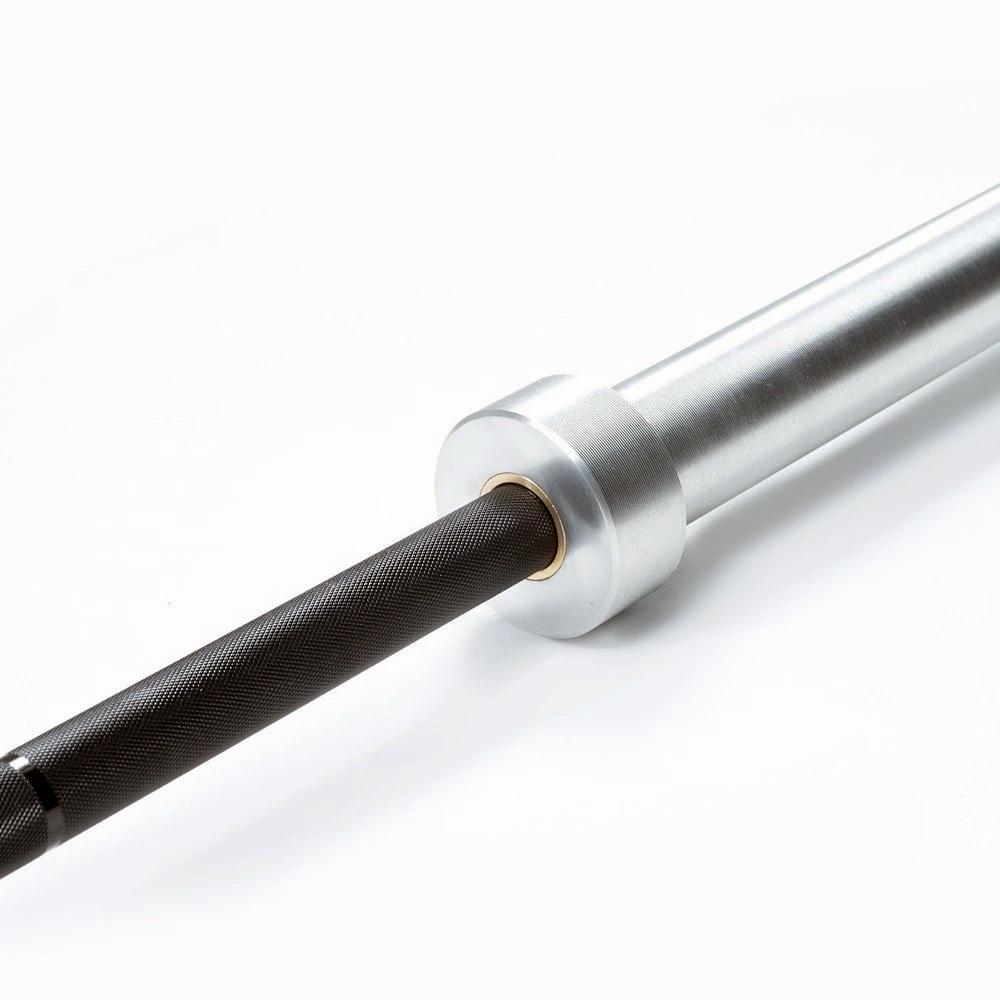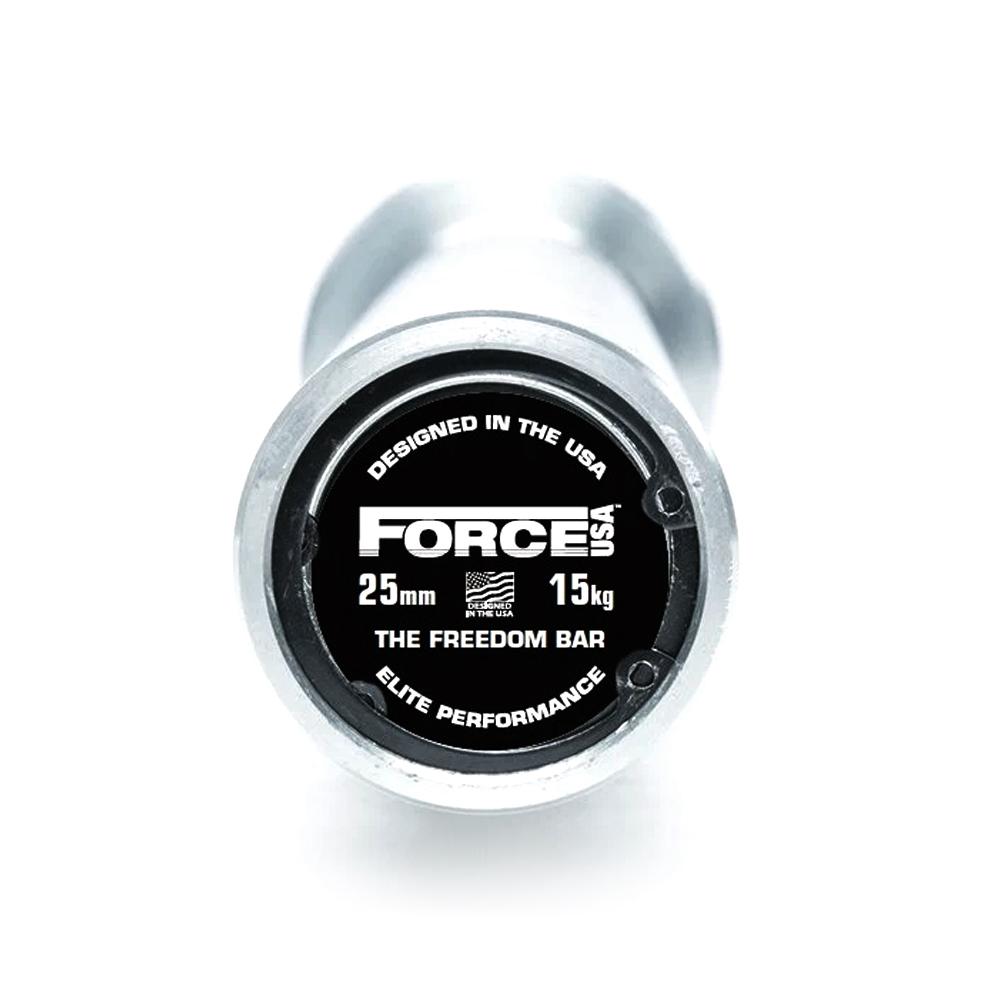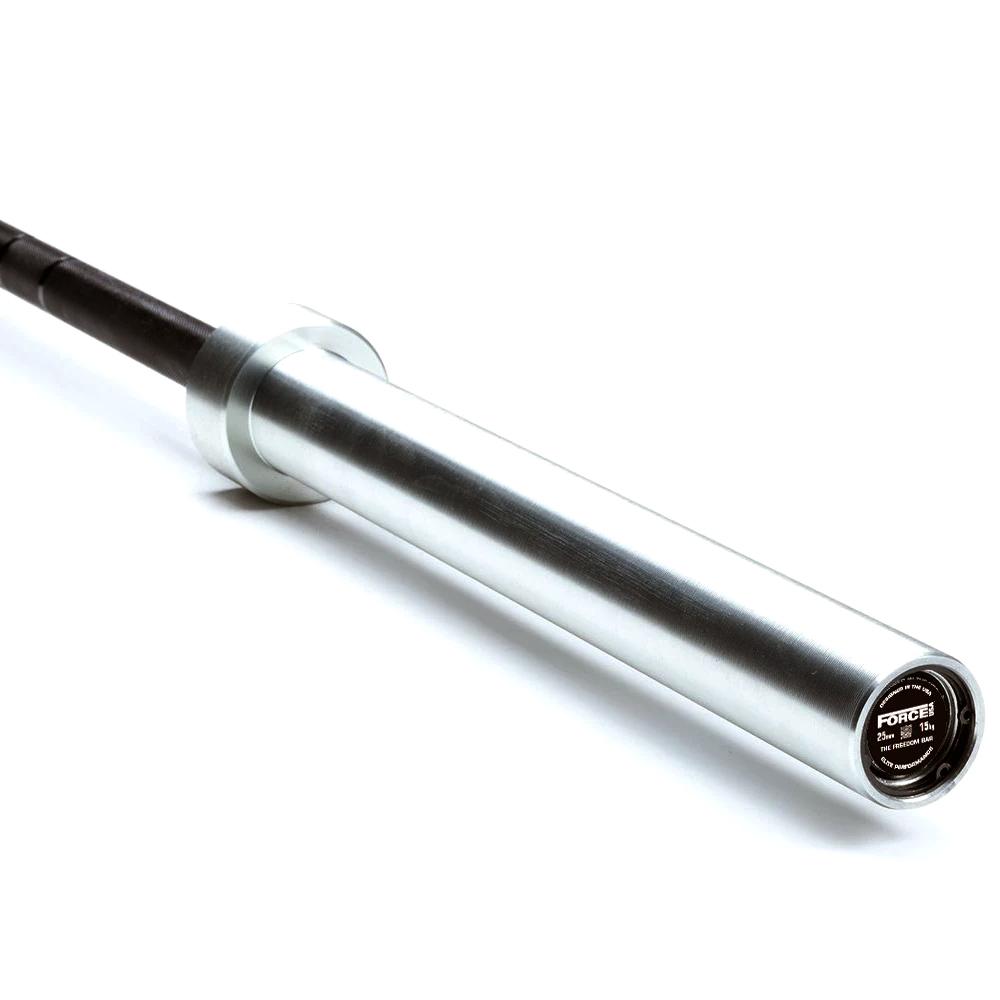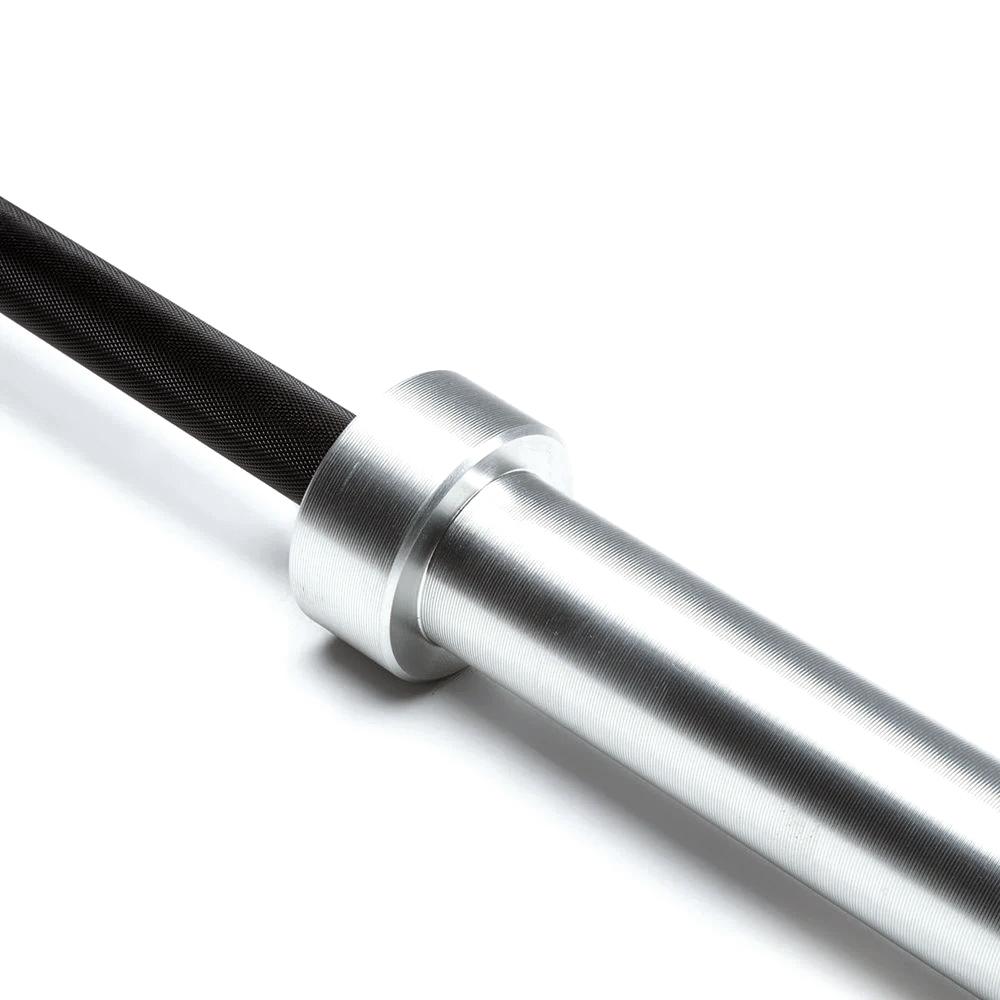 15kg Freedom Barbell
The Force USA® Freedom Barbell is an Olympic 15kg barbell designed to complete a wide range of free-weight exercises. A multipurpose bar for WODs, Olympic Weightlifting or Powerlifting. This barbell will last through thousands of workouts, perfect for squats and deadlifts.
CUSTOMERS ALSO BOUGHT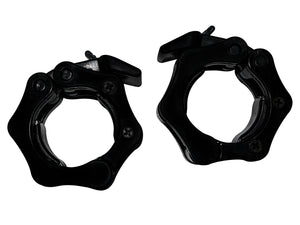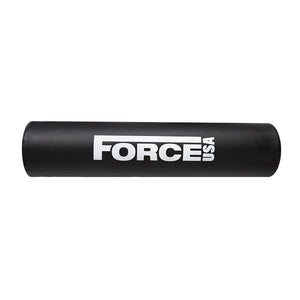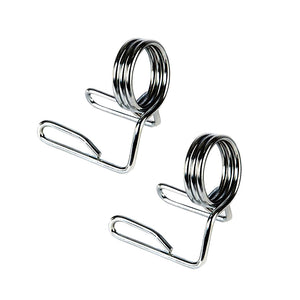 Olympic Quick Lock Collars allow swift and easy attachment and removal from the bar. Flick the latch and release with one hand while removing or adding plates with the other.
---
Key Features
ACCURATE 15KG BARBELL WEIGHT

Every Force USA® Freedom Olympic Barbell shaft is ground and polished before machining, providing a refined finish and weight accuracy tolerance within 1%.

 

COMFORTABLE AND VERSATILE

The Manganese Phosphate finish, combined with the deep fine knurling, IPF/IWF spec positioning provides a comfortable grip for variable exercises and holds. The smaller shaft (grip) diameter and lighter weight than a normal Olympic bar mean the Freedom Barbell is the ideal all-rounder for beginner athletes or anyone starting to perform an extensive range of various barbell exercises.

 

BRONZE BUSHINGS

The Freedom barbell has 4x bearings which give the sleeves great spin. The bronze bushings provide a smoother spinning movement and self lubricate to last longer (compared to brass bushings). Standard Whip keeps you in control while progressing your lifting form.

 
Specifications
Usage: Full Commercial
Bar Length: 210cm
Bar Weight: 15kg
Tensile Strength: 170,000 PSI Rating
Static Testing: 1,000 lbs
Shaft length: 128cm
Grip Diameter: 25mm
Coat: Phosphate
Loadable Sleeve Length: 410mm
Knurling Style: Standard with no centre knurl
Centre Knurling: None
Does not come with collars. These need to be purchased separately.
Barbell is compatible with

Force USA Quick Lock Collars

and

Force USA Olympic Spring Collars
SIMILAR AVAILABLE PRODUCTS
olympic-barbells
Hi Harpreet,
Thank you for your kind feedback! We're thrilled to hear you are satisfied with your purchase. We value your business and look forward to seeing you again.
Happy lifting!
GAF Team
Force USA 15kg Freedom Barbell
Great barbell. sturdy but also lightweight and heavy enough to handle big lifts. Highly recommend this one
Hi Shirvani,
Thank you for taking the time to share your positive experience with us! We are thrilled to hear that you found our barbell to be both sturdy and lightweight, making it perfect for heavy lifting. We appreciate your recommendation and hope you continue to enjoy our products in the future.
Happy lifting!
GAF Team
Force USA 15kg Freedom Bar
I have just finally put it all together and it is fantastic.
Thank you
Hi Bailey,
Thank you for rating the Freedom Barbell, we're happy you are liking your barbell and we hope to see you again soon :)
Happy Training!
GAF Team
Awesome barbell.
Great barbell. Good for lighter work and or mobility work but still sturdy and heavy enough to handle big lifts. Highly recommend.
Hi Jay,
Thanks for the review, a 15kg bar is always great to have in the set up! Smash those workouts and enjoy the bar.
Kind regards,
GAF Team
Perfect as Everything is I've purchased here 👌
Hi Sean,
We appreciate you taking the time to share your rating with us.
We look forward to seeing you again soon.
GAF TEAM